What comes in your mind as you hear the name "Spy". According to Wikipedia, Spy is defined as "a person who collaborate and reports information on activities, movements, and actions of competitor or enemy".
Uncover the competitors SEO strategy is exigent to digital marketing success. Do not get overwhelmed quickly with your competitors moving fast on Google rankings. It can be easy to compare yourself to your competitors with free SEO tools online.
Why do you need to uncover competitors SEO strategy?
Competitors analyses can change your SEO strategy. Still, many people overlook. To outrank your competitors, you need to monitor their activity. A comprehensive insight into competitors SEO strategy will give you an overview of their top keywords, top traffic sources, high domain authority backlinks, and much more. Thus, will offer you can complete outlook of their SEO action plan.
But, how will get competitors SEO analysis? We have been researching the arena to find out for our readers the best competitors analysis tool for SEO. Let's get into the list and bust the SEO competition analysis tool free for a complete analysis. 
1. LXR Competitors Analysis Free Online Tool
LXR marketplace is home to free SEO, SEM, and PPC tools. The tools are best suited for small to medium-sized business. The LXR competitors SEO analysis tool is free for cost. The tool is verified by 79751 users with 4.4 rating and 127 customers reviews.
Features of LXR Competitors Analysis Tool:
Compares SEO data of competitors on several metrics
Display competitors organic ranking
Targets multiple search engines like Google, Yahoo, and Bing
A complete SEO analysis report
2. SpyFu – Competitors Keyword Research Tool for SEO and Adwords PPC
SpyFu is American search analytics company. The original name of SpyFu is GoogSpy. SpyFu competitors keyword analysis tool offers insight into profitable keywords and ads. In fact, the tool support both paid and organic searches. Explore the competitor's secret formula to search engine marketing.
Features of Spyfu Competitors SEO tool:
Search for competitors Google AdWords PPC keywords
Scan PPC negative keyword grouping
Track competitors PPC ad keywords
Research competitors SEO keywords
Get competitors keyword ranking history
Check competitors backlinks by keywords
3. Searchmetrics – SEO Competitors Analysis for Enterprise
Searchmetrics is a global leader to offer a suite of SEO tools for the enterprise. The SEO competitors analysis tool was found in 2005 by Marcus Tober. The SEO tool focuses primarily on competitive analysis for a digital marketer. The tool effectively accelerates time to insight and aids to improve profit margins.
Features of Searchmetrics Global Competitors Research
Analyze Mobile Rankings and Traffic with Mobile SEO
Boost Global Search Performance with Global SEO
Reveal Trends and Opportunities with Local SEO
Optimize Your Website's Link Structure with Backlink Analysis
Identify High Impact Opportunities with Keyword Analysis
Unquie competitors research analysis algorithm
4. iSpionage – Competitive Intelligence SEO Tool
iSpionage offers valuable SEO data to users with regards to competitors. The tool specializes to deliver an overview to competitors search marketing strategy, keywords, PPC keywords, SEO keywords, AdCopy, and search engine ranking.

Features of iSponage Competitors Research Tool:
Supports more search engines including Bing and Yahoo
Covers Google databases like Australia and Canada
Organize a list of top organic competitors
5. SERPstat – Free Competitors Analysis SEO Tool
SERPstat is an upcoming SAAS based SEO tool. The quality of SEO competitors data is comparable to SEMrush and Spyfu. The main dashboard gives clear visibility into competitors organic search keywords. The tool will not only save your evaluation time but also gives an option to export organic rankings data.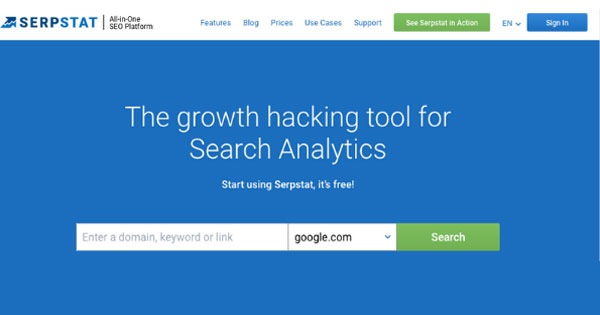 Features of SERPstat SEO tool:
All-in-One SEO Tool for professional marketers
Efficient PPC keywords and research competitors
Complete competitors backlinks analysis and rank tracking
Hopefully, now you can make an informed decision when selecting a competitors analysis tool. There are plenty of free to paid competitors analysis tool for SEO but ultimately, it's up to you to make the right decision.