Google Doodle is a temporary change to the Google logo on the Google homepage that is intended to celebrate holidays, anniversaries, and the lives of famous artists, scientists, and pioneers. The first Doodle was created in 1998 to mark the Burning Man festival and was designed by Larry Page and Sergey Brin, the co-founders of Google.
The doodles have since become an integral part of the Google brand and are now created by a team of doodlers. While most doodles are simply aesthetic changes to the logo, some doodles are interactive games or videos.
For example, the 2017 Thanksgiving Doodle allowed users to Shuffle through a deck of Thanksgiving-themed recipes. Google Doodles are a fun way to learn about history and culture while also celebrating important dates.
The bright and colorful logo of "Google" which appears on the Google home page is cannot be ignored. The Google logo is the trademark sign for Google LLC. 20 million people worldwide use Google to find answers. People go to www.google.com to find solutions for questions and queries when the Google Doodle logo appears on the screen.  Google Doodle is an interim or temporary change made in the logo of Google by doodlers to make it fun and interesting.
Google Doodle About
In this section, we will cover, what is Google Doodle? Google Doodle is fun, interactive, and surprising! They are unique and interesting. The Google Doodle changes made for a brief time to attract the audience and give them something new. Google Doodle depicts special occasions like festivals, holidays, birthdays of celebrities and personalities or anything new which has gathered a lot of publicity.

Who invented Google Doodle?
Google Doodle developers comprise of designers employed to create doodles. Those refer as Doodlers. Initially, the Google Doodle design was design by outsourcing but later it was created and posted by employed designers of Google called Google Doodlers. They have created thousands of doodles to date and are always working on developing innovative and fun doodles.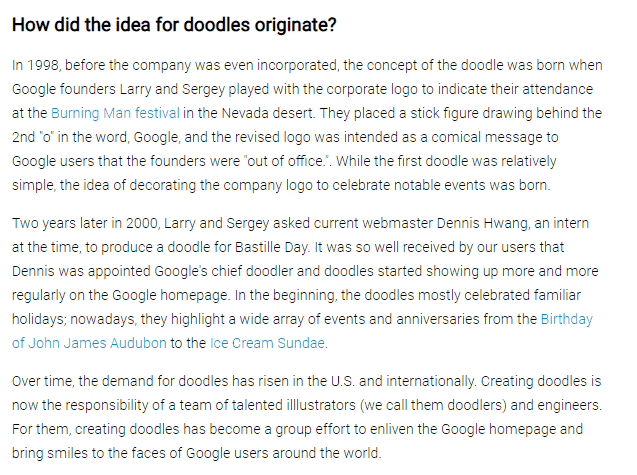 How does Google Doodle work?
The Google Doodle is made by selecting events and occasions regularly according to the inputs given by users and Google employees. Google users could contribute to giving ideas and suggestions for creating doodles through email. There are so many suggestions which Google receives each day for doodles that it becomes difficult to incorporate each one of them all the time.
What are the Famous Google Doodle themes?
Google Doodle Olympic Games
Martin Luther King Jr. day
Valentine's day
Halloween
Thanksgiving day
Earth day
Mothers/father's day
New Year's Eve
U.S Independence day
Lunar new year
Saint Patrick's day
What are the Highlights of Google Doodle?
The first-ever doodle was made to honor the 1998 annual burning man event in Nevada which was created to inform the users if in case the servers crashed.
Initial doodles were just images mentioning the topic or occasion in the form of text but later increased in number and types.
Google doodles application comprise of animated, hyperlinked, video and even in the interactive format.
The first animated doodle was introduced in January 2010 to honor Sir Isaac Newton and the first-ever interactive doodle was posted soon after to celebrate Pac-man.
Hyperlinks started appearing in doodles soon after, which could link search results to the topic of doodle.
Google have posted and published more than 2000 national and international doodles on its home page mentioning many famous personalities.
In October 2010, Google presented its first-ever video doodle to mark the 70th birthday of John Lennon.
In April 2011, it posted the first-ever live-action doodle in video format.
In November 2018, during the presidential elections in the U.S., Google logo was changed to "Go vote".
In March 2019, Google doodle used artificial intelligence to make music to mention German musician Johann Bach.
Google doodle all games are interactive. In 2010, on the occasion of the 30th anniversary of arcade game, Google Doodle Pac man Game was launched.
For the summer Olympics, in 2012, Google Doodle basketball game was launched as an interactive game.
On 30 October 2016, Google Doodle Halloween game was launched called Magic Cat Academy.
Google Doodle Games
Google Doodle Games are a great way to kill some time and have some fun. Whether you're looking for a quick diversion or something to keep you occupied for hours, there's a Doodle Game for you. And the best part is, they're all free! So what are you waiting for? Dive in and start playing!
Google Doodle Games cover a wide range of genres, from puzzlers to action games to multiplayer games. There's something for everyone, whether you're a casual player or a die-hard gamer. And with new games added all the time, there's always something new to discover.
So why not give Google Doodle Games a try? With so much on offer, there's sure to be a game that you'll love. And who knows? You might just find your new favorite pastime.
Google Doodle Baseball
Google Doodle baseball is a fun online game that anyone can play. The objective of the game is to hit the ball into the cup with as few strokes as possible. The game keeps track of your score and shots, so you can try to improve your performance each time you play. In addition, you can share your score with friends and family to see who can achieve the best results. Google Doodle baseball is a great way to spend some free time, and it can also be used to improve your hand-eye coordination. So why not give it a try? You might just find yourself becoming a fan of the game.
Google doodle adventure island
Google Doodle Adventure Island is a game that allows users to play as their favorite Google doodle character. The game is set on an island filled with puzzles and challenges. Users must help the doodle character navigate through the island, collect coins, and safely reach the end of the level. The game is designed to be both educational and entertaining, teaching users about environmental stewardship and problem-solving skills. Google Doodle Adventure Island is a fun and engaging way to spend time online, and it's also a great way to learn about important topics like conservation and ecology. So why not give it a try? You might just have a blast!
All Google Doodle Games List
Google doodle games are a great way to kill time and have some fun. They're also a great way to learn new things and get better at problem-solving. Whether you're a fan of trivia or strategy, there's a Google doodle game for you. And best of all, they're all free to play. Here's a list of some of the best Google doodle games:
Google Feud: This game is based on the popular TV game show Family Feud. You'll be given a list of possible answers to a question and you have to guess which one is most popular. It's a great way to test your knowledge of pop culture.
Hangman: This classic word game is given a twist with Google's trademark humor. You'll need to guess the correct word before the stick figure is hanged.
pacman: This classic arcade game needs no introduction. You must help Pac-Man navigate his way through a maze, eat all the pellets, and avoid the ghosts.
Solitaire: This popular card game can be played by oneself or with others. The goal is to remove all the cards from the tableau by stacking them in ascending or descending order.
Tic Tac Toe: This simple ballot game can be played with one or two players. The goal is to get three in a row, either horizontally, vertically, or diagonally.
Zombie Gunship: In this first-person shooter, you must protect a helicopter from hordes of zombies. You'll need to use your gun turrets to take them out before they reach the chopper.
These are just a few of the many great Google doodle games that are available. So next time you're feeling bored, why not give one of these a try?
Google Doodle Competitors
Each year Google Doodle conducts competitions for school students to create their doodle. The competition is referred to as "Doodle 4 Google". Winning doodles are displayed on the website, where the users can vote for the winner. In the end, the winner gets a trip to Googolplex and the design is hoisted on the website for 24 hours.
Also Read about Google Input Tools