Do you want to type in other languages? Are you scared to type incorrect words? Do you lose confidence when typing in a foreign language? Discover free typing tools online to type text in more than 80 languages.
With the evolution of the internet becoming, the need to have tools to translate languages is increasing. Try a new Google virtual keyboard shortcut that allows users to type in their local language.
Now write and share text in any language without the hassle of copying and pasting. Still, confused? Let us tell you more about the tools!
What are Google Input Tools?
Google Input Tools is an extension tool that lets users type in various languages. It offers a virtual keyboard that supports over 100 languages. It also provides transliteration, which converts one script to another, for over 30 scripts.
In addition, it offers an on-screen keyboard in over 20 languages. Google Input Tools also offers handwriting input for over 70 languages.
The extension is available for Google Chrome, Firefox, and Safari browsers. It is also available as a mobile app for Android and iOS devices. Google Input Tools makes it easy for users to type in any language they need.
The extension is free and easy to use. It is a valuable tool for anyone who needs to type in multiple languages.
The input extension has several settings that allow you to be quite precise about how the input will take place.
For example, it includes options for typing Hindi, Hebrew, or Arabic characters.
There are also language-specific dictionaries for languages such as French, Spanish, German and Portuguese.
You can change keyboard layouts from QWERTY to AZERTY by adjusting a setting within the extension as well if you're not using one of those two.
The point of this? Make sure that people who use alternative layouts have a better experience on the web no matter what browser they're using.
The extension is currently available for Chrome and Chromium, but not Firefox (and there's no promise that it will be). There's also an Input Tools apps (formerly Transliterate) for Android app users.
Google Input Tools is free to download on the Chrome Web Store.
Source: Google Input Tools for Chrome and Chromium – Google Groups
Google Input Tool For Google Chrome
Google input tools extension can be located under the Google toolbar that is found on the top right-hand side of the interface.
The settings for each language have a small blue box next to it that can be used to switch between languages while typing in a text field.
The list of inputs will change depending on what language you are using and what characters are being typed.
The list of Input Tools available on Google includes keyboards for over 80 different languages including Kannada, Punjabi, Telugu, and Tamil. The complete list is shown below:
Google input tools extension download the latest version of Google Input Tool on your Google Chrome
Google Input Tools Download
Google Input Tools font Download is a software package made by Google Inc. that allows users to enter the Unicode text from any Unicode-compliant source, such as the web or Microsoft Word, into operating system text entry fields.
It supports a number of languages that have complex scripts, such as English, and runs on Linux, Mac OS X, and Microsoft Windows systems.
Upon downloading the text document software from the developer's website, it will install easily and seamlessly on your computer. Most users also commented on how they found this tool very helpful for facilitating their work with multiple languages.
That way they can input both Arabic and Latin characters at the same time to create sentences or paragraphs in their documents.
Features of Google Input Tools
Google Input tools offer a suite of features you may already know. If you don't know the features, we will sort it for you. We do not want to you take the pain.
Available for Google services, Chrome, Android devices, and Windows
Works in both offline and online mode
Maintains custom dictionary
Supports 80+ languages
Seamless typing using keyborad finger key
Available on android and windows phone
Free of cost 🙂
What's New in Chrome Browser?
Switch and start typing in a different language code with a single mouse click. The Google extension tool offers a virtual keyword on Chrome Browser with 90+ languages.
How to use Google input tools?
Google Input Tools is accessible for various platforms, including Windows devices, Android delivers, Google services, and Chrome. In fact, the tools support over 80 languages. However, users can converse in any language irrespective of place.
The user needs to input text and not translate them. Google Input Tools memories auto correct and keeps a custom dictionary. Thus, it is unusual, slang or new words can be registered as you type them.
Getting started with the Google Input Tool extension is easy and quick. Setting up takes a similar time to other extensions available. The actual time consumed depends on the input methods chosen a preferred keyword (virtual keyword).
How To Install Google Input Tools
Follow these steps to download and install the Google Input Tool:
Go to the download page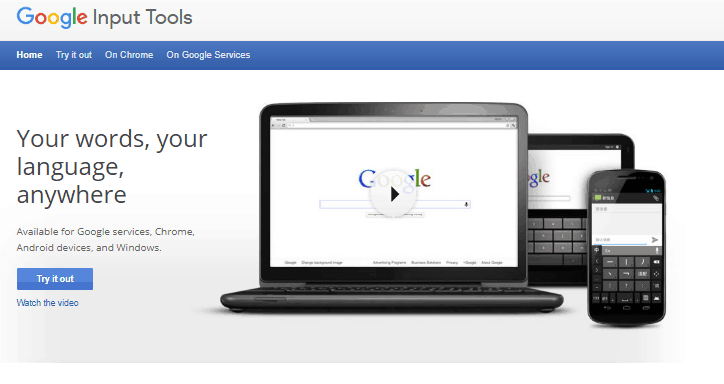 Click on try it out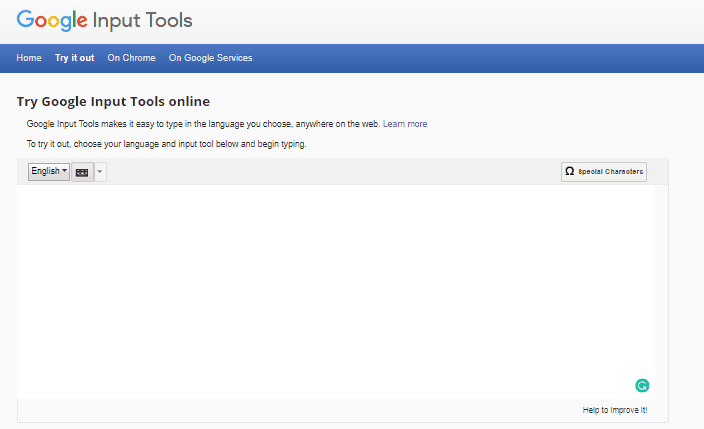 Choose the language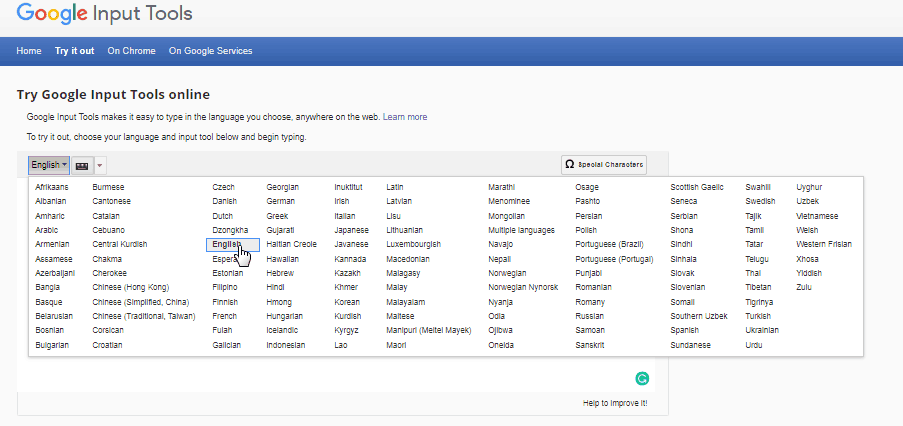 Start typing Google input translator
Help users type in languages that are not supported by the default
Google now offers an Input Tool that can help users type in languages that are not supported by the default settings of the Google interface.
The Input Tools will adapt to the language that is being typed in.
For instance, if you are typing in Hindi, then the Input Tool will provide different characters to choose from depending on what you are inputting.
Some characters may not be included because they are not present in Unicode. These inputs are also used for other languages as well depending on availability.
Some of the Indian Languages which are not included in the above list may still be available like there are many options for typing in Malayalam available.
The Input Tool also provides the option to type in English for all languages that don't have their own input methods.
Google type pad input tools provide options to type in numbers as well as Emojis if those are available for a particular language. Below is a screenshot of some of the numbers available for Hindi (Google Hindi Typing).
The screenshots below provide an idea of some of the other features provided by Google Input Tools like Key Click Sounds, Auto-Capitalization, and Auto-Correction.
Pressing the Enter key will show suggested words that can be used to complete what is being typed. An example of this can be seen in the image below.
The suggestions can be selected by using the 'Tab' key and will also be available as a list of possible words on the top of the page. This is useful for shortening lengthy sentences or typing with quick access.
The Input Tools provide a range of keyboard layouts that can be used as an alternative to the default input layout which can be selected by choosing "Hinglish" in the input menu. The various layouts available are shown below:
Different languages like Hindi, Urdu, and Punjabi
Different languages like Hindi, Urdu, and Punjabi use a different Keymap layout when writing in their native scripts.
For example, typing in English (United States), will provide certain key combinations that can't be used while typing in Hindi. The keymap layout will provide google input tools shortcut key for basic characters so they can be easily used in Text Field inputs.
It is also possible to use the Hinglish Keymap with all languages without having to choose a specific language from the Input Tools menu.
This can be done by enabling the 'Show advanced settings option under Google gboard Settings and selecting the "Enable input tools" option under 'Language setting'. This will enable all Input Tools on Google.
This feature is useful for languages like Gujarati and Tamil where it is common to type in English while maintaining a strict use of their native scripts.
The image is shown below shows both English and Hindi words being typed using the same layout even though the Input Language is set to 'Hindi'.
Virtual keyboard option
The Google Input Tools also provide a virtual keyboard option which can be enabled by selecting "Show virtual keyboard" under Google gboard settings.
This provides an onscreen QWERTY Keypad to type in languages that don't have their own dedicated keyboards provided by the tool. The image below provides a demonstration for this feature where typing 'Malayalam' is being done using a QWERTY Keypad.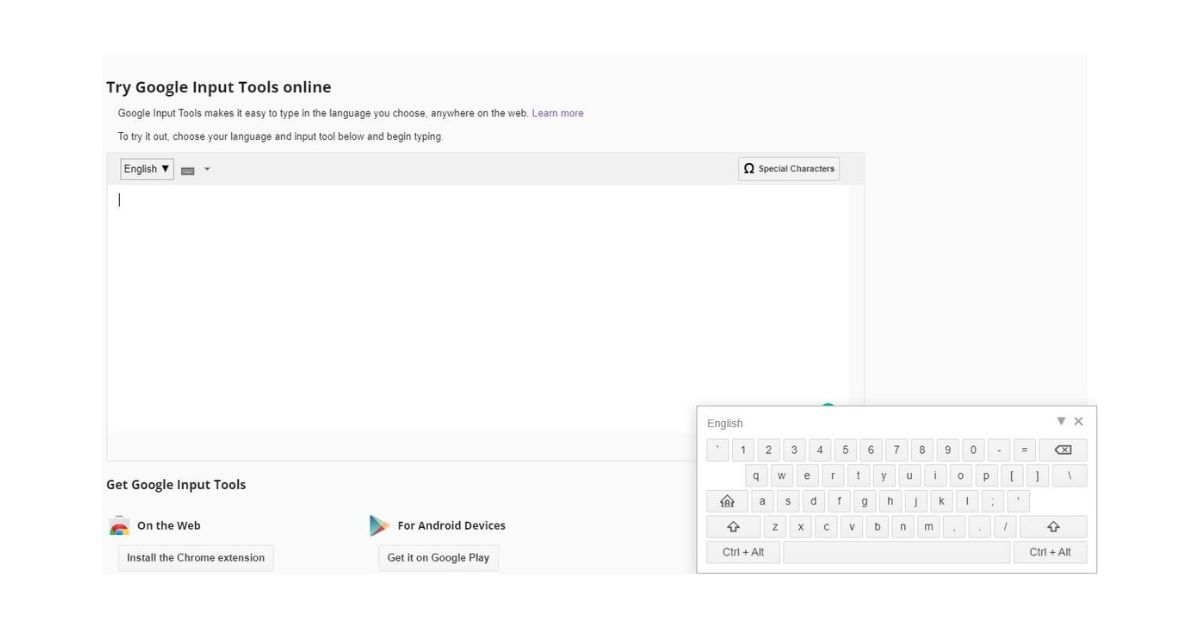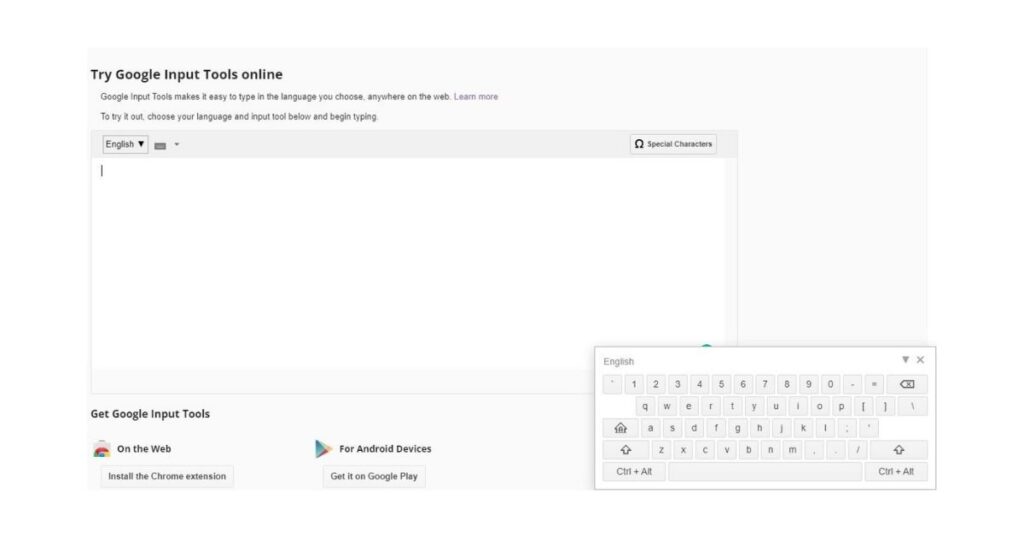 After enabling the virtual keyboard, it will be possible to type in any language without having to use a Language-specific input tool. For example, Malayalam can also be typed as shown below:
The Google Input Tools provide support for a multitude of languages and because of their ease of use, the usage of these tools has increased over time. Below is a chart representing the usage statistics from Google Trends:
One major area where Google's Input Tools provide an advantage is by making texts accessible in multiple languages. This makes it easier to search through large quantities of data without having to translate the language which saves time and resources.
Another useful aspect of Google Input Tools is that when uploading a post or making a comment on any blog, the default choice is the native script in which it can be written.
This makes it easier for bloggers who write their posts in languages other than English so they don't have to manually change the input language before making their posts.
Wide range of language support Key Click Sounds, Auto-Capitalization and Auto-Correction
The Google Input Tools provide a wide range of language support and come with various features like Key Click Sounds, Auto-Capitalization, and Auto-Correction which make it convenient to type in languages other than English.
However, the input tools currently only provide suggestions for words that can be used to complete sentences based on what has been typed previously.
This is a good method for languages like English but does not do as well when it comes to languages with a large number of conjugations and grammatical rules.
For example, the suggestion menu for typing "दो" in Hindi provides two suggestions on its own ("दोनों" and "दें") whereas the same word in English provides many more.
This can have a negative impact on language learning by requiring additional effort to manually type in all commonly used words which is particularly an issue for languages like Hindi where it is necessary to use specific conjugations while typing sentences.
For example, typing "मैं चाय पीता हूँ" requires using the words "I", "tea", and "drink" in the correct conjugations. While this might be acceptable for students of Hindi who are already familiar with these conjugations, it makes it difficult for those who are just starting to learn the language.
The input tools do provide suggestions of conjugated words but this additional step is still more convenient than having to type in multiple words manually.
Lack support for special characters and punctuations
The Google Input Tools also lack support for special characters and punctuations which can be problematic when typing languages like Arabic or Hindi where these symbols are integral to the language.
Since many of the input tools provided by Google only provide suggestions based on what has already been typed, typing in languages like Arabic can be made simpler if it was possible for the tool to process text that is entered without generating any suggestions.
This would allow users to type in their own words which could then be used in suggestions provided by Google.
One major issue with current input tools is that they don't provide any options to customize the language displayed on the toolbar.
This forces individuals who use languages like Urdu, Bengali or Mandarin to type using English letters which can make it difficult for them when they start typing words in their native scripts.
Even though the Google Input Tools provide a lot of features, they don't have any customization options which can be frustrating for those who use languages that require specific diacritic marks or non-Latin script.
How to use Google Input Tools Hindi?
Google Input Tools Hindi is an application that will let you type in Hindi and it will automatically translate it for you to the language of your choice.
Google Input Tools Hindi is a keyboard extension for Windows XP and macOS. It can be downloaded from the Chrome Web Store free of cost. The keyboard contains all the vowels, consonants, and symbols necessary to type messages in Hindi.
The Input Tool for Hindi is enabled by default when the Google interface is set to Hindi as the Language Preference. The Kannada Input Tool can be enabled by changing the Language Preference to "Kannada".
All other languages must have their specific tools enabled manually. This can be done under Google settings > Search Settings > Languages and Google Keyboard. On the same page, there is an option for Enable input tools on the Google website. The input tools can also be disabled from this menu as well.
Google Input Tools Tamil
Google Input Tools Tamil is a type of Google Input Tool that helps in language input and technology for translators. This tool is mainly used in the Tamil language. It is a proprietary input engine for inputting text in different languages on the web.
This tool has been programmed with the Unicode Consortium's Universal Language Model (CLDR) and includes features such as Tamil-to-Tamil transliteration, spell checker, and Tamil word lookup service.
Connecting to கோப்பை போட்: To connect to this menu, you need to press Alt+Shift+I or Ctrl+Shift+J which can be done in any website or web application. You cannot connect only to social networking sites like Google+, Facebook etc.
How does Tamil Input Work?
This input method works by converting Unicode-based Tamil text into keyboard input events that could then be used to enter text into desktop applications and web pages. This input method editors works together with the other input tools which are available on your pc.
To use this input tool, first you have to type Tamil text in the box provided then press "space" or "tab". This process is called transliteration. The text will be copied by Google Transliteration service and it will perform transliteration itself.
The text is automatically copied to the clipboard where it can be pasted in an application. The following video provides a demonstration of how this tool works:
This tool supports both Tamil and English fonts. In addition, you can select any of these languages while using this input method.
The Google Input Tools are most used for
Marathi typing
Telugu typing
Malayalam typing
Sanskrit typing
FAQ
Final Thoughts
Free Google Input Tools is a reliable virtual keyword. A unique keyword that does not only translate language but also input data Google Input Tools supports over 80 languages. Some popular languages you may love to type are Telugu, Hindi, Malayalam, Gujarati, Marathi, Bhojpuri, Punjabi, French, German, English, Urdu, Tamil, Portuguese, Spanish, Arabi, Persian, etc.
Do you have any questions? Share your experience and feedback with Google Input Online Tools