Do you feel trapped to manage multiple RSS feeds? If you are looking for a platform to keep all your blogs and news sites you love in one application, then RSS Feed Aggregators is for you. An RSS feed aggregator is a unique tool that combines multiple RSS feeds into a single feed solution. Still, confused? Let us simplify for you!
What are RSS Feed Aggregators?
RSS is abbreviated for "Really Simple Syndication". An RSS Feed Aggregator combines multiple RSS Feeds. In today's digital world, when everything is integrated digitally, integrating two or more RSS Feeds into one is a smart move. RSS feeds are like the API for websites, blogs, and other online content. They let you easily distribute headlines, update notices, and online content to a wider audience base.
In this direction, employing RSS Feed Aggregators for your digital marketing strategy is a great move.
Top 11 RSS Feed Aggregators You Must Know
Here is a list of the top 11 RSS feed aggregators for 2019 that you will not only love but strengthen your marketing strategy.
Taggbox: For Website and Events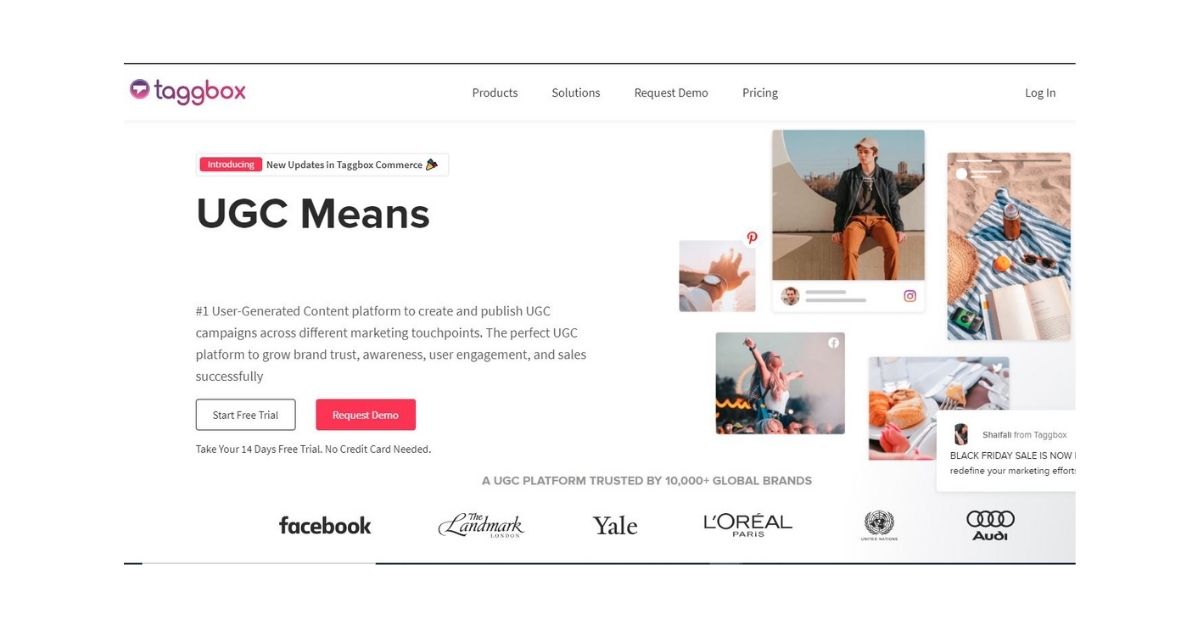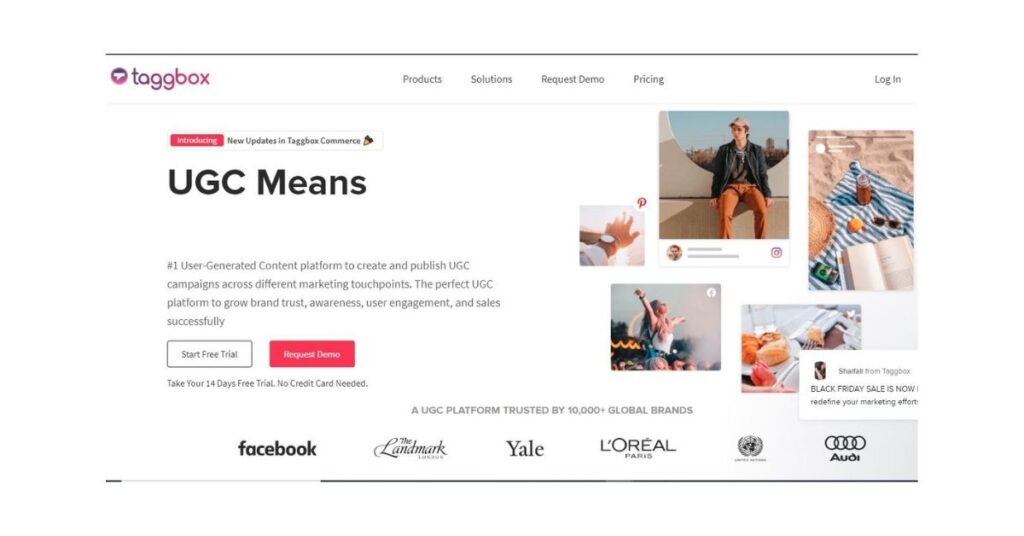 Taggbox is known to be the best social content aggregator. It is a display tool that gives you the capability to aggregate RSS feeds on websites or in events through a social wall. Not only that, it comes with amazing customization options to make your RSS Feeds appear attractive and engaging. Also, it comes with powerful moderation panel and robust Analytics feature that lets you have deep insights into the performance of your RSS feeds. Taggbox is the best RSS Reader Aggregator.
TaggBox Highlights:
Supports 10+ social media platforms
Powerful moderation panel
Filter to remove unwanted content
Customize themes, colours, and fonts
RSS Mix – Unlimited and Free RSS Feed Aggregator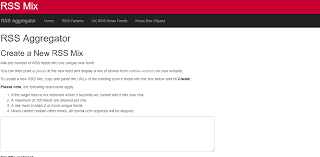 RSS Mix lets you create your own RSS mix by aggregating any number of RSS feeds into one unique feed. This makes it easier to handle. It gives you the ability to mix a number of stories together and display it on the website. All you need to do is just copy and paste the URLs of the RSS feeds to be mixed and hit create. And there it is, your own unique RSS Mix feed. It also contains links to other important RSS tools.
RSS Mix Highlights:
Secure and smooth user-interface
Unlimited number entries
Seamless uploads
Free of cost
Feed Killer – Custom RSS Feed Aggregator

Feed Killer allows you to mix multiple RSS feeds into one aggregator feed. This allows you to display a variety of content fetched from different sources on your website and engage your visitors. It has a really friendly user interface. It is really easy to use. All you need to do is enter the RSS feed URL and combine them. That's it. It also displays URLs of recently created feeds.
Feed Killer Highlights:
Custom RSS feeder
Add unlimited sites
ChimpFeedr – Mix RSS Feed Aggregator
ChimpFeedr has a user-friendly interface. Not only it allows you to combine various feeds by entering respective feed URLs, but also allows you to resize your images. You can run types of RSS campaigns on a daily, weekly, and monthly basis. It allows you to share blogs and website content for your RSS campaigns. It also allows you to mix RSS feeds with other content, all you need to just do is drop a feed into the other campaign types.
ChimpFeeder Highlights:
Handy for users, google readers, and bloggers
Resize the images
Good RSS to email
Feed Informer – Multiple RSS Feed Aggregator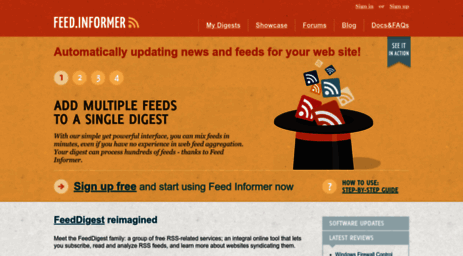 Feed Informer is one another kind of RSS feed aggregator. It lets you create and mix RSS feeds into one unique feed. The SEO tool offers a really friendly user interface. It automatically designs and updates news and feeds for your website. It allows you to add multiple feeds into one single digest. In addition to the ability to choose the output format ranging from HTML to PDF, allows you to customize your RSS feed digest by choosing from beautiful templates and designs. Finally, it gives you the power to add that digest to websites.
Feed Informer Highlights:
Feed analytics
Powerful interface
Customizable widgets
Feedbin – Open Source RSS Feed Aggregator
Feedbin is fast, simple, and clean RSS reader. The software offers a clean interface that can be customized according to the theme. Moreover, developers can use fullscreen and typography for an optimal experience to attract users full attention. The Feedbin RSS feed reader is an open-source feed reader. It is available for the web as well as android/ios mobile users.
Feedbin Highlights:
User-friendly Interface
Supports mobile and web
Techmeme: Best Technology News Aggregator

Techmeme is a tech news aggregator. The website is a brilliant technology-themed aggregator site that source in tech stories from various segments. In fact, it includes a website like Reddit alongside breaking industry tech news. You'll see that every article includes access to other websites, as well as social media conversation. Furthermore, there are sister aggregator websites like WeSmirch (a celebrity content aggregator site), MediaGazer (media aggregator), and Memorandum (political news aggregator).
Techmeme Highlights:
Single and easy-to-scan pages
Human editors
Panda: Free RSS Feed Aggregator
Panda RSS Feed Aggregator is a smart news reader. It is powered by integrations and improves productivity. Thus, an easy way to keep up with industry news and inspiration from news sources in one interface. It is an excellent tool for anyone working as a web designer or developer. The visual is more visual appealing than other news aggregator websites.
Panda Highlights:
Bookmarking
Free unlimited feeds
Multiple layouts
Social media integrated tools
Feedly – Cloud Based News Feed Aggregator
Feedly is another best news aggregator website on the web. It offers a clean, simple, and unique design. In fact, an excellent way to follow news online. The RSS reader is fully customizable with a paid and free service. Thus, unrivalled range of sources. However, the free plan is limited to only 100 sources. Moreover, Feedly also imports whatever other RSS source has to offer alongside.
Feedly Highlights:
Cloud-based service
Supports web and mobile
Organize, share, search content
Metacritic – Media Review Aggregator

Metacritic is an online RSS news feed aggregates reviews for media products. For example TV, films, video games, books, media products, and music albums. It is all time favourite and easy to use the site of all time.
Metacritic Highlights:
Large database
Vast industry capture
User review and rating
Inoreader: Search For Free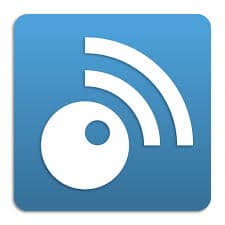 Inoreader is a web-based RSS feed reader, a content and cloud-based server. This feeder supports web browsers and mobile (Andriod and iOS). Moreover, it has several configurable options.
Inoreader Highlights:
Cloud base service
supports all browsers
Customize widget and layout
Best RSS Reader 2019
Aggregating RSS Feeds on your website allows you to display a variety of content on your website fetched from different sources. This helps you to increase your website's UI.
So, don't hold back your marketing horses. Aggregate RSS feeds into a unique digest and adds it on your website to enhance user engagement.