URL Shortener tools are very popular, and 2020 is no exception. I understand why it is an important internet marketing tool. There has been over one time when I wished someone shares advice on URL shorteners during my early marketing career.
When was the first time I realized the need for URL shorteners?
I was trying to post a URL on a social media site. That was the time I got frustrated by how long the link was. This is where my hunt for URL shortener begin. A free URL shortener tool with an unlimited converter is all I need. But it might not be easy to figure out which one is the best.
There are several uses of URL Shorteners Google, some less novice than others. But I began to wonder why people are attracting to these services. Free tools like Bitly and TinyURL are popular. Thus supports marketers to generate short links for social marketing campaigns. But it seems to derive popularity mainly from being one of the oldest niche services provides.
This is usually when something becomes popular and several small or large enterprise jumps aboard. Now we have a large inventory of sites while most of them offering free services. Therefore, it becomes important for someone to justify the best tools available in the market. But before we get into the top list, let's understand what are URL shortener tools.
Let's begin with taking an example:
Look at this URL
URL 1: https://digitalshiksha.com/6-best-free-tool-for-wordpress-bloggers/
Now, see the quick URL version of above
URL 2: https://tinyurl.com/y2cuwz8r
Can you see the difference between both? If you click on URL 1 and URL 2, both the links will take you to the same pages. While the only difference between both the links is the number of characters. URL 1 has 71 characters while URL 2 has 29 characters. Now, looking at both the URL, think which URL will you wish to click? URL 2?
In most cases, users will click URL 2 because it is short and give a sense of effortless and easy-to-go.
Here is a list of top URL shorteners online tools that you may find helpful.
21+ Best Free URL Shortener Tools 2020
Great! you have made it to this section. Here is our pick for 20 best free URL shortener tool.
1. Small SEO Tools – Online Link Shortner Tool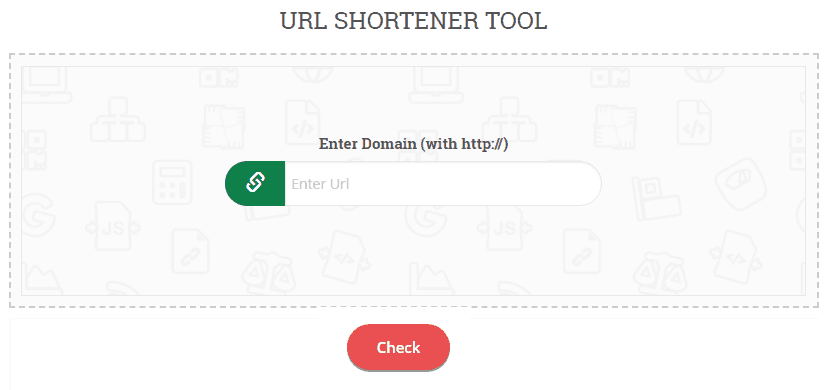 Small SEO Tools offers a complete set of text tools at your fingertip. Some popular SEO tools by smallseotools.com are plagiarism checker tool, backlink checker tool, article spinner, spell checker, grammar checker, word count, change text including URL shortener tool. To short the link, you need to enter domain with HTTP://, and then click on a check to generate URL.
Small SEO URL shortener tool helps to create a small URL and make the link more manageable. URL shortener tool by smallseotools.com is excellent for affiliate marketers and social media experts.
Specifically, who love to convert blog ugly URL into attractive links. The tool is popular link compressor (or short URL generator tool ) to create link shorter. Besides, it is an in-demand tool because of the simple and user-friendly design.
2. Bitly

Bitly is a widely popular URL shortener tool. It allows users to track and optimize every touch point of the URL. There are big chances that a good number of shortener links you have to click is optimize using Bitly tool. The free URL shortener tool allows you to simply copy and paste the link for unlimited times.
However, becoming a registered member of the site allows access to more options like customizable links, track link statistics etc. Registering to the premium version of Bitly enables you to gain access to more features enjoy creating campaigns and securing links.
3. TinyURL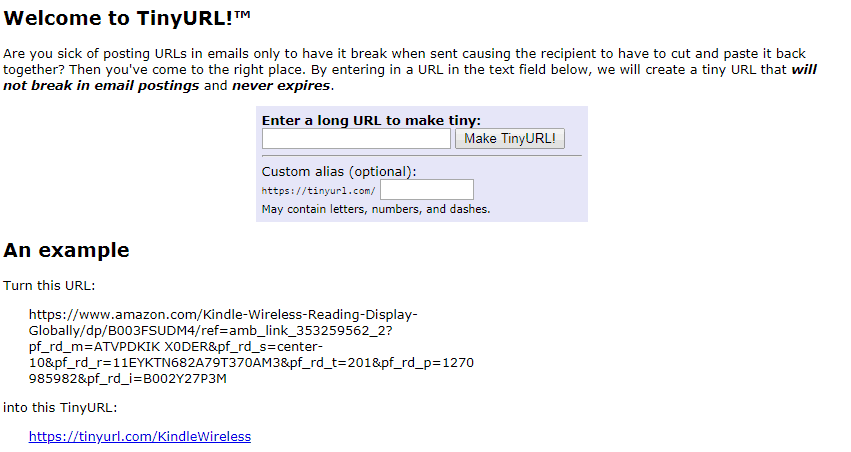 TinyURL is another URL shortening tool that has been around for quite some time. The tool helps to shorten links as well as customize links for free.
Another thing which makes the tool even more unique is an option to add to your browser toolbar for both Google Chrome Extension and Mozilla users. This feature lets you create short links quickly, thus, TinyURL is the best tool for you.
4. Ow.ly

Ow.ly is a free URL shortener tool like TinyURL. This tool is now part of Hootsuite. The free version of Hootsuite gives you unlimited access to the Ow.ly link shortener.
Hootsuite is the most popular social media management platform that lets you manage all social media account under one platform, schedule, post, and track important messages. The best part for integrating Ow.ly with Hootsuite is that now you can easily share short links in your social media posts, which is handy for sharing content.
5. Is.gd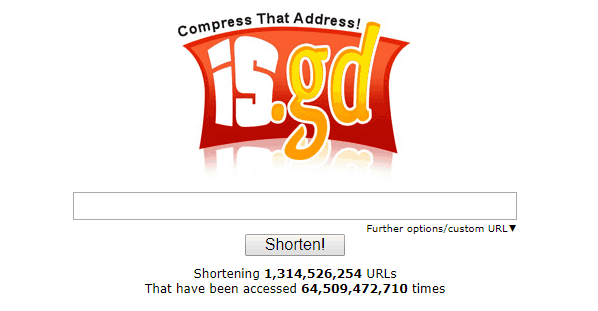 Is.gd offers URL shortener that is fast, ethical, and easy to use. The best feature includes custom shortened links and detailed statistics. In fact, you do not need a CAPTCHA code or long verification procedure to shorten the links. Thus, you can custom create short URL which helps to create more identifiable URLs when posting online.
6. ClickMeter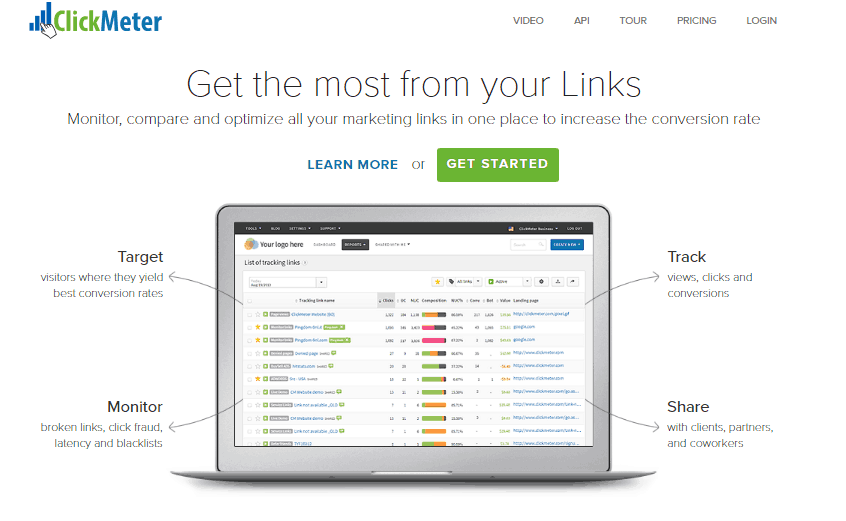 ClickMeter is favourite URL shortener tool for marketers as it lets you monitor, compare and optimize links in one place to increase conversion rate.
The main feature of the tool is excellent analytics for traffic monitors, conversion tracking, multiple dedicated domains, Editable destination builder (URL, SSL, UTM), multiple redirect options, and re-targeting on links. It's not just a URL shortener tool, but a complete link management suite.
7. Branch.io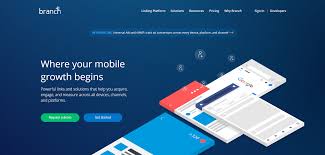 Branch.io understands the importance of URL and handles all the complexity so that your links work across every platform and channel. Branch.io is an industry-leading mobile tracking and deep linking platform trusted by the top mobile ranking applications. With Mobile SEO becoming imperative in 2020, short links for mobile is equally crucial for better accessibility.
8. Buff.ly

Buff.ly is a URL shortening tool that is a part of Buffer. The buffer is worlds to social media management tool that helps share and track post on a different social media platform. Buff.ly works best on every kind of post, and it eliminated the link from breaking and making it easy to share with users. If you use Buffer, then you should take the most advantage of Buff.ly.
9. Rebrandly


Rebrandly is another URL shortener for individuals looking for an excellent option to shorter URL for sharing with users. The tools allow creating custom links that go along with your brand. This helps to enhance brand visibility with building trust with the audience on every link you share. It also lets you track marketing efforts by providing the most valuable detailed click statics. We can share the links on any major social media platforms like Facebook, Instagram, and Twitter.
10.T2mio


T2M stands for Text for Marketing is a Canada-based link management tool. The tool was mainly designed for businesses, universities, and survey agencies. The custom free URL shortener tool offers unlimited access.
However, premium users can gain access to track every click on a yearly, monthly, and daily basis. T2mio also allows you to share links on social media and QR code on one-click. Every link is password protected and API compatible.
11. BL.INK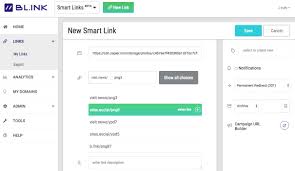 BL.INK is user-friendly and easy to scale more than just a short URL. The live-tracking feature of the tool allows users to see which content audience loves most so that marketers can make informed decisions.
BL.INK offers a budget-friendly option to grow your business. What makes BL.INK sets apart from other link short tools is that you can create short URL campaigns and easily track performance with real-time click analysis.
12. Moourl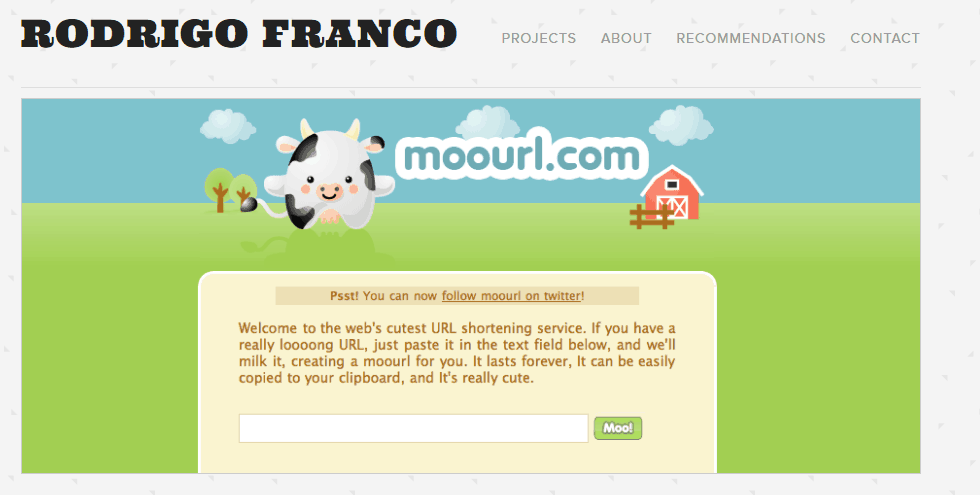 MooURL is known to offer cutest URL shortening service. You just have to past URL in the text field you would like to have shortened in the box and click on "Moo!". Moourl will let you shorten the massively long and complex URLs that you get from YouTube or other sites.
13. Snipli

Snipli is a popular free URL shortener service with a social twist. The software allows you to sign-up for an account which allows you to edit the URL, subscribe RSS feeds of latest Snips, create multiple Snip URLs, and protect with a password.
14. Shorl.com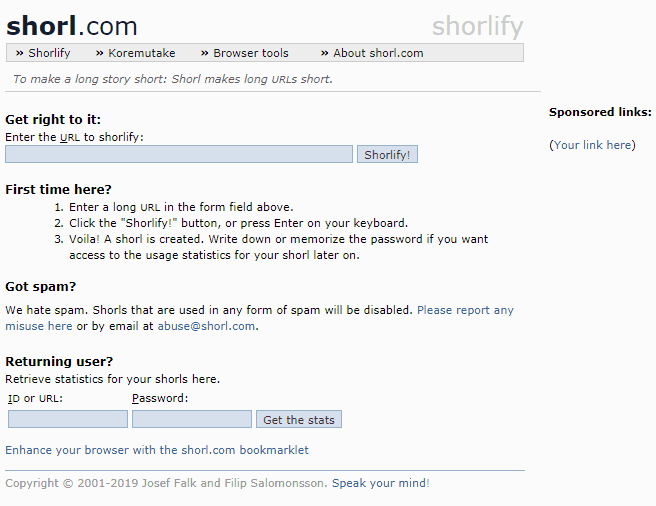 Shorl.com is a decent alternative to the above tools as it offers a simpler approach. The tool has a clearer interface without minimum ads. You can sign up for an account to track statistics for shortened links.
15. Notlong.com


Notlong basic tool to make long URL small so it fits easily in social media post and emails without wrapping. It not only short links but also lets you choose a sub-domain.
This best custom URL shortener free online presents you with a password with which you can track URL statistics. Besides, you need no registration. However, you need to be creative while picking up a sub-domain that isn't already taken.
16. Check Short URL

CheckShortURL is a customizer tool that supports all URL shortening services from t.co, goo.gl, bit.ly, amazon.to, tinyurl.com, ow.ly, youtu.be and many others! The tool allows you to retrieve the original URL from the source of the link before clicking and visiting the destination. CheckShortURL suggests several safe browsing tools to verify the integrity of your shortened links:
17. 7.ly

7.ly is easy to use a URL shortener that also offers users to check click statistics. It is popular as you can short-URL with only 15 characters quickly with no similar-looking letters. The characters include small or capital letters only. 7.ly is an awesome alternative to Google URL Shortener.
18. Al.ly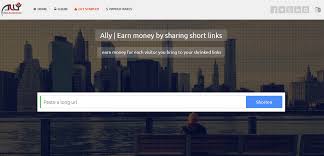 Al.ly is another URL shortener that pays you based on link clicks. All you have to do is share short links and get paid within 24 hours. This is a unique URL shortener tool because it features Geotarget, Custom Alias, API integration, Export URLs, Password Protected, Powerful Dashboard and a lot more.
19. Yourls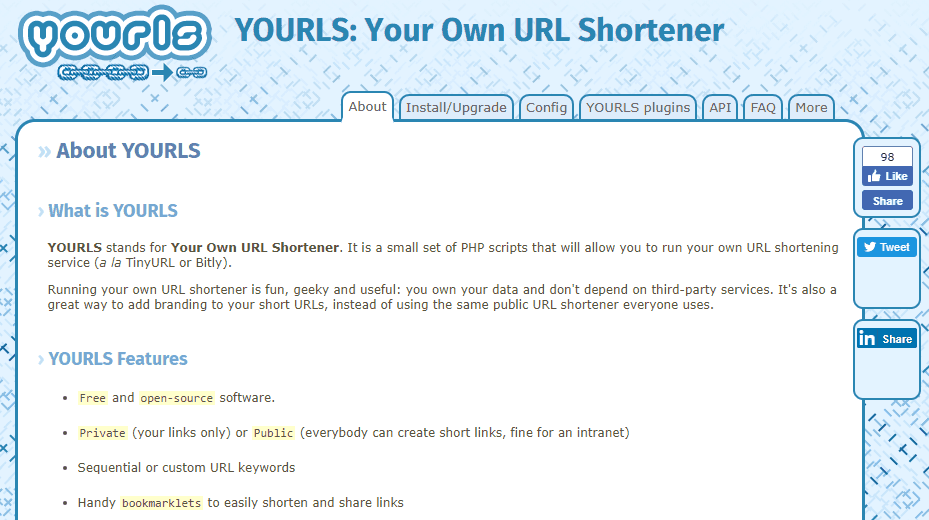 Yourls stands for Your Own URL Shortener. How do URL shortener tools work? The Yourls is free and open-source software that works on a small set of PHP scripts that will allow you to run your own URL shortening service. Here is a list of Yourls features: Sequential URL keywords, neat Ajaxed interface, full jsonp support, historical click reports, referrers tracking, visitors geo-location, and more.
20. Clkim


Clkim is known to be the most flexible shortening a URL that lets you advertise users directly. You can also customize the URL based on the mobile operating system. It is a perfect tool when driving traffic to websites where you cannot place pixels.
[wp_ad_camp_1]
21. ShortURL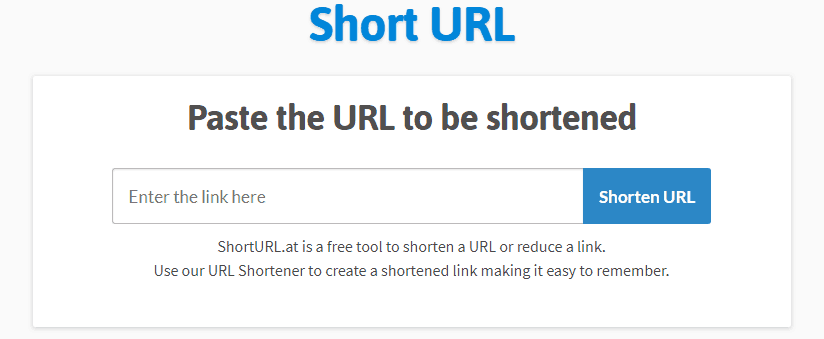 We found this amazing shortening tool for URL. ShortURL.at is another top-selling fast URL shortener for beginners. The simple hack to shorten a URL is to paste long URL, click on "Shorten URL".
Once you submit a link, copy the shortened URL and share. ShortURL.at unique selling feature is that it summarizes 'how many click URL receive'. Track link statistics for business and campaign by monitoring the number of hits including clicks, views, and impressions.
What is URL Shortener?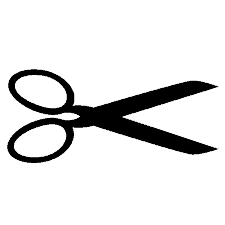 URL stands for Uniform Resource Locator. A URL is a way to identify the file location on the internet. Often, URL is lengthy and difficult to track. To conclude, URL shortener is a technique on the World Wide Web (www) in which URL is substantially shorter, a still more directly to a web page.
A URL shortener tools come handy to create a long link shorter which takes you to the same page. The tool tale your link and make it personal by using your brand. However, many URL shorteners Google also offer analytics about who is clicking on your links and why. Thus, keeping track of site analytics is one way to increase site traffic.
Why Do You Need URL Shortener?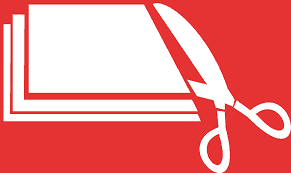 You might think URL shorteners are an extensive process, but it is imperative. URL shortener tool is beneficial as you can make your site link visually appealing.
It facilitates you to show off your brand as partner links fit in places where you have access to limited numbers of characters. For instance, Twitter only allows 280 characters and you need to avoid pages when you have more to say. Similarly, look at 5 benefits of URL shortener tool 2020.
Track site performance: Majority of URL shortener tools in 2020 offers analytical data. By tracking site performance, marketers can understand how they engage with the audience, adjust strategies accordingly.
Useless character space: Saving character space is critical, especially for posting on Twitter. Getting your message across social media platform with restricted characters feel like rocket science. Link shortener makes the easy by optimizing URL. Thus, improve the SEO of the site.
Higher click-through rate: Online users are used to scrawling shortened links on social media. Because of this, using shortened links increases the click-through rate. It is the easiest approach that can add value to your social media strategy, besides increase effectiveness.
People are used to them: Simplicity attracts everyone. With a short link, users feel relate to them. Shorter links have become so common that most people do not pay attention. However, most of the users consider unshortened links as unprofessional.
Promotes sharing: Significantly, shorter links make it easier to share, which promotes business sharing. Don't you like as many shares as possible on a post? Then why should you be making sharing any harder than it is?
Change NoFollow Tags: Yes, it will excite you to know if you share a URL on social media websites, is consider as No Follow tag. The practice is not according to the social media best practice, misconduct to spamming.
301 Redirects: Link chain conversion leads to daisy chain on 301 redirects to websites. Thus, a potential drawback for website owners to lose traffic. Especially with a search engine like Bing.
With social media marketing, short links are only kinds of URLs marketers should incorporate. If you do not give it a thought, it's definitely time to start. The beauty of using these tools is copy and paste. On top of this, they offer analytics.
How To Choose Best URL Shortener?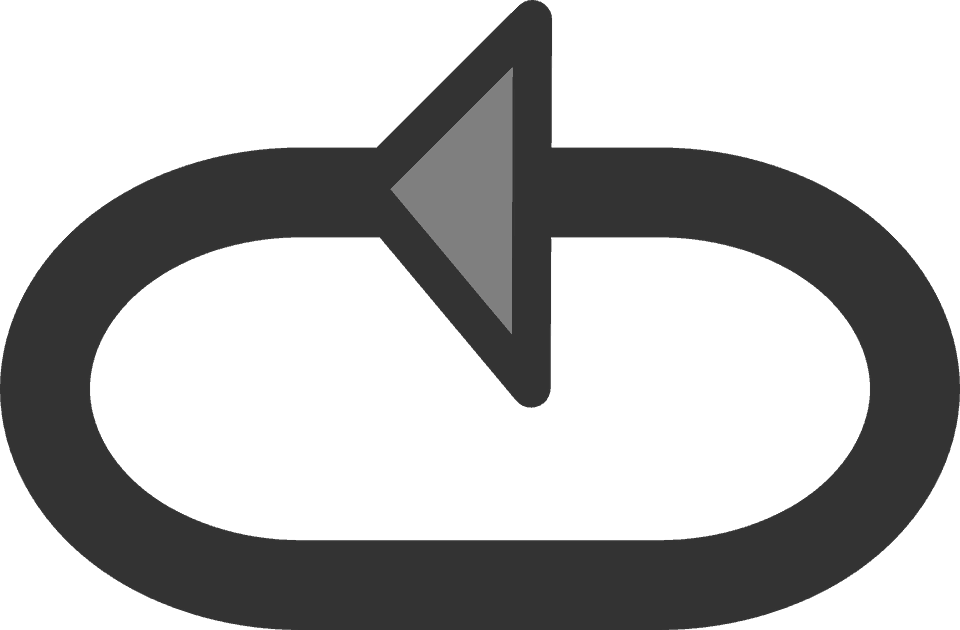 You need to choose the best URL shortener based on how many links and how much traffic you want. Other factors like the size of your team, the size of your budget, and the purpose of using the URL shortener here are a few things you need to consider before choosing the best  URL shortener:
Features: Before you begin, understand what they offer, especially for what they offer for free. Is it for social media? Affiliate marketing? Online Advertising? Or Personal Branding?
Purpose: Understand why you need the best URL shortener tool. If you need under 2,500 clicks and only need 500 links every month, then a free tool can work best for you.
Price: The price of URL shortener Google may vary depending on the features you choose. However, most of the tools are free for users. Do you need massive traffic on URL? Typ affordable tools like ClickMeter, BitlyPro etc.
Link branding: Identify the tools that offer customization to your domain and make branded short links.
Easy to use: Look for tools that offer easy-to-use flow, user-friendly, and good design.
User base: inquiry number of users they have, client base and how stable is their company.
Conclusion

As you know Goo.gl has discontinued its services, thus, there is still a good range of quality URL shortening tools 2021. With these tools, you can ensure customize links to make your social media post and emails more user-friendly.
If you've any more sites to share with our readers, comment down below.