Google reveals that consumer account will shut down on 2nd April  2019. Here are things you should know including a step-by-step guide to saving your content.
From 4 February 2019 onwards, users will not be able to create new content. While the full version is slated to shut down on 2nd April. Google will delete all the content including images, videos, and post from the user account.
Why did Google decide to shut down? Google discover privacy bug which impacted 52.5 million users.

In the official post, the company said;

"We announced this past fall that we're sunsetting consumer Google+ in April 2019, and today have more details to share. While this process of deleting consumer content will take a few months and some content may remain visible during this time, you should take action before April to ensure you don't lose any content you want to save."


https://cloud.google.com/blog/products/g-suite/what-you-need-to-know-about-the-sunset-of-consumer-google-plus-on-april-second
For Google Plus Users
The Google will shut down all accounts and pages created by the user. "Starting April 2, 2019, we will shut down your Google+ account and any pages you created, and we'll begin deleting content from consumer Google+ accounts. Photos and videos from Google+ in your Album Archive and your Google+ pages will also be deleted. " Contrary, users can save data by downloading it. How To Download Your Data from Google Plus Account?
Google is allowing users to download the data in a form of an archive. The archive content comprises all types of content. Here are things you can do to save your Google Plus data:
Go to Download Data Page.
Choose the file type.
Select the format to download.
Click to create an archive.
Choose specific data to download.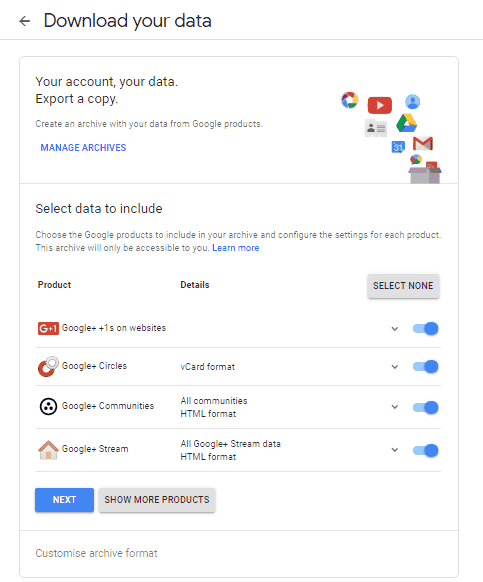 G-Suite User Account
Fortunately, Google isn't shutting down the G-Suite accounts. In fact, Google continues to invest in Google Plus enterprise account.
While we bring consumer Google+ to a close, we are continuing our investment in Google+ for the enterprise. You can read more details in this blog post. This means that for those of you who use Google+ as part of G Suite, your accounts will remain active. G Suite users include businesses who pay for its services and educational institutions and other organizations that use G Suite at no cost.

For Developers Using Google Plus APIs
Google is shutting down Google+ Sign-in and requests for Google+ OAuth scopes. An intermittent API failure messages have been sent to all the APIs users. However, developers can read more about Google+ API shutdown. Furthermore, can migrate data from Google+ Sign-in to Google Sign-in.
Google Plus struggled to attract new users outside the dedicated fanbase. Thus, made its decision to shut down the consumer version.