[wp_ad_camp_1]
Every year we make the same resolutions to stay fit and never able to achieve them. Learn how Google wants you to stay going on your resolution this year with #GetFitWithGoogle tools and tricks.
Google on December 2018, announced Google Fit New Year Challenge. With the new year kicking off, millions of people each year set the resolution to stay fit. Today, in continuation to challenge, Google shares more tips and tricks to make sure your resolution stay all year long. Here is the snapshot of the post: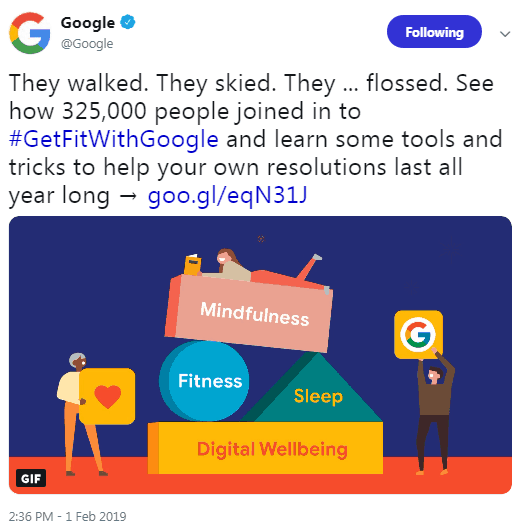 What is Google Fit New Year Challenge? Google Fit is pushing users to download its app Google Fit. Its monthly challenge in 2019 is a first every Fit challenge in the new year. Lasting 30 days, it asks users to rack up their heart points over the course of the month. Heart points can be achieved by unlike move points through walking, swimming, running, cycling, and more.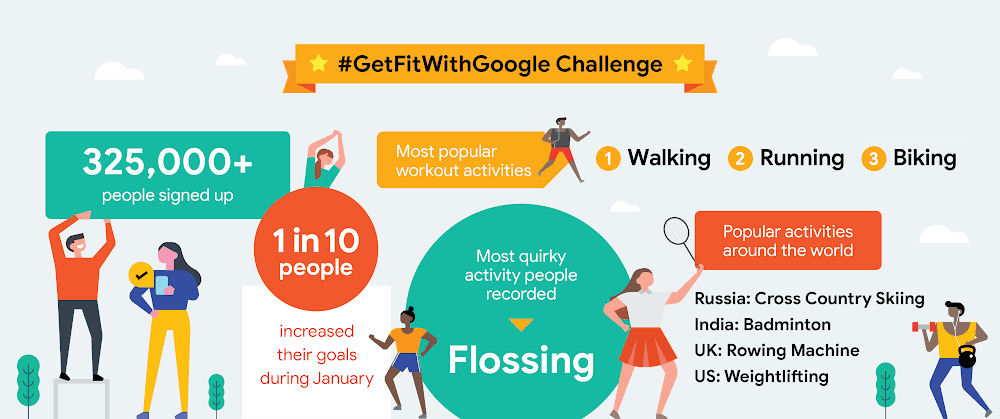 How Can You Sign-Up to Google Fit New Challenge?
Update the Google Fit app
Sign up to be a part of the challenge
Start racking up heart points
[wp_ad_camp_1]
#GetFitWithGoogle Challenge January 2021 update:
In Russia, people went cross-country skiing. In India, people loved their badminton. Brits hit up rowing machines while Americans got into weightlifting. Edinburgh, London and Kawasaki took top prizes for the most active cities around the world—while in the U.S. New York, Boston, and Washington braved the cold and topped the chart.
Similarly,
About four in ten of the people who joined the challenge earned at least 150 Heart Points on average per week and met American Heart Association's weekly physical activity recommendations.  And seven percent of people achieved all the milestones, earning more than 1500 Heart Points during the New Year Challenge.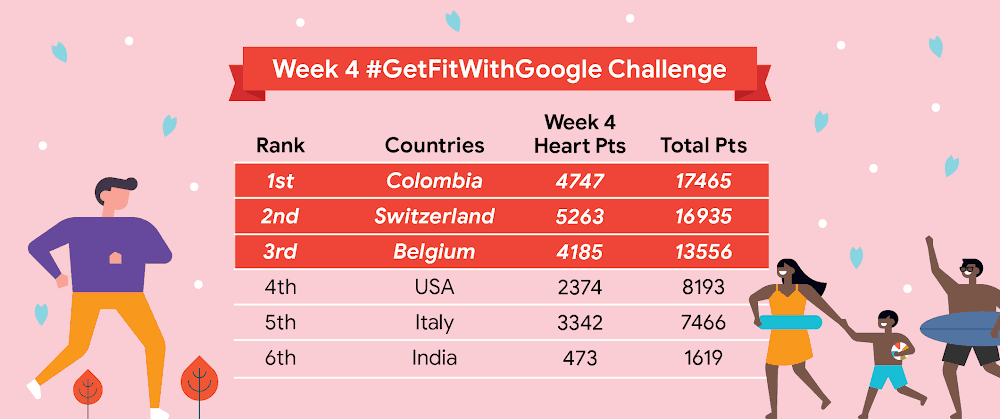 Read full Google GetFitChallenge Tips and Tricks Post.
Here is the highlight from the blog post you should know
To keep with your goals, set in early reminders with Google Calendar.
Take weekly selife and keep them in Google Photos Albums. It is a great way to keep focused on your resolution.
Set daily or weekly routines with Google Assistant to build healthy habits.
[wp_ad_camp_1]
Final Words
#GetFitWithGogle Challenge was a great success in January 2021. Where Colombia managed to get the 1st rank with Switzerland on https://www.rossitchpediatricdentistry.com/buy-depakote-online/ 2nd position. Similarly, Belgium on 3rd rank, the USA on 4th, Itlay on 5th, and India being on 6th position. In the end, Google adds "We'll be right here cheering you along next January, too."