Wikimapia knows your area more than you do! Maybe you sell a local business, were born in the area, or were raised there and you know it all. Wikimapia allows you to help create a free, multilingual, up-to-date map of the world.
Learn everything about Wikimapia


What is Wikimapia?
Wikimapia is an online platform that allows users to find places with the help of the virtual world. The tagline suggests 'Let's describe the whole world'. Wikimapia is an open-content collaborative mapping project is founded on 24 May 2006. It enables users to share information along with tagging landscape photos. For instance, places like cities, museums, amusement parks. Although, it is a much more advanced platform than Google Maps. Wikimapia uses multiple satellite data from Google, Bing, and Yahoo.
According to the website, Wikimapia is an open-content collaborative mapping project, aim at marking all geographical objects in the world and providing a useful description of them. It aims to create and maintain a free, complete, multilingual and up-to-date map of the whole world. Wikimapia intends to contain detailed information about every place on Earth.

Wikipedia
It implements a clickable interactive-based web map with geographical system reference to the wiki. With the only purpose to locate and justify all geographical objects in the world.
Wikimapia is a wiki-based map service created to make it easier to edit and create maps. It's easy – these guides will take you through the process for new and experienced mappers alike:
Creating a WikiMap: You can create an editable map either by typing new coordinates, mouse-clicking on the map, or following the link in edit mode.
Editing Maps: If your current view is not under edit mode, you can still click "edit" at any time on a location page and start editing it for yourself! In this way, someone might update one point of interest listing while also updating another cool site he found.
Clear Outlines With Borders – There are several different borders that mark specific types of information:
National Boundaries: These borders represent the lines on a world map and can be used to denote national boundaries. Most countries have their own distinct border color.
City Borders: This border is also used as a means of denoting city limits on maps where some cities are too large to display as one marker.
Political Boundaries: This border represents some of the more familiar lines on a world map. These borders are used to denote political divisions such as states, counties, and provinces.
Natural Features: This border is typically used to show natural features like lakes or rivers.
Water Bodies: The water bodies border can be used instead of the natural features border on maps where more detailed information about different water bodies is desired.
Other Bordering: There are a few other borders that have fallen out of common use, but may be seen from time to time.
Styles: Each map can have its own distinct style using different symbols and colors. You can easily switch between them by clicking EDIT on your map page and then the Style tab at the very top. The list of styles may be long, but it will allow you to see a preview before applying a style to your map.
Tags: Tags are used to add meta-data to certain features on your map. These tags can then been seen when other users view the map page and can help determine what each point is about. Tags can be added by clicking the tag button on the toolbar and then either typing in your desired tag or browsing through existing tags. You can also add a custom link to each item that you draw with the pop-up menu next to the link button.
Alternatively, if you prefer more graphic guides:
You can find more information about Wikimapia here!
Source(s): Wikimapia Help & Terms
Wikimapia Main Page
Wikimedia Commons Maps Directory
Wikipedia Entry for Wikimapia
Wikimedia Commons Interactive Map of Geographic Coordinates of Countries, Cities and Other World Places
Who developed Wikimapia?
The platform is an invention by Alexandre Koriakine and Evgeniy Saveliev in May 2006. In collaboration with Crowdsources, the site has grown to just under 28,000,000 objects in 2017.
What are the features of Wikimapia?
The platform offers a Google Maps API-based interactive online map. The map comprises of user-generated information which layers on top of the imagery of Google Map and other resources. While both registered and unregistered users can allow adding places on Wikimapia. However, the guest cannot edit places added by registered users. Likewise, categories are organized in a hierarchy such that viewed by a more general category. Moreover, users can facilitate the platform all around the world because it supports more than 101 languages.
Share your Wikimapia story with us!
How Wikimapia Works?
Surprisingly, Wikimapia data is managed by a group of volunteers on the internet. These volunteers contribute to projects for free of cost. Some of the common exercises are:
Marking places
Adding place description
Enabling external links to the paces
Categorizing places
Upload pictures of the places
Share information with friends and public
However, when contributing to Wikimapia, the volunteers facilitate users to gain experience. Thus, get access to more advanced tools such as linear features to market railroads, roads, rivers, routes and more. The volunteers can also share Wikimapia data to personal blogs, social networking websites, as well as website. This can be accomplished using Wikimapia add a map to page option.
Accomplishment of Wikimapia OpenStreetMap
Wikimapia was founded on 24 May 2006 by two Russian Internet Businessmen Evgeniy Saveliev and Alexandre Koriakine. Here are a few accomplishments.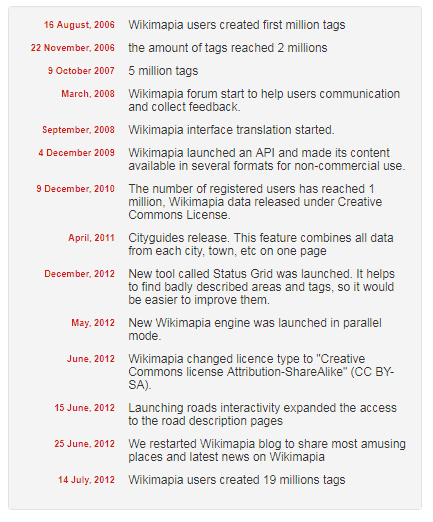 Wikimapia Google Application
Wikimapia Google app is free for users. The app allows users to browse on Wikimapia and explore places added by users like us. You can also edit and search using the app in real-time.
14 Steps to Add Location in Wikimapia 2019
Adding places to Wikimapia can be daunting for newbies. Here are 14 steps to add Wikimapia locations:
Go to Wikimapia.org
Click on 'Login'
Select 'Join Us'
Choose 'Username'
Enter 'Email id' and 'Password'
Confirm Email id by verifying
Accept Wikimapia guidelines
Move and zoom the cursor to select place
Zoom in city wise
Add site and place
Zoom in close to find the area
Click where you want to start the location.
Hover over where you want to 'stretch' out the shape
Continue pulling and shaping until it is how you want it.
Learn How To Edit Wikimapia Maps
Free Alternate to Wikimapia Maps
if you are looking to list your place on online maps. Explore our list to Wikimapia 2019 alternatives for all platforms, in addition to, license.
Google Maps
OpenStreetMaps
Google Earth
Leaflet
Surrounding
Planet Labs
Mappy
If you have any question or queries regarding Wikimapia Guidelines, comment down and let us know.