Whether you want to create a sitemap for your large website or for a smaller site destined for growth. You need to understand the type of sitemap that will work best for your site.
Sitemaps may address to users or to the software. In fact, many sites have a systematic view of sitemaps visible to users. They intend to help visitors find a specific page on the site and can also be found by crawlers. Moreover, the type of content, content freshness, depth of your pages, and site sections determines the type of sitemap required that can maximize SEO strategy.
What is a Sitemap?
Sitemap is defined as a file where all the webpage stored. The file is visible and accessible by search engines as well as the users to navigate easily. A sitemap is ridiculously useful to boost the website's ranking. Sitemaps are important because:
web crawlers keep a check on the layout of your webpages
helps the search engine to navigate through all the webpages easily to index
Keep the website up-to-date with current changes
5 Different Types of Sitemaps
There are five different types of sitemaps. Each has different uses and values user and search engine optimization. Morover, each sitemap has unique strength and weakness when it comes to SEO.
While all the five sitemaps are similar to each other, the best results come when they used together. If you use each one of them it will add lifetime value to your site. It ensures that your site comprises of information needed along with content. Let's discuss all one by one.
HTML Sitemaps
HTML sitemaps are for human visitors as they allow them to navigate our website seamlessly. This type of Sitemap can be viewed in every browser and crawled by any search engine. Remember, HTML sitemap should contain most a few hundred links those should be carefully organized for users to find it.
Generally, it should be linked to your 'hub page' or to the 'main page' likely to provide internal linking. An example of an HTML sitemap, created for xml-sitemaps.com: sitemap.html (separated with 1,000 links per page). Additionally, a search engine should be able to find your site if we're to crawl your HTML sitemap.
XML Sitemaps
An XML sitemap is a roadmap of your website to help Google robots to crawl your site pages. XML sitemaps are very important for SEO. Even though your internal linking isn't perfect, an XML sitemap will help Google your essential website pages. So how XML sitemap works?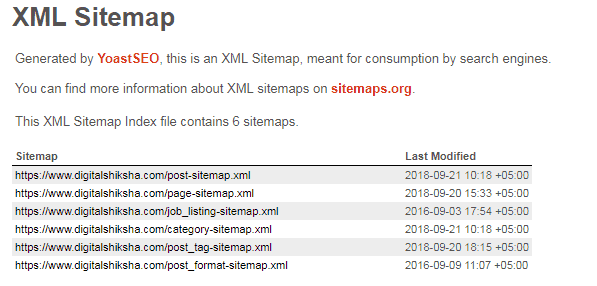 It helps crawlers to identify site pages and their relative importance. This is the most common type of sitemap used by the website to improve indexing. XML sitemap parses metadata for searches to boost optimization. Hence, every website needs at least this basic sitemap for SEO.
Text Sitemaps
Text Sitemaps are the simplest form of a sitemap. They can be crawled by Yahoo and Google while not necessarily by others. Initially, Yahoo crawlers were only limited to text sitemaps though now they support XML as well. So, there is little reason to use this sitemap. If your site doesn't have a text list then you can always be it as your master document of all URLs list.
Mobile Sitemaps
The way people are using mobile phones has changed. Everyone now uses mobile(smartphones) for search more than desktop. The year 2018 accounted, 52.2% of all worldwide online traffic was generated through mobile phones, up from 50.3% in the previous year (Statista, 2018). Whereas 29% of the traffic generated from laptop/ desktop. Before you begin to think about a mobile sitemap, you should ensure that your website is mobile friendly. As the majority of traffic coming to your site is likely to be using mobile.
A mobile sitemap is submitted independently to search engines to allow them to serve searches, requested from mobile. It's better to guide traffic from mobile devices to the pages of your site separately. Remember, that mobile sitemap included links to the pages with mobile content only. If not, then normal XML sitemap is sufficient.
RSS Feed Sitemap
RSS feeds can also be used as sitemaps. Not many search engines use RSS sitemaps while both Google and Yahoo support it. In case of your site has a large RSS feed, you may consider creating a different RSS feed for every section. Furthermore, if you publish regular content on your site and you are not a new website, then RSS feed is the best way to attract search engines.
Thereupon, an RSS sitemap is the quickest indexing solution for your site. Generally, people create RSS feed sitemap for blogs, product feeds, articles etc.
ROR Sitemaps
Resources of a Resource (ROR) is a type of XML format intended to characterize any type of web content in a generic way. This allows crawlers, users, apps, and search engines to understand the sitemap. ROR format comprises of various pre-defined terms however used to describe different types of content.
Furthermore, the idea behind ROR is to standardize the process of the content is classified by engines in order to provide enhanced metadata. Although many major search engines don't support every type of ROR sitemap. As a result, it is not the best choice for most sites.
The idea behind ROR format is to standardize the way content is classified by engines and provide better metadata. However, major search engines don't support all of the ROR sitemap extensions, so this is not the best choice for most sites.
News Sitemap
News Sitemaps are suitable for the sites that update and syndicate feed frequently. It should be limited to URLs from the most recent two days regardless of that they'll stay in Google News index for one month. As the new content get published as a result have to update new sitemap by adding new URL. Remember, not you create a new sitemap.
A News sitemap is limited to only 1,000 URL's or less. This type of sitemap is much easier to create automatically whenever a feed goes live.
Image Sitemaps
Image Sitemaps are inherently useful if you want to display your image in the google search results. Just like XML sitemaps for web pages, image sitemaps are for images that live on the site with several links. You can add information in the form of image extension of creating a separate sitemap for images with your existing sitemap.
This step is important if you want to index your images for search engines. While a majority of people forget to do this step. It is noted that many e-commerce and new sites do not index their images while 30% of their traffic is from through images. However, a well-optimized image helps a website to rank its HTML pages as well. It is the most important type of Sitemaps.
Video Sitemaps
Much like sitemaps, video sitemap helps search engine to crawl metadata about video content. It helps you to inform Google of the category, title, features, description, time, and audience to target. As a result, it will become easy for the Google search engine to list your site.
This also allows, you to show thumbnails of video content in searches. It makes it clear for Google what your content is.
Final Takeaway
There is no good reason to skip sitemap and at times more than your business website may require more than one type of sitemap. If you have not taken this essential step to optimize your website for the search engine you no longer should wait. The right type of sitemap enables search engines with much better data to crawl about your site and boost rankings.
Go and get started by adding sitemaps to your site.