Social media content curation has become an utmost task.
Influencing users has become competitive with hundreds of social media platforms. Moreover, in the 21st century, where millions of brands use social media platforms to engage customers. Creating highly valuable social media is burdensome.
Creating valuable content not only promote brand engagement but also help facilitate brand positioning in long terms. Curating impactful social media content require the following expertise:
Content Strategist
Photography or Videography
Graphic Designer or Video Editing
Copy Editing
Social Media Optimization
Thankful, to a bunch of social media tools out there to make your jobs possible. Hiring a qualified expert for each expertise will cost your pocket. The best option is to find the right apps for social media out there, you can create, publish, and analyse performance. That too optimize for all device.
But before you jump into the topic, let's ensure again, why are you here?
Why do you need apps for social media?
Social media is a versatile platform. The platform is ideal for brands to connect with the mass audience. Social media channels offer many benefits to business owners. It allows them to reach out to their customers. Thereby, seek attention from the target audience.
Seeking huge benefit, brands investing in millions of dollars to create social media content. Thus, it has become challenging for small to large business too competitive. Here comes the role of apps for social media.
Social media applications make your life easier. You may not have expertise in each area of social media strategy. But, these social media apps, are perfect for beginners to veterans who desire to build extravaganza content. Here are four benefits of using social media apps.
Read More: how to connect Twitter Account with Facebook Business Page
Improve the quality of work
Social media apps offer marketers instant collaboration with action pack solution. There is a tool for every step. These social media tools help to improve the quality of work. For instance, a social media collaboration tool will help you track the status of the team working on the project. Thus, you can schedule meetings, track progress, share information, and make adjustments.
Work from anywhere
Online tools help marketers to work from remote locations. Moreover, you can access their mobile version to edit, share, and add content on the run! All you need is a good internet connection. With a suite of online social media application, you can increase your productivity at disposal. You can choose a place for your comfort. And collaborate with other team members in real-time.
Save data at one place
Apps for social media offers greater access to data from anywhere. This is the greatest benefit of online social media tools is that you can access files on one single platform. If you simply need to share a file to a client, you can add the path link to file. Especially, if it is a large file, for instance, images, or video. You do not need to rely on a spare USB stick to share data. Thus, online social media applications make easier to trade information.
Track Report and Progress
Most of the apps for social media offer analytical insight. This allows marketers to track social media campaign progress. Tracking improves productivity, besides, identify problematic areas of improvement. Tracking progress is an essential project management skills. It helps you to define goals for social media reach and generate commendable results.
Learn More: SEO Keyword Generator
There are countless reasons to hire apps for social media. We manage to share only four reasons why to get a social media marketing app. Hopefully, we were able to convince you.
If, Yes!
Then, let's get started with our social media app list.
Social Media App Idea Generator
When getting started with a social media campaign, you need a breathtaking idea. An astounding idea for social media can thrill customers and competitors. But if you are an intermediate to social media content planning and tight on budget, then you may try these social media content applications.

According to Social Media Week.org, 36% of people experience the biggest challenge to producing engaging content. Than 21% who find producing enough content next biggest challenge. Here is the snapshot.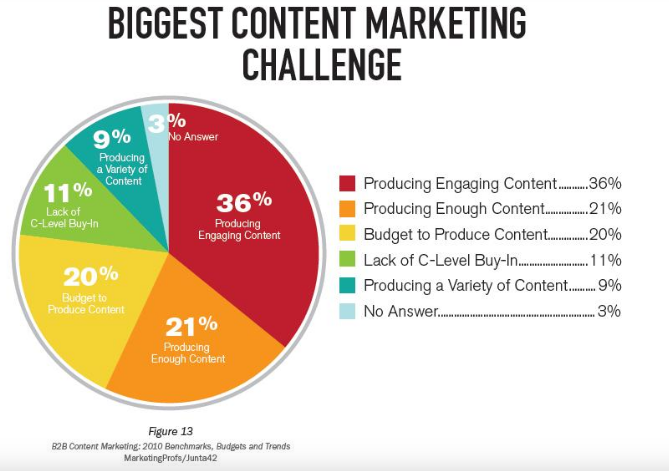 Our list for the best social media content ideas is free for users. There are also a few paid content apps for social media, you may consider investing to get valuable content.
1. BoostLikes – Free Idea Generator for Facebook and Twitter Posts
BoostLikes Lab is a free online tool for social media marketers. The tool aims to help business increase their social media likes, shares, and comments. Do not get frustrated by the same old title? Get creative on social media with BoostLikes Lab. A perfect supercharge for a social media marketing campaign at a competitive price. BoostLike free idea generator tool helps to brainstorm topics to post on social media. The social media content idea generator tool scrapes several sources from trending headlines. Then, it filters and sort the results in a tabular format.

2. Content Idea Generator – 300 Ideas in 0.00028 seconds
Do you want a quick idea for social media? Content idea generator is powerful, yet a free tool. The google input tools generate thousands of ideas for great blog ideas or social media in less than 1 second. As you login into the Content Idea Generator Tool, you will receive a verification email. Once you verify the account, you can log in again to the site. The ultimate selling point of free idea generator tool is that it asks you simple 18 questions about – what you sell, what you do, brand uniqueness, and more. Thus, suggest over 300 unique ideas.
The content idea generator tool automatically generates suggestions. The kind of ideas you need to attract customers to your social media post. This is the best apps for social media you can even find online.
3. Portent Idea Generator Tool For Instant Titles
We won't miss a chance to consider the popular social media content idea generator tool. Portent is a top social media idea generator tool for free. Whether you need a social media marketing idea, promotion idea, name idea, or bio idea. All you need to do is 'enter keywords'- and the application will give you hundreds of post ideas.
This social media topic ideas tool will certainly knock your writer's block down. You do not need to invest in hiring a social media content strategist. Sign up Portent Title Generator tool to get started with funny titles for social media.
Social Media Copywriting Tools To Improve Writing
Creating a balance social media content is key to success. Proofreading social media posts is equally imperative. Social media networking websites is an excellent approach to reach a mass audience. Your content reaches zillion social media audience.
Nothing can be worse than the audience to find an error on your social media post. Once your post is live, the chance to update limits. Making errors if the post will make your brand unprofessional, sloppy, and sends the wrong impression to the audience.
It displays the wrong message to the audience. We are sure, you do not want a negative impact on your brand building. In this section, we'll show you some of the best social media tools for writing, editing, and proofreading.
To save your time and headache, we have got you a list of top content writing tools for social media.
4. Ulysses – Intuitive Text Editor App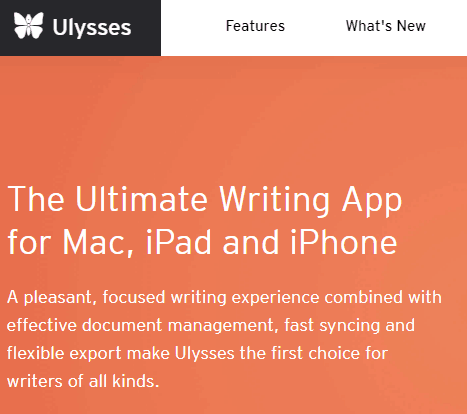 You are probably started planning with social media content. Ulysses offers a suite of writing tools. It aims to make a life of writers better with the simple and intuitive workspace. Ulysses claims to be the ultimate writing app for Mac, iPad and Android. It encourages writers to immersion with the text, and testify how using it has considerably increased their productivity. Even you can organize content by managing and sharing anytime and anywhere.
Check Also: Best SEO Tools Review
5. WriteFullApp – Powerful Content Writing Tool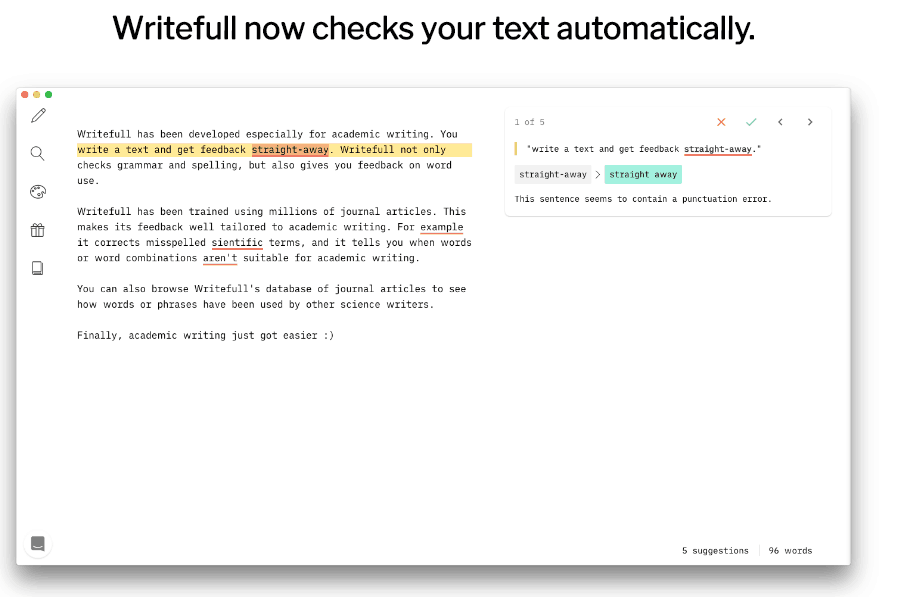 WriteFull pp is a favourite app among many social media content strategists. The app uses Natural Language Processing (NLP) on large language databases to give people feedback improvement areas. The database used is Google Books, Google Web, and Google Scholars. It one of the best social media writing tools. Sign-up and get started with social media writing.
6. Hemingway app – Content Editor Tool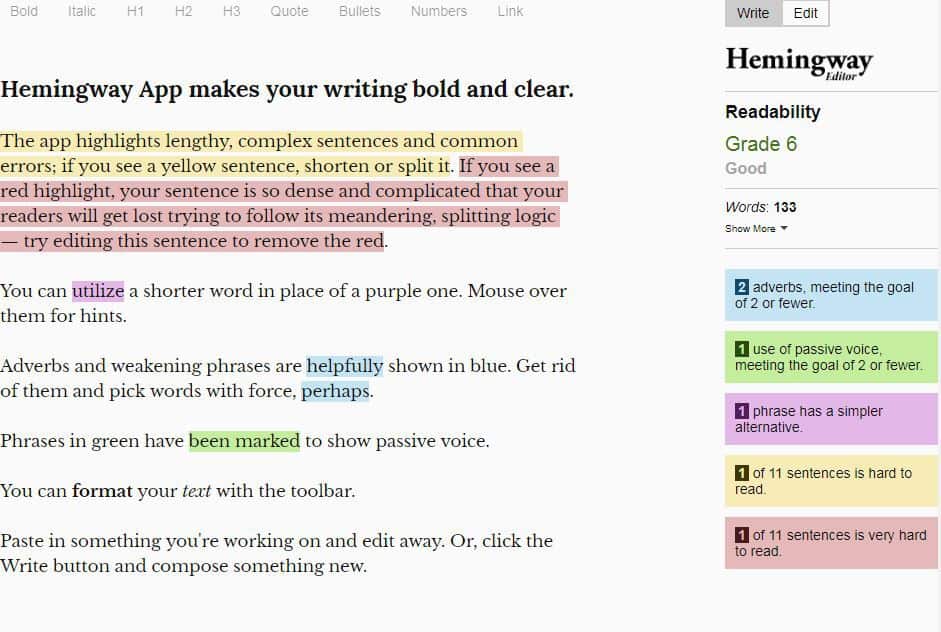 No copywriting tool list is complete without Hemingway app. Improve, check, and analyze your writing with free social media for writing the app. Online writing for social media has helped billion for strategies. As it highlights errors and suggests a way to improve writing skills. Thus, the best content editing tool for writers. There is no comparison to the tool.
7. Grammarly – Proofreading & Copy Editing Tool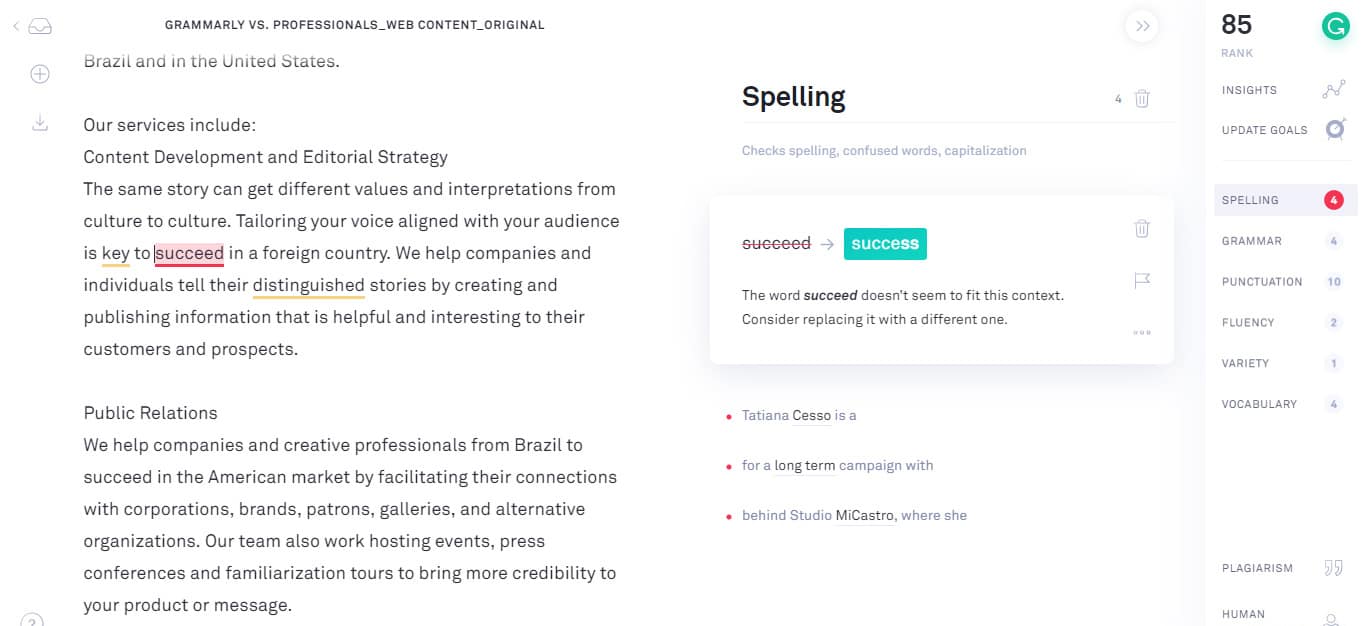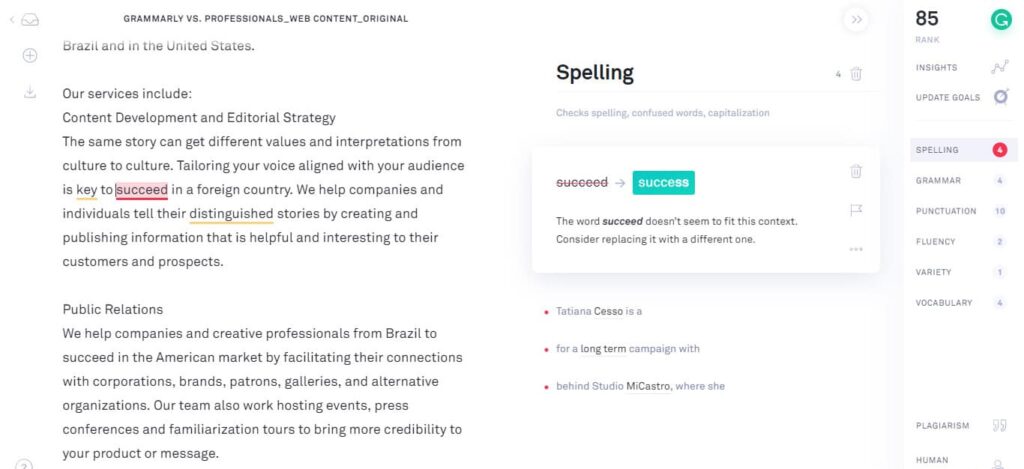 Social media content planning and copywriting is not enough. You need to stand out from competitors. Hiring a super genius social media copywriter is expensive. Then how do you plan to write a full-proof content with no grammatical errors? grammatically, you may have viewed their bundle ads on the internet. Grammarly is an online grammar check decking, spell checking, and plagiarism checking tool.
8. Headline Analyzer – Determine Emotional Marketing Value
Did you know 60% of customers click on the ads because of an appealing headline? This is why we include a heading analyser to our list. The Headline Analyzer that will score your overall headline quality and rate its ability to result in social shares, increased traffic, and SEO value. Headline analyzer is a tool by Coschedule – one of the premium apps for a social media management tool.
Photo Editing Apps to Improve Snaps
So you got great content? You have edited, proofread and now what next?
You are missing out on the best thing without photos, images, or videos. These three-stream visual channels of content engage customers. Content plays an important role, but the approach to which you send out the brand message to the audience is impactful.
Hiring a photographer is expensive. A social media graphic designer charge fee of $200 to $1000 per photo. We can help you save this money. If you need to create a beautiful photo for social media. And do not know what to do?
Do you stop yourself? A social media strategy is must to market your business. You got a plan, just add a little effort. Create unique photos with a photo editing tools. Photo editing apps for social media is a smart way for business on a budget.
Here is our list of photo editing apps for social media, you need to build a wonderful post. 😉
9. MuseCam – Social Media Photo Editor for Small Business
MuseCam is a gorgeous app for shutterbugs and professionals. The app for social media photo editing helps you to shoot and edit photos on iOS. MuseCam features a bunch of professional offerings like custom exposure, gesture-based UI, and clean design. Get a powerful camera with complete control over image capture. Create wonderful social media photos with manipulation tool.
Visual Content Tools To Create Awesome Graphics
There is no doubt that we live in a visual age. Where visual content alludes audience interest. If you are not adding efforts to visual content, you may end up losing your audience.
Stats show that images have 329% of conversion rate in comparison to any other form of content. Do not miss the opportunity. Desing few cool, funky, and unique visuals and edit them with photo editor tools.
Here is our list to top social media visual content tools to create beautiful graphics.
10. Canva – Top Social Media Graphics Creator
Canva is our favourite pick for social media graphic templates. Using the vast database of elements, illustrations, photos, icons, and more, you can design social media creatives in 10 minutes. As well as other types of visual content. Canva social media graphics creator is super convenient to use. Although the app is free to use, for unlimited access you can buy the premium version.

11. Crello – Create Design For Social Media
A simple social media image editor. Create customize designs for social media posts, Facebook covers, Instagram, Pinterest infographics and more. Crello is easy to social media design tool for creating stunning visuals. Beginners to social media graphic designing can use templates to make inspiring social media creatives. Choose images from the photo library. The best apps for social media graphics by professionals for beginners.
12. Vectr – Free Social Media Graphic Software
Vectr is a simple yet powerful web tool for social. The graphic design tool allows creating an intuitive design. You can also send anyone a Vector document for real-time collaboration without the wait. Others can watch you create and edit designs live, whether you're in the web app or desktop version. Vectr's based graphics editor is free forever. In the future, we'll keep the lights on with a pro account and built-in marketplace
13. Adobe Spark Post – Graphic Design Editor
Looking for a fun, fast, and easy way to create visual content for social media? Adobe Spark Post is best apps for social media graphics. Get a start in seconds with professional templates. The social media graphic designing app is free to use on web and mobile application too. The free social media content creation tool is suited perfectly for beginners who do not have any designing knowledge. Download Adobe Spark Post to create impactful social graphics.
Use it as a free social poster maker or even a meme generator. Thus, easily stand out against your competitors by engaging social media audience. You can also use the adobe spark post to create a collage, post, logos, banners, slideshow, facebook cover, brochures, flyers, and more.
14. Stencil – Image Creator For Social Media Engagement
Produce social media image with Stencil. The social media post creator tool is terrific for social media makers. This website can support you to generate a connected, optimal, and physically stable multi-layer stencil from your input image. The free social media post maker focus on time. Use the ridiculously useful selection of templates. Stencil best app for social media post creator let you make customize visuals. Perfect pre-loaded optimal sizes for social networks, ads, blog posts and more.
Video Maker Tool to Create Irresistible Animation
Apps for making social media videos
You might analyse that brands are using videos as a source to engage the audience. Video is a type of visual content that appeals over 95% of users. A video adds value to your content as they connect with the audience. Thus, video-based social media content is critical to brand success with their products or services.
Design and editing videos require domain expertise. You may need to take 2 to 3 years course in social media video designing course. What will you do when you do not have time to get training?
No problem!
We are always here to help you. Our pick for best videos tools for social media marketing may excite you. The social media video editing application makes it possible for marketers to create complex video and animation for social media channels. An online video making tool will transform your social media strategy. AI and machine learning algorithms will make your video creation a matter of seconds. Thus, boost productivity, time, and effectiveness.
You do not need to invest thousands of dollars to get training. All you need to do is find the best tool to make social media apps from our free tool list. Let's get into the topic.
Here are 4 top apps for making social media videos.
15. Renderforest – Free Video Maker For Social Media
Your hunt for a free tool to create a professional social media video is over. Renderforest in all in one social media app for beginner to social media managers. The tool is recognized among World's top software company. With Renderforest you create unlimited youtube videos, animations, professional slideshow, music visualizations, advertisements, and more. Millions of small to medium-sized companies using Renderforest video creator for branding.
16. Animoto – Make Social Media Videos
Animoto is the fastest and easiest way to make social media videos. You can create unlimited videos for social media marketing. The video creating tool allows you to turn video clips and images into a video slideshow. It is a few video tools that offer square videos best suite for social media platforms and design templates. Create impressive videos in minutes with Animoto's drag-and-drop video maker. No video editing experience necessary.
17. PowToon – Social Media Video Maker
Social media networking sites flooded with video. The only problem is then big brands fund videographers for hire an internal agency to create videos. The finished product can look contrive and may miss out the brand message. Social media video tools like PowToon lets you create magical video clips for social networking sites. PowToon allows users to choose from hundreds of professional templates. Users can customise templates to business need. You simply need to sign up, create, and share across social media networks. The social media video maker online tool is free. However, the premium version is for $59 per month with unlimited access.
18. Placeit – Social media videos maker for a business
What type of video are you planning today for social media posts? Curate stunning videos for social media with Placeit. Use design from hundreds of awesome video templates. Each professional design video promotes the latest product and sensation to engage the audience. Place It is an exclusive image and video tool. Brands can showcase their digital designs in a real-time web environment. Save hundreds of dollars on video designers. Placeit is a one time purchase on the platform for $ 29 month. For beginners this free social media video tool is incredible.
19. DrumpUp – World's #1 Social Media and Content Marketing App
Want a World's No. 1 tool to share great content on multiple social media accounts? DrumUp is a powerful web and mobile application to curate trending content. The tool uses sophisticated algorithms to recommend fresh stories most relevant to your audience. In fact, it is the one app for multiple social media accounts. Where you can add multiple accounts on the dashboard and tweak their settings. Not only this, the App social media cross-posting schedule posts from your mobile. Also Track and measure Twitter, LinkedIn and Facebook engagement using our intuitive and deep social media analytics.
Bottom Line to Apps For Social Media
The bottom line is that if you want to stay ahead of the game. You need to engage the audience. But not everyone is a social media whiz. If you lack content, designing, and management skills, you'll surely need an assistant. That's where we have put a list of 20+ killer apps for social media.
Our serious list of social media apps is exclusive to the readers who want to add value to their social media campaign. That means now you can visually engage social media audience attention and more leads.