[wp_ad_camp_1]
Linkedin company page, don't limit your business potential by not having a LinkedIn Company Page. There are several benefits of having a company profile page on LinkedIn including visibility and education. Company profiles enable users to learn about your brand and job opportunities. Furthermore, the page adds significant value when a user searches for an authentic business related information. Read more to know why to create LinkedIn Page, how to create LinkedIn Company Page, the requirement of company page and more. 
Why a LinkedIn Company Page?
A  LinkedIn company page helps others to find more about your business, brand, product and service. Some of the other benefits include:
Authenticate company employees strength
Employees can act as an indirect ambassador of the company
Nurture clients and customers relationships via regular updates
Get notified when people talk about your brand
Promote the latest news, launch or events
Endorse specialized services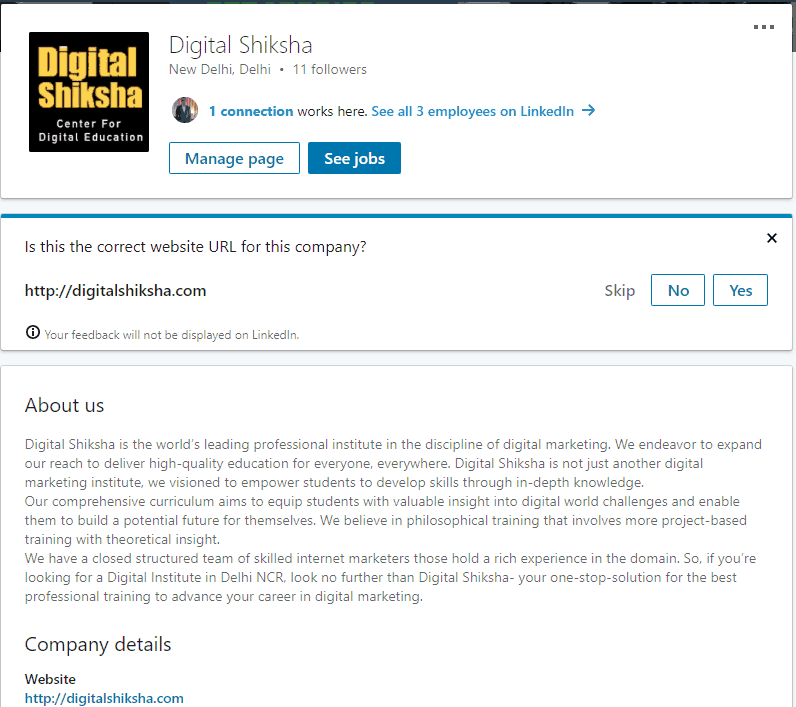 How to Create a Company Page on Linkedin?
A Linkedin company page help users to learn more about your business and offerings. By adding a company page, you can educate users about recent updates. If you're a beginner to creating a company page then keep reading.
You must have a personal LinkedIn profile page before you create your own company page. Ensure that your company doesn't already have a LinkedIn page.
Pre-requisites to Add Linkedin Company Page
Following serves the basic requirement to create a company page on LinkedIn.
Add and confirm your company email address
Must have a personal LinkedIn profile
Add a first and last name to your profile
The profile must be 7 days old
Your profile strength should be at least intermediate or all-star
The profile must have at least 10 connections
Add you're current employment and position
Email domain must be unique
A domain cannot be used more than once
You cannot use generic email domain to create a page like gmail.com, yahoo.com
How to Add a LinkedIn Company Page?
Click '

Work

' icon on the top right corner of your LinkedIn homepage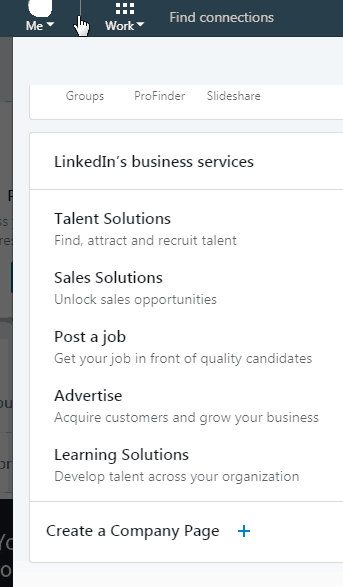 2. Click 'Create a Company Page'.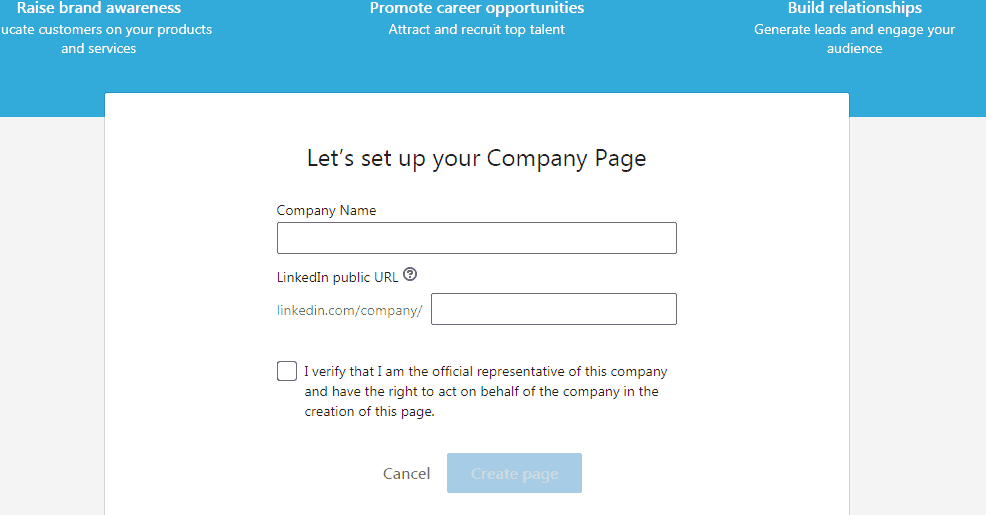 3. Enter your Company Name and choose a URL. Check the verification box to confirm you have the right to act on behalf of that company in the creation of the page. Click the 'Create page' button.
4. Click 'Get started' on the welcome screen to begin editing your Company Page.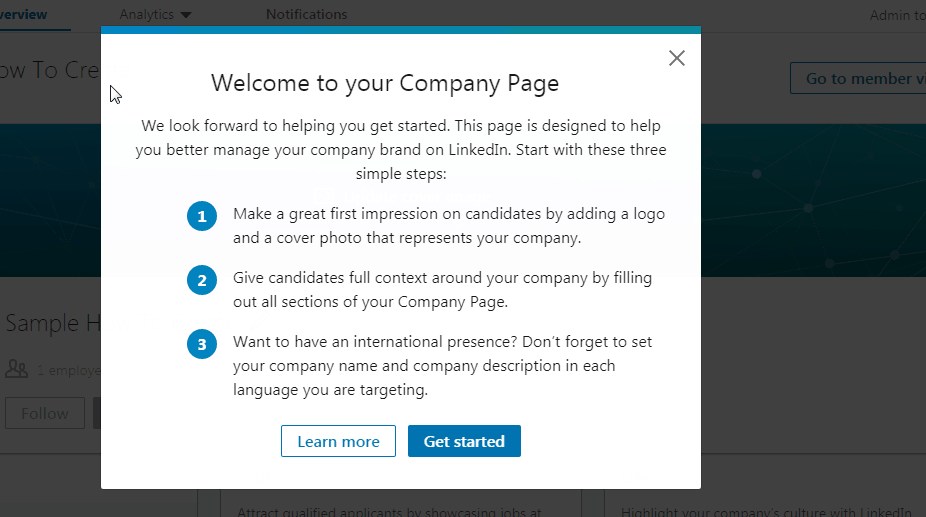 How to Strengthen LinkedIn Company Page?
Now, you have a LinkedIn Company page. To make most of this exercise, you need to follow these steps to strengthen your page for effective online marketing.
Writer an effective business description for users to scroll down to learn more about your company.
Use a relevant set of keywords to promote your page. However, this will also help search engine discover your page online.
List important product and service on the first.
Add information related to various career opportunities. Take maximum advantage of a recruiting tool at its fullest potential.
Ask clients and customers to review or leave feedback on the page. This will help you to nurture your relationship and build trust among potential visitors.
Share consistent updates besides to promote your business.
[wp_ad_camp_1]
How to Attract  Followers to LinkedIn?
LinkedIn Company Page is an effective way to communicate with clients and customers. Also, engaging with colleagues. The best way to start is adding your employees by encouraging them to add your company to their personal profile. Moreover, this activity will help you gain credibility since they are one of your greatest assets and brand advocates
Adding employees to your business network also allow them to like, share information, and comment on updates. As a result, which will boost your marketing campaign, expand reach, and increase visibility on LinkedIn.
Another method is to promote your company page by adding an easy follow to links. This can be done via other marketing channels such as newsletters, emails, and blogs, and make it easy for users to follow and stay ahead. Offering free information can help you gain visitors trust and help them to learn more about your business, products, and services.
Moreover, it is equally important to invest in your followers. You can use highly targeted Follow Ads on LinkedIn. These advertisements aids to reach the potential audience beyond different industries, geographical region, and companies.
How to Engage Audience on LinkedIn?
There are many ways to engage your audience on LinkedIn. Alternately, you can share rich content or post new content every day. This is a most effective way to start a conversation, thereby, directly engage your target market. Any content you post on your company page will show as in the newsfeed for anyone following your company.
Here are a few examples of rich content: sharing company news, though pieces on hot topics, infographics, industry-related articles, videos, or even presentations.
We all have heard- content is the king in the digital community. Posting new content that delivers value to followers will impact your engagement rates. Thus, will have a powerful positive impact on your company brand image.  However, you can also utilize sponsored content to get reach to potential audience.
Sponsored content generates greater brand awareness, promotes deeper relationships, build quality leads through extending the reach of your company's updates.
Lastly, you can use LinkedIn Reporting and Analytics tools to dive deeper customer behavior. Measure ROI of LinkedIn Ads to get real-time data into your campaign demographics and performance insight. Perhaps, the monitoring system allows marketers to learn more about followers, trends, and growth options using different key metrics.
To conclude, the key to growing your page is using the data gathered, optimizing, refining, and re-customizing your content. By adapting your strategy and learning through your customer's behavior through data analytics, you can develop a powerful page possible. Hence, this will help you grow and prosper business.
[wp_ad_camp_1]
If you have any other suggestion to 'How to Create LinkedIn Company Page' comment and share with us.