Every business needs to go an extra mile in order to engage customers. Social media is one such platform for entrepreneurs, to reach 3.196 billion (Global Digital Report 2018) of users. Perhaps, with 4.021 billion internet users and 5.135 billion mobile users worldwide. The global increase in social media users has open doors to expand business opportunity.
Business needs to revamp their social media campaign in coordination to marketing efforts. Specifically, aligned with business goals, using one or more social media platforms. Campaigns may differ from everyday social media efforts. Because of increase target, focus, and measurability.
Setting Up Social Media Goals
Social marketers have limited time for social media marketing. However, you need to decide on which is the fastest growing social network you should focus on, around a singular business goal. According to Statisca, there were 527 million monthly active users (Q3 2017 vs 2015 ) on Facebook while 400 million active users increase on Whatsapp and same for Instagram.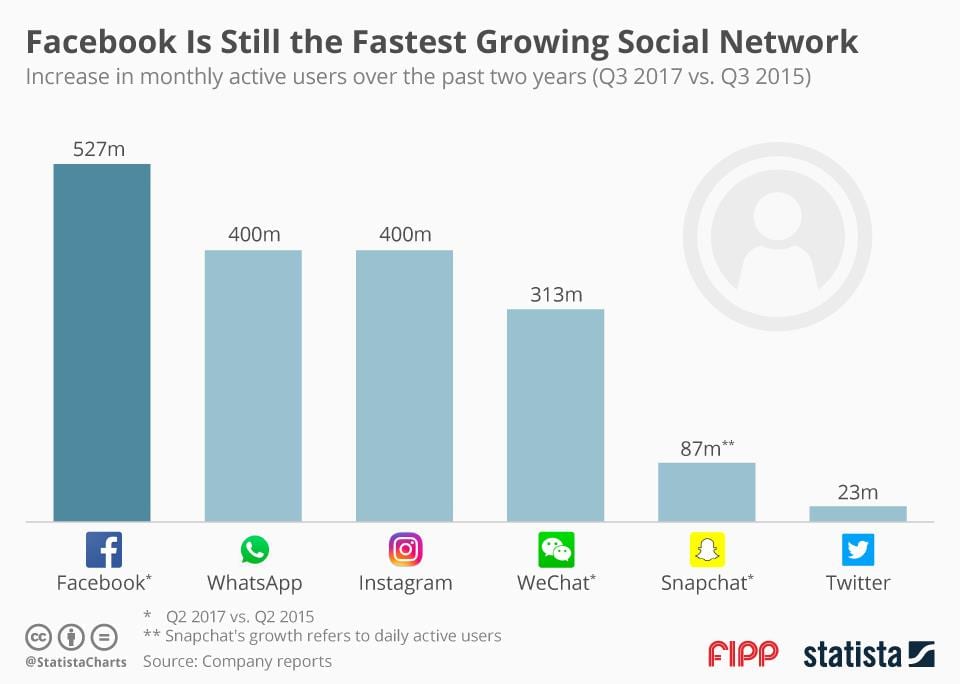 You need to set a common goal for a campaign. Here are 10 business goals for social media campaigns:
Building an email marketing list

Getting feedback from users

Improve brand engagement

Grow business revenue

Build an online community

Funnel direct sales

Effective customer service

Boost in press
Remember, business goals must be discrete and measurable. Before implementing a campaign, create a baseline metric to track measure in long-run. Goals are set by the means of campaign objective and the target audience. Different demographics also varies the preferences for social media platforms. Hence, pick a platform suited to your target audience.
Building Social Media Campaign
Before you begin with a campaign, choose a social media management tool. There are several SMM available tools for updating and tracking campaign. You can choose free or premium subscription depending on your requirement. To mention them, some of the popular social media management tools are HootSuite, Social Mention, and Addictomatic. Hence, integrate your social media account to with SMM tools to determine the audience behaviour.  
Having a constant monitoring will help you keep a check on both costs and mission. Moreover, you can compare performance pre-and-post campaign.
Best Practice of Social Media
Call-to-action: It's a marketing technique to ask users to interact through social media posts. Indeed, invite them to ask a question, provide reviews, comments, take polls, enter contests, and join mailing lists.
Allow incentives: In contrast to the above, give users a reason to input personal information. Offer prizes, discounts, and exclusive exchange of content to grab their attention.
Posting daily: Posting content daily feeds the need of the customers. If you're not posting new content, then you risk the chance of losing both engagement and followers.
Boosting posts: Boosting a post is equivalent to sponsoring social media post to give a post more reach. With an ad platform, you can select the audience you want to serve. This depends on your online marketing strategy. 
Use right creatives: Your consumer will respond better to visual because 80 % of people remember what they see and 10% of what they see (

lyfemarketing

).
Let's Sum Up
You've heard so many positive qualities about social media. It's time for your business to give it a boost. Re-think about your social media campaign and get started. Beginners can take a Social Media Marketing beginners course from Digital Shiksha to enhance their skills. Digital Shiksha also offers advanced level courses for working professionals and businessmen who are looking to upgrade their skills.
Want to outsource your social media campaign? Contact – Search Markup, the best affordable social media marketing service provider.