Digital marketing tools are used to help consumers in digital marketing, they are software programs in the shape of mobile apps or desktop applications designed for specific functions.
Many inbound marketers use these programs to track online campaigns, see what is working and what isn't, analytics on products page visits, device data, email conversion rates et cetera.
Everybody needs to have a digital marketing toolkit that includes social media listening tools like Hootsuite or Buffer or browser extensions like Evernote‍̂s Instapaper‍̂ that create links with shortened links when you come across an interesting article you want to read later. Tools like Keyword Tool will conduct keyword research based on input parameters set by the user. There are many tools available for content management systems, CRM, and e-commerce platforms.
Nowadays, every new business quickly builds its digital presence as the technology made everything relatively easier but also increased the competition. So to attract more traffic to your website, it's crucial to have a robust digital marketing strategy. Although there are plenty of platforms and tools available yet 57% of marketers are only optimistic about accessing the next-best-action marketing decisions.
This is why marketers lack the valuable data which they need. Due to this reason, it's essential to use the best digital marketing tools to increase the productivity of your company and brand.
What is digital marketing?
Digital marketing is simply the usage of web-based tools and techniques that can help you promote your business. It is also known as "online marketing" or "internet marketing." There are many different tactics you can employ when using digital marketing, but the most effective digital marketing campaigns include the following elements: Pay-per-click (PPC) search engine marketing (SEM), Search Engine Optimization (SEO), Social Media (SM), and email marketing.
How digital marketing tools can benefit?
Digital marketing tools are the heart of every digital marketing campaign that you run. It allows you to carry out your marketing efforts with ease. You can create an efficient landing page for your social media contests, run email marketing campaigns, and engage your audience with ease. All of these can be done with digital marketing tools.
Digital marketing tools play a critical role in helping business owners to stay ahead of the curve in a competitive business environment. Nowadays, a successful business is a blend of a great marketing strategy and a well-oiled marketing machine. While a business owner can be a marketing expert, it is very difficult to handle all the digital marketing requirements of a business. It needs a comprehensive marketing strategy, a strong digital presence, and a competent workforce. This is where digital marketing tools come into the picture.
We have provided a list of Digital Marketing Tools that every Inbound Marketer need to use in 2021:
Digital marketing tools to boost your performance
Through advanced digital marketing tools, you can quickly achieve your goals and boost your digital ranking. However, to do so, there are five smart digital marketing tools enlisted below to help you achieve your target. Let's start with our list of types of digital marketing tools to grow your online business.
Well, you have often heard about SEO and how important this activity is to boost your digital career. It's not even possible to brand your business without using SEO. Thus make sure to utilize SEO extension to enable your digital presence.
These include SEMrush, Frog SEO, HubSpot, Keyword planner Google AdWord tool, Moz, Detailed SEO Extension. So these tools can help you in:
Regulate keyword research.

Track ranking on the most used search engines.

Perform thorough audit

Identify backlinking

Check and reveal any site errors which might affect SEO.
So by using these tools, you can audit crucial KPIs of your business to strengthen your strategy and achieve your business goals. Let's discuss all these tools in detail.
SEMrush comprehensive platform with all in one tools in digital marketing
Looking for a comprehensive SEO tool? SEMRush is a powerhouse that offers everything you need to improve your search engine rankings. With SEMRush, you can track your competitor's keyword strategy, spy on their backlinks, and see where they're getting their traffic from. Plus, SEMRush provides detailed insights on your own website so you can identify areas that need improvement. Whether you're a seasoned SEO pro or just getting started, SEMRush is an essential tool for anyone serious about improving their search engine ranking. So what are you waiting for? Try SEMRush today!
It is one of the best digital marketing tools for professionals. The tool offers endless opportunities for digital marketers to improve their client's Google Ranking. The tool provides services like On-Page SEO Checker, Website Traffic Analysis, Website Audit, keyword analysis, and SERP positioning. Recently they also added an SEO content writing tool. It is one platform for all your digital marketing tools needs.
SEMRush benefits
SEMRush is an all-in-one marketing toolkit for digital marketers. SEMRush benefits include a comprehensive suite of tools for SEO, PPC, and content marketing. SEMRush's backlink audit tool allows you to check the health of your backlinks and identify toxic links. The SEMRush backlink checker tool allows you to monitor your link building progress and track your competitors' link building activity. SEMRush's brand monitoring tool enables you to track mentions of your brand across the web and social media. SEMRush's broken link checker helps you find and fix broken links on your website. SEMRush's comprehensive suite of tools makes it an essential toolkit for digital marketers.
SEMRush pricing
SEMrush is one of the most popular and comprehensive SEO tools on the market, and for good reason. It offers a wide range of features that can be incredibly helpful for both small businesses and large enterprises. However, SEMrush is not a cheap tool, and pricing can be a major barrier for many companies. The good news is that there are a number of different pricing options available, so it's possible to find a plan that fits your budget. The most basic plan starts at just $99 per month, and for that price you get access to all of the core features. If you need more advanced features, such as competitor analysis or keyword research, then you can upgrade to a more expensive plan. Overall, SEMrush is an excellent tool, but it's important to carefully consider your needs before signing up for a subscription.
SEMRush API pricing
Semrush is a powerful tool for online SEO marketing. And, their API makes it easy to integrate their data and services into your own applications. But what does Semrush API pricing look like?
There are four different price tiers for the Semrush API: Free, Pro, Guru, and Business. The Free plan gives you limited access to the API, with just 100 requests per day. The Pro plan costs $99.95 per month and gives you 10,000 requests per day. The Guru plan is $399.95 per month and gives you 50,000 requests per day. And finally, the Business plan is $999.95 per month and gives you 1 million requests per day.
So, which plan is right for you? It depends on your needs. If you're just getting started with the Semrush API, the Free plan may be all you need. But if you're looking to build a large-scale application that uses Semrush data heavily, you'll want to consider one of the paid plans. Fortunately, they offer a 14-day free trial of any paid plan, so you can try before you buy. Whichever plan you choose, Semrush API pricing is very reasonable compared to other similar tools on the market.
SEMRush alternative
There are a lot of great SEO tools out there, but semrush is definitely one of the best. It's packed with features that make it easy to find and track your keywords, analyze your competition, and get insights into your website's organic traffic. However, semrush is not the only tool that can help you with your SEO efforts. There are a number of semrush alternatives that offer similar features and functionality. So if you're looking for a semrush alternative, here are a few options to consider.
One of the most popular semrush alternatives is ahrefs. Like semrush, ahrefs offers keyword research and tracking, competitive analysis, and website insights. However, it also includes some unique features, such as a Site Explorer that allows you to see all the pages on a website and their backlinks. Ahrefs is also known for its comprehensive database of live backlinks, which can be extremely helpful for link building.
Another great option is Moz Pro. Moz Pro includes all the core SEO tools you need, including keyword research, site audits, rank tracking, and link analysis. In addition, it offers some advanced features like keyword difficulty scores and an on-page optimization tool. If you're looking for an all-in-one SEO tool, Moz Pro is definitely worth considering.
Finally, Raven Tools is another great alternative to semrush. It includes all the basics like keyword research and competitive analysis, but it also has some unique features like social media monitoring and reporting. Raven Tools also has a number of integrations with other marketing platforms, making it easy to get all your marketing data in one place. So if you're looking for an alternative to semrush, these are just a few of the many great options available.
SEMRush certification
SEMrush is offering a free certification program that will teach you how to use their platform to its full potential. The certification program includes six modules, each of which can be completed at your own pace. And, once you complete the program, you'll receive a certificate that you can add to your resume or website. If you're looking for a way to improve your online marketing skills, then consider signing up for SEMrush's free certification program. It's an investment that will pay off in dividends.
If you're looking to take your digital marketing career to the next level, then you should consider getting semrush certified. The certification process is quick and easy, and it will give you access to a wide range of resources that can help you become a more effective marketer. In addition, the certification will give you a competitive edge when applying for jobs or seeking new clients. Whether you're just starting out in your career or you're looking to make a change, semrush certification is a great way to get ahead.
SEMrush board of directors
The SEMRush board of directors is a group of experienced professionals who are responsible for the overall management of the company. They oversee the strategic direction of the company and make decisions about its day-to-day operations. The board also oversees the financial health of the company and makes sure that it is compliant with all applicable laws and regulations. In addition, the board of directors provides advice and guidance to the CEO and other senior executives. The members of the SEMRush board of directors are: Maria Sharapova (Chairman), Sergey Brin (Director), and Eric Schmidt (Director). Each member brings a wealth of experience and expertise to the table, and they are all committed to helping semrush grow and succeed. I believe that the board of directors is an excellent group of individuals who are qualified to lead semrush into the future.
AHREFS digital marketing tool with ultimate site and content explorer, site audit, rank tracker
How can we not add to our list top digital marketing tools for digital marketing. It's a powerful tool for digital marketing companies. It is a highly competitive tool for professionals. It is an SEO tool that will help to optimize your website, analyze competitors, study customers' keywords, explore SEO content opportunities, and lastly analyze website ranking in search engines.
Screaming Frog SEO spider for a complete website audit
Another popular software – a must-have tool for digital marketing agencies. It is a fast and reliable SEO auditing tool. Trusted by thousands of digital marketing companies. This helps to find broken links, audit redirects, analyze page titles, analyze duplicate content, extract Xpath, review directions, generate XML, and schedule audits. It is a complete SEO audit tool for professionals.
MOZ pro digital marketing tool for higher ranking quality traffic and measurable results
It is one tool that is backed by the largest digital marketing community. The tool helps to analyze website SERP, local ranking, and domain authority.
Ubersuggest keyword tool for personalized SEO suggestions
This is a new addition to the digital tool for marketing. It is a Best Free Digital Marketing Tools. The tool helps to generate keyword ideas to improve and boost your search engine optimization strategy. It is a must-try digital marketing tool for freelancers.
Classified, Wiki article, forums, and RSS.
SEOptimer SEO audit and reporting tool
It must haveRankingduct in your digital marketing tool list. SEO optimizer is an SEO audit and reporting tool. It offers complete website audits which are clear and actionable.
SEO Site Checkup
This is another SEO checker tool. This is listed among the important tools for digital marketing. It is a professional SEO monitoring tool that audits your website and tracks SEO performance based on 30+ SEO variables.
Local Falcon
The name of this is not like others; it is a different digital marketing tool. Local Falcon tools analyze sites based on geological location. It is helpful for local search engine marketing. You can easily track location, date, and trends.
This was a shortlist of SEO must-have tools for digital marketing professionals. Let's explore other varieties of digital marketing software tools you need to improve your client's website ranking.
Keyword Research Tool
Keywords play an essential role in the digital marketing process. Without keywords, no internet marketing plan can be successful. Keyword research and implementation is a tedious task. Thank you to the developers who introduced keyword research tools. Where you can use them to automate your keywords strategy. Here is the benefit of using a keywords research tool:
Navigate through high-value keywords

Understand keyword positioning

Evaluate keywords gap
Here is a list of popular keyword research tools. These tools will help you improve your digital marketing strategy.
WordStream
It is a free digital marketing tool for keyword research. WordStream SEO keyword tool allows you to organize, analyze, and search higher-paying keywords. It is easy to use for beginners. You must give this tool a try if you are looking for an alternative Ranking Google free digital marketing tools.
Google Trends
:
yes, you can use this tool to find the best keywords for your business. The Google trend keywords tool will help to find effective topics that current users are searching in the Google search engine. Implementing these keywords on your website will help to target mass customers.
Keyword Generator
:
It is a classic free keyword generator tool for beginners. The tool generates over 150 different keywords on the relevant seed keyword.
Keywords Everywhere, Keyword Shitter check keyword volume, CPC and other competition data fast
If you want to cheat the game of keyword then this is my friend the best tool for you. keyword sheeter pulls out 1000 automatics keywords.
Answerthepublic by Ubersuggest search listeing tool for market, customer and content research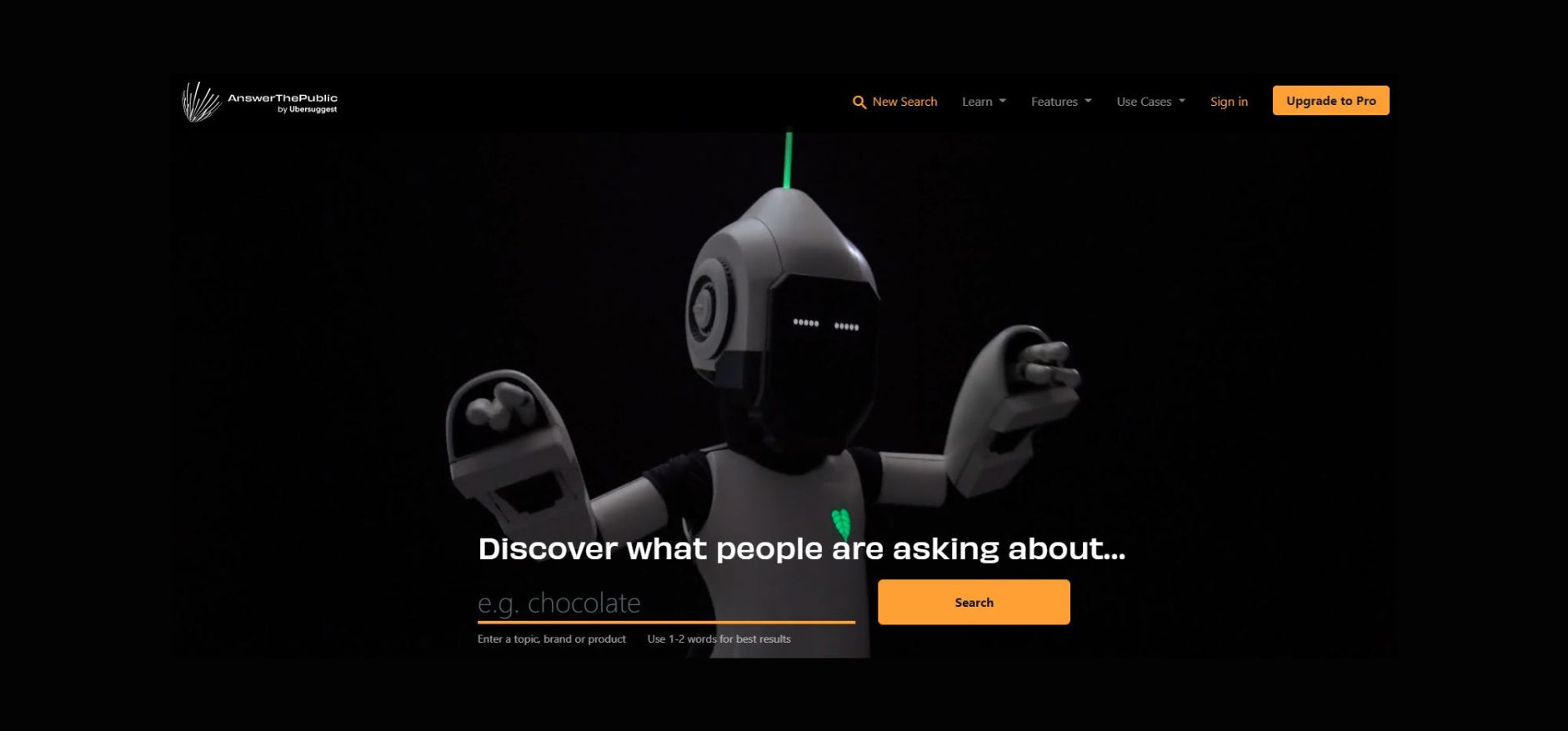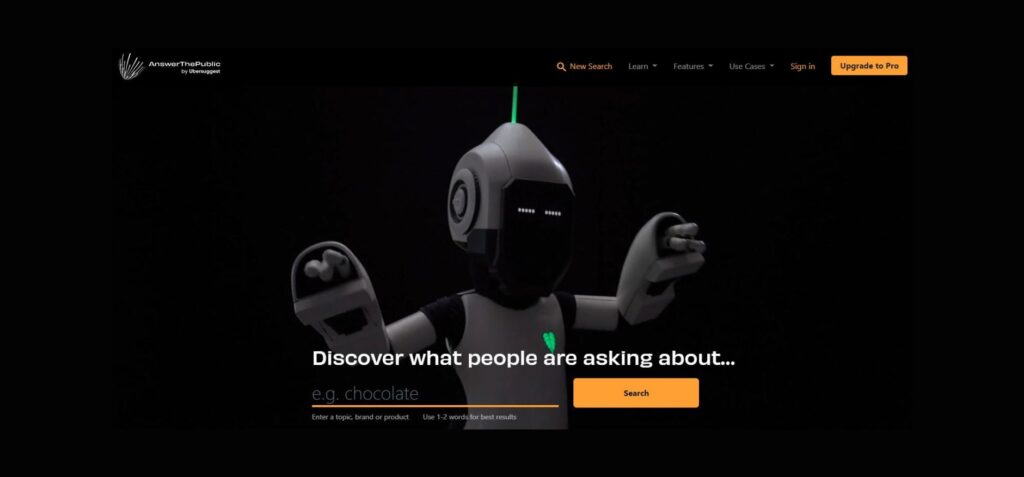 This important digital marketing tool will help you find the questions users are searching for. You can use this tool to search for topics on a seed keyword.
Surfer SEO tool skyrocket your organic traffic with surfer
It is a free google chrome extension for keywords. The tool estimates the global and monthly search in the Google search engine query box.
Question Bd
:
Find questions people ask on the internet about specific topics. Use these questions as long-tail keywords in your content.
Keywords:
It's a unique tool that extracts the keywords from Reddit's top comments and searches results.
Google Search Console:
It's the most effective tool that helps you track your performance in organic search even if it shows plenty of keywords data that are already highly ranked.
Bulk Keyword Generator:
This tool generally uses local SEO and generates keywords related to the business type.
This was a quick list of keyword research tools. Now, let's dig into other types of essential digital marketing tools you need.
Content Marketing Tools
Here are some of the best tools that will help content marketing and even find a perfect topic for your content.
Crello
It is the best tool for forging professional-looking visuals. Through its help, you can create a brochure online via brochure maker and can also create CTA buttons, social images, videos, animations, infographics, posters, e-book covers, graphs, and more. But the best part of this tool is you don't need design experience to create such appealing visuals in some minutes.
Grammarly
It is the most popular writing assistant tool supported by AI (Artificial Intelligence), which is used to proofread, eliminate errors, and check plagiarism in marketing copies.
BuzzSumo
It enables you to analyze trends regarding specific topics, explore the best content for any niche, find out key influencers to endorse the content, monitor your performance, and more.
Frase
It is an intelligent content optimization tool powered by AI so that your firm receives advanced content insights to promote your brand's visibility. Further, with the help of this tool, you can get a list of related statistics, topics, recent news, FAQs, figures, and facts. Even other kinds of information will help you to create compelling content.
Kred
It measures your online presence as it helps you to connect with the influencers who can amplify your post on social media. It mainly analyzes the Twitter and Facebook activity so you can approach the right influencers who can impact your business.
ClickFunnels
It is a simple drag-and-drop platform that helps you create a sales funnel to check how many visitors turn into your content and their journey. So you can improve your content to see how much your audience is paying attention to it.
Canva design tool for graphic design, presentations videos and any social media content
Canva makes sure that your latest blog post shows high-quality images so people can click it. It has its own pre-built template with a drag-and-drop feature to ease your designing work.
Uberflip
Uberflip is the smart tool that improves the "content experience" and boosts your performance so your buyer can buy whatever product you're selling. It generally contains lead generation, content marketing, sales enablement, and account-based marketing.
Email Marketing Tools
Email Marketing is known as a powerful tool as you can reach a broader range of customers through a single click. Well, this can be achieved with the help of the following tools- MailChimp, Get Response, Aweber, Constant Contact. Through these tools, a client can make email marketing more effective. Further, the following are the different options and features available to these platforms:
Effortlessly create mobile-responsive emails.

Automatically resend emails

Trigger a series of emails according to customers' interests.

Get complete insights regarding open and bounce rates through detailed reports.

Easily create email lists via data from websites and other social media channels.

Send personalized emails

Connect e-commerce stores to recommend products to the customers.

Create and send a series of emails to new subscribers.
Let's be on the hunt for an email marketing tool that will save your time and automate your digital marketing campaign.
HubSpot Email Marketing
:
It is acclaimed as the top email marketing automation tool. The platform has recently launched a free email marketing tool that supports hundreds of templates. This digital marketing tool is also available for free download.
Omnisend
:
This tool is for e-commerce email marketing. You can integrate with your site to send professional sophisticated emails to customers.
SendPulse
:
It is a multi-channel email automation tool. it comes with a ton of professionally designed email templates that you can easily customize using a drag-and-drop editor. You can then set up these customized emails to be automatically sent out at the right time based on user behavior, event trigger, and other variables.
MarieListe
:
Sophisticated features like the landing page builder and the pop-up customizer make MailerLite stand out among free email tools in the market. In addition to the basics like the drag-and-drop email builder, the tool comes with a rich text editor and a built-in photo editor to create stunning emails.
MailChimp
:
MailChimp is the oldest and popular email automation tool. It's easy to use features which makes it favored among business owners. Email marketing plays an important role to establish a digital marketing ground. Using email templates you can create your content and add subscribed to who you want to send emails to users. Not only this, MailChimp offers detailed email analytics so that you can evaluate your email performance.
WebEngage
:
It's a complete marketing automation suite that helps to grow business with the help of personalized and contextual campaigns to engage the targeted users via In-app, Push, On-site, SMS, Web Push, Facebook, WhatsApp, Instagram, Email, and notifications.
Social Media Marketing Tools
At present, there are around 4 billion active users on social media. These users are of all ages, situations, groups, professions, and much more. Thus to increase your business, social media marketing is a must to look after. Moreover, there are plenty of social media marketing tools to help you boost your social media presence.
These tools include Sendible, Eclincher, Hootsuite. Each platform has its unique features, advantages, and options on various offers to create your social media campaign more effectively to return maximum ROI. These platforms enable the marketers to:
Automatically create scheduled posts, so your business account stays active 24/7.

Determine the performance of the campaigns via powerful reporting.

Seek and create new content to post and also organize it in such a manner to achieve the maximum shares.

Enhance posts using hashtags and keywords.
Let's get started with our pick for a list of marketing tools for social media marketing:
OptinMonste
r
It's a powerful tool with a drag-and-drop template that helps you build stunning pages, pop-ups, and lightboxes. Now with the help of the ChatBot element, you can connect to many people at once.
RafflePress
It's the perfect giveaway plugin to create an online campaign and competition with its bonus actions feature you can also reward the users for only operating certain actions like- following you on any social media platform, viewing, visiting, or sharing your post. So due to its help, you can boost your social engagement and followers.
Smash Balloon
With the help of the Smash Balloon plugin you can easily connect your social media account to your WordPress site within 30 seconds. It can even display your post on your social media account by creating a beautiful post so many users can interact with you.
Audience
It's a social intelligence tool that helps you to understand your audience and target a new audience through their social reaction and clicks. Further, it helps to optimize, track, and report audience engagement.
Tweepi
It's mainly created for Twitter to gain more followers. It is done by finding the relevant topics on which you and your audience shows interest then mentioning them on your tweet, or following them can help you better engage.
Socedo
Socedo discovers the people who are fit for your profile on social media and categorize the individual into segments so you can promote your content with only the relevant segment audience.
Socialbakers


The fall-stack suite provides insights into your performance vs. competitors. So it will permit you to improve the quality of your content. This tool is best for monetizing your campaign. You can even manage the budget while boosting customer retention, acquisition, and growth.
Agora Pulse
The affordable and simple management tool having basic analytics and scheduling features so you can run quizzes, contests, and promotions. Even it allows you to check how your marketing campaign piles up against the competitors.
CrowdBooster
It offers real-time data to create key performance metrics. You can even export the report via tables and graphs to check the audience engagement and improve content.
Analiso.io
It provides several marketing tools to monitor social media profiles and hashtags.
Growth Hacking Tools
Alexa, Amplitude, Google Analytics, Crazy Egg, and Colibri.io are robust growth hacking tools that help in optimizing your current marketing strategy by analyzing your competitor's data. So through these tools, you can get achieve the following benefits:
Better understand the users

Improve comprehensive product experience.

Evaluate the customer behavior

Execute experiments during the customer journey at any point in time.
Atlassian
It is a No.1 project management tool. It is recognized as the best digital media marketing tool for project management in 2021. The tool is developed for agile teams where digital marketing teams can plan and track their strategy. Atlassian is a seamless platform where you can easily manage your work. It is known for its excellent digital marketing strategy tool.
Expandi.io
It's the first tool for LinkedIn B2B marketers so they can automatically view profiles, send messages or invite people based on their customer preference.
Zapier
Zapier is the single tool that connects with 1000+ marketing tools so you can create some powerful automation.
CrystalKnows
It helps to interact better, based on the social profile of the person the tool helps to provide a personality profile along with tips so you can interact and understand that person.
GrowthBar
It's an SEO Chrome Extension that automatically generates keywords and their volume even provides SEO statistics for each search result.
Landbot.io
With this tool, you can create your chatbot, FAQ bot instead of contact form. It is the best Digital Marketing Tools Examples for beginners.
Colibri.io
It provides freedom to check what others are saying about the product and how you can approach your audience based on the report.
What are the advantages of using digital marketing Tool
Low Cost – when compared to traditional marketing
Trackable results
Fast Results
Multi-channel
Highly Customizable
Can access a global audience
Never sleeping
Reach to many stakeholders
Good Return on Investment (ROI)
Continuous Sales Cycle
Conclusion
In short, you can boost your digital performance by taking advantage of the right digital marketing tools, which will help your marketing agency to increase productivity. Furthermore, the tools mentioned above are bound to help you achieve your targeted goal.
Also Read Google input tools