[wp_ad_camp_1]
For every business, a website is an important marketing tool for turning prospects into customers. There's plenty of ways to increase the number traffic on your website, but unless you turn these visitors into leads, ultimately you won't be generating new customers.
Website optimization is a no-brainer. But it's not as simple as clicking few buttons on your homepage to generate leads and watching users pour in. It has become vital for marketers to build a strategic approach while building a client base.
In this post, you'll find some quick ways to optimize your website for lead generation that actually works.
Understanding the Basics
To start with website optimization, firstly we've to understand the process of lead generation and components that affect the visitors into the lead conversation. Here's a quick overview:
The process of lead generation typically begins when a visitor clicks on the call-to-action (CTA) button located on the web page. The button leads to visitors to a landing page, which comprises a 'lead generation form' (or form). This customizable form targets the input data from the visitor's information. Once the form is completed and submitted, the visitor leads to a 'thank you page'.
Now when we acknowledge the complete process of lead generation, we can get down on understanding how we can optimize a website for lead generation.


Here are the simple ways to optimize your website for lead generation:
Adding customized lead generation form
If you want to increase viable leads, providing an easy access to lead generation form to visitors is important. Before you begin it is crucial to benchmark our current state of lead generation to track success. This will determine the areas for improvement.
You don't even realize that some of the pages can generate an excellent number of leads. To start, conduct a technical audit for your page to analyze the source of visitors. Here are few popular sources of traffic:
As you manage to identify the leads, ensure that your landing pages are doing well to nurture user interest.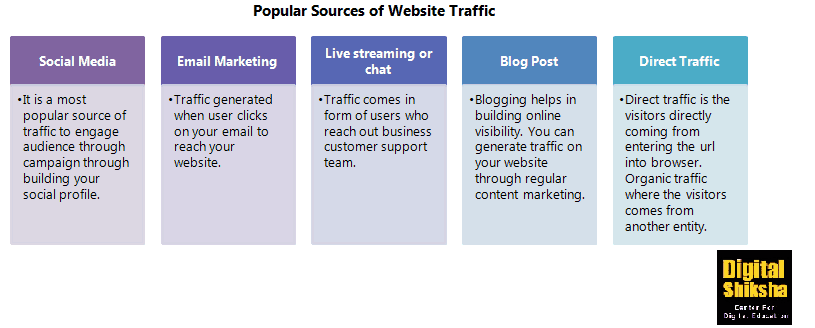 Measuring individual performance
There's plenty of online tools to evaluate, 'how each of the existing lead generators is contributing' to provide feedback on improving content. In addition to this, compare landing pages those are doing well. The evaluation will be based on measuring the conversion rate, call to action clicks and thank you page, then optimize the page accordingly which are performing better optimizing every step.
You offer should be subject to the interest of the visitor's interest. This will help the visitor to find you with an easy set of keywords. As soon as the visitor lands on your web page, you can learn about the conversion path. This path begins when the user visit landing page, fill out the form and become a leader.
In some cases, you might need to optimize the conversion path as the visitors don't end with the desired path. To increase the effectiveness of the landing page, conduct A/B testing.
[wp_ad_camp_1]
Calls-To-Action and Landing Page
A quality landing page always comprises of a call-to-action button. You can use a combination of contrasting colors and creative images for your website. You can also use a variance of CTAs for your site. CTAs is a marketing term used extensively in online advertising.
The overall objective of CTA and landing page is to generate qualified leads for a business that in long-term converts into revenue. Offer content to download on the particular blog
The best non-invasive technique to build an audience interest in your business is to create blog content that offers e-whitepaper or ebooks, wherein they can learn more about the same topic through that reading that blog. This is where you need search engine optimization (SEO).
So how does a blog works? Blog content develops business website authority to rank on Google website. Organic traffic which develops from a search engine is most often intended to find solutions to their problem you can deliver – making this a valuable lead generation form.
Where to start, conduct an extensive keyword research on a relevant topic related to your business product or service. Then, create a topic that gives a deeper insight into the specific topic. Using your company name, address, emails, contacts, and other important information, draft a package into a PDF report for the blog readers to download and read.
Live chat service for faster customer support
Live chats are not just an only fastest way of communication but also a sophisticated way to build with customers. You can support lead generation through live chat. Audit your website to see which page rank on top where visitors spend the majority of their time. With the quality development resources, you can install live chat tool on that webpage to assist customer's queries. This enables you to collect information into customers product needs while building relationship rapport with them.
Along with your live chat feature, you can integrate customer service team depending on who starts the chat and the type of questions visitors inquire.
Customize your Calls-to-Action
Influential contents allow you to cater the unique visitor needs, visiting on our website. These visitors land your website will view content, images, buttons, and product or service options that are particularly personalized to their interest, the web pages they'll view or the items purchased previously.
Test your website to detect bottlenecks
Analyze your website to detect loading time and quality issues which directly affects the time spent by the visitors on the website. Areas you might want to consider while testing your website are:
Web page titles / codes
Images, Content, links
Benefits and incentives
Page load time
There are a variety of website testing tools available to determine different variables to detect errors in the website which is affecting optimizing. They're easy to use and deliver a comprehensive report with insight into your website.
Nurture Your Leads
Leads are effective with your nurturing efforts as no leads are going to magically convert into sales. Once the visitor fills out landing page form, place leads into a workflow so they don't forget you. You can only achieve this by delivering them valuable content that matches their interest.
The process of lead nurturing begins with relevant follow-ups via email or SMS that also comprise high-quality content. While you nurture them, learn more about their behavior to tailor the future content accordingly.
To close the sales, you have to depend on the leads which will result in business growth. Using the above tips, you can benefit from every opportunity without letting visitors leave your website unsatisfied.
[wp_ad_camp_1]