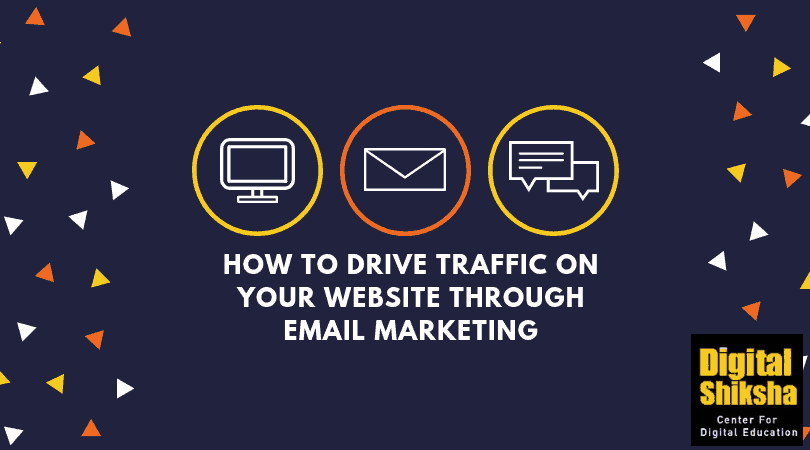 How to Drive Traffic on Website through Email Marketing
Emails are used widely as a direct and effective way to communicate with leads, to nurture them, and convert them into customers. It's a core practice for every online business.
For many bloggers or marketers, email marketing is the ultimate advertisement tool. Since the beginning of the early 19th century, email has become one of the most popular forms of communication. By 2020, an email will be used by 3 billion people worldwide (Email Statistics Report 2016). That's almost half of the world's population.
These numbers seem gigantic…?
When you consider the importance of emails in very form, you'll realize that its efficacy to connect with people through mailbox is much higher in comparison to other digital marketing tools.
You might have seen, these days' emails you receive are much more likely to contain some kind of marketing message. As a matter of fact, it allows the business to offer personalized messages to a segmented group of customers. Advertisers have shifted more and more efforts to market their business online. Not to mention, an average marketer sends 64 emails to their customers every year.
What is Email Marketing?
Email marketing, as what you think, is just more than sending notifications or messages to your email subscriber list. It's a highly effective digital marketing strategy of sending emails to prospective customers. Constructive email nurture leads into customers and turns one-time buyers into repeat sales (loyal customers).
This guide will walk you through a complete process of setting up the right email marketing funnel to acquire leads and generate sales. Our goal is to help you to understand the email marketing landscape:
The importance of email marketing
Analyzing prerequisite of an effective email strategy
Best Online email marketing tools
Let's dive into the best guide online for 'How to Drive Traffic on Your Website through Email Marketing'.
Types of Email Marketing
Email newsletters: Regular emails are sent to a list of subscribers in a form of email newsletter who have chosen to receive an update from you. They don't expose explicit sales message, rather are truly based on building a strong brand-customer relationship.
Transactional emails: These types of emails are sent to a user after certain actions trigger them. For example, when you receive a 'confirmation email' after booking online. It's a legitimize online practice followed by business to prove to customers that they've bought something. Promotional emails can be confused with transaction emails.
Direct Emails: It's a form of email campaign where standalone promotional advertisements are sent to the targeted group of audience. The direct emails are any emails that promote your brand while informing customers about new products sales, and the latest offers.
Why is Email Marketing a Powerful Tool?
Despite, social media and other popular marketing tool, emails are still considered as a dominant of all. Although there's an endless list of reasons why email marketing should be one of your priorities. Here are a few ones…
Email is no. 1 communication tool: more than 91% (litmus.com) of internet users check their mailbox every day that is much higher rate than any other communication tool.
Personal subscriber list: Majority of social media sites will suspend or block your account for spamming. However, owning your personal subscriber list reduces the effort to reach a large number of customers and no one can take away your list.
Are you getting most out of your email list?
Let's face the reality; many small businesses (even the most successful ones) don't take advantage of email marketing. Isn't that they aren't getting good results or making profits, there are numerous benefits of email marketing where driving repeat business is the most prominent.
How to Build an Effective Email Marketing Campaign?
Imagine, you open mailbox, flooded with emails with a barrage of automated emails. You select 'all' and 'delete' those emails, without even considering to read. Similarly, this can happen to your email, the user can delete it without reading (or clicking) on it.
But, think, what if you see an attractive email in your inbox, which grabs your attention? Just like that one email, you've to design an effective email campaign to reach your audience, otherwise, the purpose of putting so much effort will be wasted. So, how to design a productive campaign?
3 Tips to Effective Email Campaign
Personalization: Every reader like a personalized email filled with interesting facts, tags, and images. Majority of people do not read emails those are marked as Dear Sir/ Mam. Use visuals and creative to design a successful campaign.
Responsive design: 67% (HubSpot) of emails are read on smartphone or tablet. Effective emails are designed keeping in view a responsive design for readers to read on all devices- mobile, tablet, desktop, or laptop. Responsive design plays a significant role to maximize the efficacy of a campaign while Emails that are incorrectly displayed on mobile may be deleted within 3 seconds. (Campaign Monitor, 2018).
Call-to-action: Above, all points, an appropriate call-to-action (CTA) makes an email marketing campaign more meaningful. Every message you are sending in the inbox of the reader have a purpose after all, and you care about accomplishing it?
What is Email Marketing Automation?
Email automation has become emerged as an effective way to engage in email marketing. Nearly 49% of businesses (Emailmonday, 2018) use some form of mail automation to engage with readers. Email marketing automation is a process of streamlining a business email with help of a self-operating technology.
When you draft a newsletter, typically you send them to everyone on the list. But as you automate your email campaign, you set up automatic emails for once to a segmented list, or multiple segments, depending on the diverse category.
Let's explain this with an example, When a user register on your website to create an account or to use a service, an automatic email is generated sending the user an 'OTP email', 'email verification mail' or a 'Welcome mail'. These types of email campaign help in brand building.
Now imagine, if you're to send out emails manually to each customer, the amount of time and cost will be much higher.
The beauty of marketing email automaton that you have to set the email once and it will send automatically when scheduled.
Tips for Email Marketing for B2B Sector
Content and Social Media Marketing have been used by marketers for ages as an excellent means of an online marketing tool to nurture leads into sales funnel. However, they've their own limitations as social media post have a short lifespan and content marketing requires to fulfill many prerequisites like quality and high search rankings.
These give reliability that leads will discover content published on these modes. There is a likelihood that can increase the viewership of the content for leads: Email marketing is a modern strategy to nurture leads through personalized communications followed by monitoring them actively.
Marketers should read these tips very carefully.
Approaching leads using account-based marketing: Email blasts have become history as modern email marketing encompasses personalized and targeted communication.
Earn readers engagement: Campaigns should be based on targeting audience-specific needs. Instead of using a wide net with an email blast, use a technology which helps you segment out leads into segments based on their buying journey.
Build your own subscriber list: Buying an email list is waste of time and money. This will only lead to the sending of unsolicited emails to most of the people you're hoping will turn into customers. While the reality you're just spamming their mailbox.
Learn and adhere to the rules of CAN-SPAM. These rules comprise of non-deceptive subject line, an option for readers to unsubscribe, and sender's name and address at the end the emails.
Break the monotony! Don't just send out emails ads that say 'buy' all the time. Build a strategy that revolves around creating a rapport. Share detailed information that makes them aware of your business objective.
Treat your list wisely: People you're sending out emails to communicate, read your emails regularly because they trust you with email. Also, your brand name, and content and in return, they deserve your respect.
Always stick to the schedule: If you send a regular newsletter, then stick to the schedule. Always try to be consistent with the format. This will build rapport. Sending regular emails can help readers know what to expect from you and when.
Key Takeaway
So, yes! Email marketing is a core component for many business sectors, specifically, for developing those significant customers-brand relationships. Learn to use it effectively and it will definitely improve your brand success.
Just remember, not to spam there mailbox with irrelevant emails. Make it worth reading for your customers.
Also Read: Best Online Email Marketing Tools