Reverse image search lets you discover visually similar photos on the web. The post covers everything you need to know about image reverse search.
Images are fun to visual appearance. They not only grab attention at first sight but also influence the audience. People browse online for images to find stunning, high-quality photos of millions of genre. The image search results page is the central page to find images online. From pictures of holidays, nature, birthdays, anniversaries, there are several online communities to curate collections of images.
What is a reverse image search?
Reverse image searching is a content-based search engine technology. It sources an image file as an input query, thereby, returns results relate to imaging search. The technology is based on image retrieval also known as CBIR.
Learn More: Backlinks checker tools
CBIR (or content-based image retrieval) query technique to find an image on the ground of query. Search image reverse is characterized by a lack of common queries. When searching for an image online removes the need for users to guess at the input query. Although, they may or may not return accurate results.
Search for this image on the web allow users to explore content particular to:
● Sample image
● The popularity of an image
● Explore manipulated versions
● Derivative works
Vocabulary tree, scale-invariant feature transfer, maximally stable extremal regions are three popular reverse search algorithms.
Why Use Reverse Image Search?
Reverse image search finds similar-looking pictures online. The tool is helpful to
● Locate image source for free
● Find higher resolution images versions
● Explore websites/ web pages where the image appears
● Discover the creator of a photo
● Find information about an image
● Search for duplicate images
● Ensuring compliance with copyright guidelines
● Debunking spam images
● Find information for unidentified images
Reverse Image Search Statistics 2019
Image search is not a new concept to 21st-century millennial. However, during the past 12 months more than 1,500,000 average number of organic searches per month for Google images. Similarly 8, 23,000 search queries for reverse image searching 2018-2019.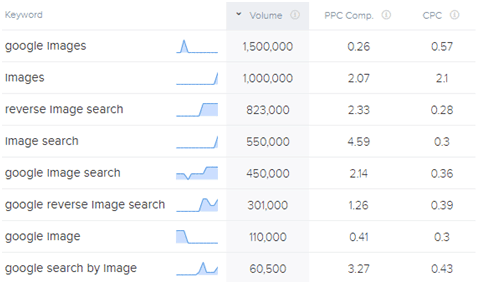 Image source: https://www.wordtracker.com/search?query=reverse%20image%20search
Visual image search has become an emerging online trend. Moreover, artificial intelligence and machine learning have revolutionized how people search for images on the web'. According to the latest research by ViSenze, 2018, 62% of millennial use visual searches online on technology platforms like Google, Amazon, Bing, and Pitnetnes.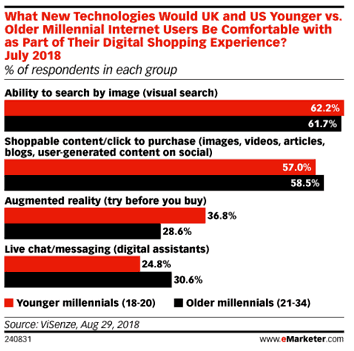 Image source: https://www.socialmediatoday.com/news/why-visual-search-will-be-one-of-the-biggest-digital-marketing-trends-of-20/545999/
Here are some important facts of the search for image online.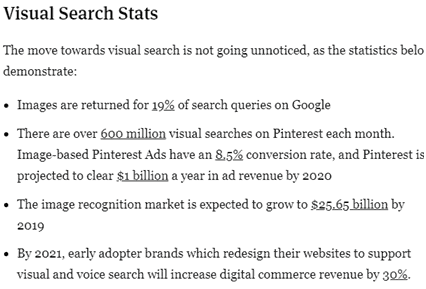 These facts prove the demand for searching images on the web is growing at a fast pace.
Reverse Image Search on Mobile
Did you know, mobile searches have grown up 80% in the past two years (Google, 2017)? While 51% of mobile users say that they use smartphones to discover new brands and products (BrightEdge, 2017). Among this, a large population is mobile users use search engines to find images.
But, if you are new to Mobile Reverse image search, then we are here to help you. Here are popular Mobile image search engines for photo lookup.
Google Image Search on Mobile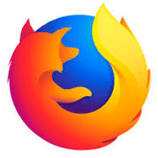 Now you can use images to search online instead of keywords. Google mobile phone upload image search feature display web pages with similar images.
Image search mobile has become easy with Google. The reverse image search mobile is helpful to verify the source of screenshots, memes, WhatsApp images, and photographs. Moreover, can you reverse image searching Tinder and FaceBook?
Step 1: Go to 'Google Chrome' on a mobile device
Step 2: Select 'Desktop Site'
Step 3: Click on the 'Camera Icon'
Step 4: Upload photo to search
The Google Chrome browser application supports Android and iOS to work around an image search. An alternate approach is to select an image you want to search, hold your finger until the pop-up menu appears. Then select 'Search Google for This Image' in the given menu.
If Google image search does not work on a mobile phone, then select 'open image' in the 'new tab'. Then copy the URL. Go back to the Google image search and paste the URL.
Bing Reverse Image Search – Bing Image Match
Bing from Microsoft, is another popular search engine in the world. The Bing reverse image search supports users to find images on the Bing web. But how to find images on Bing?
Follow these steps to search for images on Bing.
Step 1: Go to Bing.com/images
Step 2: Click on the camera icon
Step 3: Upload picture
Step 4: Find the image
As you click on the 'upload picture', the Bing image search will ask you to accept or decline use camera. You need to 'accept' the terms to allow the platform to take pictures. Then, the web application will browse through your photo gallery.
Alternately, you can allow access to third-party apps, where the Bing search image application will find photos stored in third-party services like Google Drive, Dropbox, OneDrive or iCloud drive.
TinEye
TinEye is a reverse image search engine. The application allows users to search by image. Give it an image and the application will tell you where the image appears online. TinEye also offers reverse image search Google Chrome extension.
How to use TinEye on mobile?
Here are the steps you need to follow when finding an image on mobile using TinEye:
Step 1: Go to TinEye
Step 2: Click on 'Upload image'
Step 3: Upload image from the library or third party
TinEye image search engine lets you find any image on the web for 150 searches only. After 150 searches, you need to buy a premium plan. TinEye plan will cost you $200 for 5,000 searches over two years.
Yandex Reverse Image Search
Yandex for image search lets you find an amusing picture, wallpapers and illustrates on both desktop and mobile phones. Yandex image search is based on computer vision algorithms. Yandex claims to display results from exact copies of the image source.
Yandex search engine (Russian multinational corporation) is admired by 20 million users around the world. The search engine looks a bit like a Bing search engine.
Yandex is a unique image search that works on mobile devices. Follow these steps to reverse image search Yandex on iPhone and Android.
Step 1: Open Yandex search engine
Step 2: Click in images under the search bar
Step 3: Click 'Search by Image'
Step 4: Choose on option – Recognize, Identify a car's make/model, find a product, or find similar images
There are other search engine gear particular towards to picture search. Check out a few more options for reverse search image search engines that can automatically track query.
TwinsOrNot.Net Face Similarity
Useful Google Reverse Image Search Tools
More and more people are shifting towards different search engine platforms. The search by image feature is exceptionally pleasing. The Google images tool is superstitious that works similar to Beebom, PrepostSEO, Verify, or TinEye.
The image search tools are easy to use. You need to upload an image, find index images, and find the result. Google image search is a phenomenal reverse image tool. The search turns out to be mind-blowing for users as they help in various tasks.
You can use Google search by image to search for screenshots or organic source for images. Also, monitor if your infographic is re-post on the internet.
Google photo search, while being a breathtaking service, several tools make searches faster to access. Here are three of Google image reverse tools you will find prodigious:
FireFox for Google Reverse Image
FireFox Google add-on for reverse search image extension. You can use image search options on Mozilla. It finds a context menu to search with an image on Google search engines. The add-on is easy to install and simple to use. As you track down the image, just right-click on the image and select 'Search Image by Google'.
You can also use add-ons like GazoPa and TinEye for firefox reverse image search. If you still cannot use the Google reverse image in Mozilla then addon source code a bit on the instruction page.
Google Chrome for Google Reverse Image

Great news for Google Chrome users. Now, they can enjoy Google's official extension. On your PC, open Google Chrome web browser. Go to Google image search. Click search by image and upload images. Alternatively, you can add a Google official extension. It is an add-on tool which lets you right-click and search images.
Google Search by Image
It is easy to free reverse image search tool online. The Google search by image allows users to find similar images from the web. The application helps you quickly discover visually similar images. If you are on Google Chrome, you can try another extension – Pin Search.
Did you love these reverse image search tips? Share this on social media.
Also read Google input tools