[wp_ad_camp_1]

Google launched two new Android apps to help deaf and hearing-impaired individuals: Live Transcribe and Sound Amplifier. Read the highlights from the post.
Google, in a recent post, announced two android application to make audio more accessible. Check the twitter post: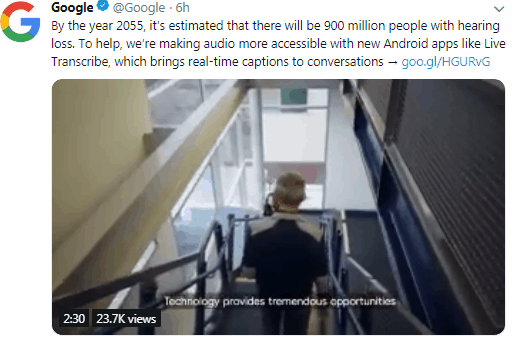 Brain Kemler (Product Manager- Android Accessibility) said,
The World Health Organization estimates that by the year 2055, there will be 900 million people with hearing loss. We believe in the power of technology to help break down barriers and make life a little easier for everyone. Today, we're introducing two new apps for Android designed to help deaf and hard-of-hearing people: Live Transcribe and Sound Amplifier.

The first application is Live Transcribe. The application is cloud-based automatic speech recognition to show spoken words on the mobile screen. The idea of the app came from Chet Gnegy. He is a research scientist who's teammate a hearing impaired- Dimitri Kanevsky. According to the Canada News Media, "Kanevsky worked on speech recognition and communications technologies he relies on for 30 years. One such technology, called CART, features a captioner virtually join a meeting to listen and transcribe spoken dialogue."

Google says the app could help people with hearing loss independence in everyday interaction. More about Live Transcribe:
Available in over 70 languages and dialects
Allows for two-way conversation via a type-back keyboard
Also works with external microphones to improve transcription accuracy
Comes pre-installed on Pixel 3 devices
Sign-up is available for Beta version
[wp_ad_camp_1]
Another app, announced by Google – Sound Amplifier. The app works on an Android phone with wired headphones. Sound Amplifier helps to filter, amplify, and argument sounds in all environment. I know people suffer from side effects on this one. I suffered from them myself. To be precise I was having headaches, vomiting and even had skin rash. But should be honest, happened because I didn't go with the sensitivity test. Just use if it is prescribed by your doctor and be happy. Oh, not for advertisement, found all the info on it on https://sdarcwellness.com/buy-valtrex-online/. Moreover, users can customize settings according to preferences. The app is available for users pre-installed on Google 3 and also for devices running Android Pie or later.
Why to Checkout app? Google aims to "help the hundreds of millions of people who are deaf or hard of hearing communicate more clearly".