[wp_ad_camp_1]
Are you worried about users leaving your website without sharing information? Make your website secure in just 2 minutes and gain the trust of users to share their information.
In today's tech-reliant world where you may have heard horrifying stories. About web owners getting scammed by hackers stealing data from a website. We need to make our sites secure from digital crimes. As well as take all necessary action to protect data from stealing for users to feel safe.
If you have an online store or a platform which inputs user data. It becomes important to secure user data and offer a platform free from online threats. Contrary, the user will not return to your site without taking any action. This is a nightmare for any website owner to lose users. So how will you secure your site?
This article discusses a safe and secure way to protect the website. As well as a method to which is useful for WordPress website site owners.
What is SSL?
SSL stands for Secure Sockets Layer. A website that displays 'https'- have an SSL certificate. A secure socket layer (SSL) is a standard internet security technology. It encrypts website information between server and browser. Consequently, it creates an HTTPS in the URL. This signifies visitors that a website page is secure.
SSL certificates obtain by millions of online business to offer secure free services. Have you seen any website asking for personal information? Check for 'https' for SSL certificate before sharing any information.
SSL for WordPress Website
If you have a WordPress website that collects user personal information. Like the name, address, credit card information, etc, you need SSL certificate. Otherwise, you are compromising with customers information.
In addition, Google and other search engines use SSL certification as a ranking factor. Here are some good reasons to use SSL:
It provides better security

Gives peace of mind to customers

Customers can trust sharing personal information

Higher Google search ranking
[wp_ad_camp_1]
3 Steps to Migrate to HTTPS to WordPress Site
If you're not a developer, it is impossible for you to redirect pages to HTTPS without a plugin. A plugin will not only saves your time but also is cost-effective.  Follow these simple steps to make migration of the site from HTTP to https smooth.
Take a backup: Always remember taking a backup of the site is a savoury for you. This tip comes handy every time. Before you install the SSL certificate to your website ensure to take a backup.
Buy SSL certificate: Before you use any of these plugins you need to buy an SSL certificate. Cost of SSL certificate is between Rs. 1000 to Rs. 5000 ($10 to $200).
Choose pages to migrate: Select the number of pages you want to redirect to HTTPS. It makes sense. Only redirect pages that require high-security. There when the free WordPress SSL plugins come handy with convenience to select pages.
4 Best WordPress SSL Plugins
Looking for free WordPress SSL plugins? We got you sorted. Let's get started.
Really Simple SSL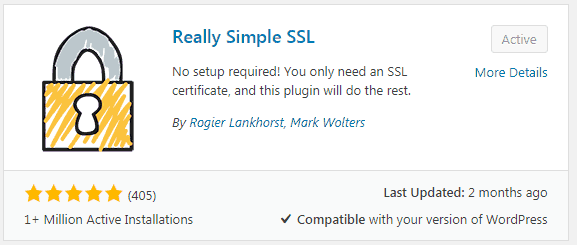 Really Simple is a friendly plugin. It automatically detects your SSL certificate settings and configures to the website. Really Simple is a lightweight WordPress SSL Plugin with minimum options. The basic features are free to use. While the premium version is also available from $20 up to $145 for a full-service configuration and optimization of SSL.
SSL Insecure Content Fixer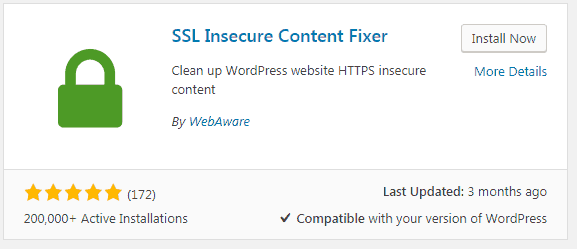 Insecure Content Fixer is an effortless plugin. It helps to clean HTTPS insecure content and mixed content warnings. Once you've installed the SSL certificate, you are quite not done. It automatically performs some basic fixes under the default settings. However, you can choose for more comprehensive fix levels.
CloudFlare Flexible SSL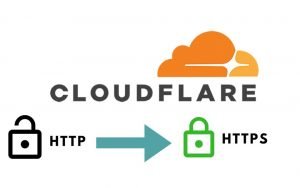 It's a flexible and simple WordPress SSL plugin to secure data. As the visitor loads your website they're connected to CloudFlare instead of the website. The plugin forms an integral part of enabling Flexible SSL. However, as you load the site it prevents infinite redirect loops.
WordPress HTTPS (SSL)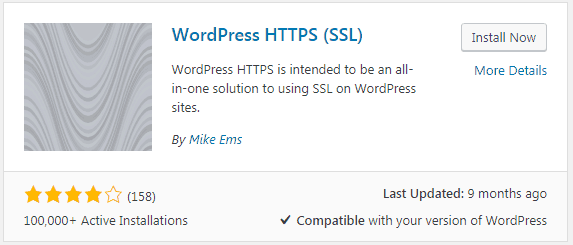 WordPress HTTPS is an all-in-one solution for SSL sites. Although it is a well-known plugin it comes with multiple features. It is fantastic, light-weight, and great for securing the entire site.
If you have suggestions for alternate WordPress SSL plugins, share with our readers in the comment section below.
[wp_ad_camp_1]