Schema Markup is one of the latest evolutions in Search Engine Optimization. It is a powerful type of optimization technique while least utilized by digital marketers. You can increase website traffic in the search engine result page easily as you grasp the diverse concept and methods of schema markup.
A schema is a semantic vocabulary of micro-data that is added to HTML code. Moreover, to enhance the procedure, search engine represent and read your web page in SERPs. This is done by adding the rich snippets that are displayed beneath the page title.
Our objective in this article is to manifest, how to start using schema markup for your site.
What is Schema Markup?
A schema is a structured data vocabulary that defines relationships, actions, and entities present online on emails, websites, web pages etc. It's a collaborative result of Google, Yahoo, Bing, and Yandex. However, to aid information used by their search engine. The objective is to understand the content and deliver ultimate results possible in real-time.
The vocabulary added in a form of rich snippet makes it easy for search engines to interpret the meaning behind entities (subject matter). As a result, deliver quality user experience.
Hence, Schema Markup improves the efficiency of internet communications as Google continues to develop more and more semantic web, the markups become increasingly valuable.
Difference between microdata, schema, and structured data
Microdata is a framework of structured data that works with HTML 5 where a schema is responsible to enable a specific set of definitions agreed-upon to tag microdata. The structured data is a process of combining a name in regards to the value that facilitate search engines to identify and index web content.
How does Schema Markup Works?
Schema Markup embraces every individual component of a webpage, like names, tags, and pictures with a particular combination of code that helps the search engine to identify those components. The Schema Markup procedure depends on the form of structured data markup you choose for a webpage.
Why should you use Schema Markup?
It's imperative to do markup for your web content if you need your webpage listing to stand out against your competitors. It makes your webpage appear more visually attractive to retain users to click. Here is an extensive list of benefits of Schema Markup helping your website gain visibility on SERPs:
Schema Markup makes your page look more captivating, engaging, and informative for SEPs with images and snippets. This allows you to attract a user who is likely to click on such results. Hence, a website with Schema Markup has more possibility to rank higher than websites without markup.
Local business can help search engines to understand their business operation and what they sell and how to contact them. For example, your mark up explains that your business is dentistry and not an orthodontist and operating in different languages and that you deal in Apple Phones and not apple fruit.
You can easily show your business details in SERPs like contact numbers, customer care, logos, blogs, social media accounts, and founder's details. If your business is operating under a different name, your business Schema will let search engine to understand all of this.
Schema Markup is essential to promote events and local queries in search results. As a user enters a text like 'events near me'- the search engine crawls the message in the database. As a result, pops up your business in SERPs with all necessary information like performers, venue, and ticket sellers.
How to Add Schema Markup to Word Press Site?
Crafting rich snippet can be difficult, but with our complete one-to-one guide, it will get easier than ever before. There are two different ways to add Schema Markup to define rich snippet to your website pages. The first method is using a plug-in which is an easy process and another method is to add manually which can be complicated for beginners.
Steps to add Schema Markup to WordPress Website using a plugin:
Step 1: Install 'All In One Schema Rich Snippets'' plugin on your system. You can search for the plugin in the WordPress dashboard. Else you can manually upload the pack of the plugin into wp-content or directory. After installation, activate the 'All In One Schema Rich Snippets'' plugin.

Step 2: Every time you add a new web page or a post to your site, you'll get an option to configure rich snippet as per the page or post category.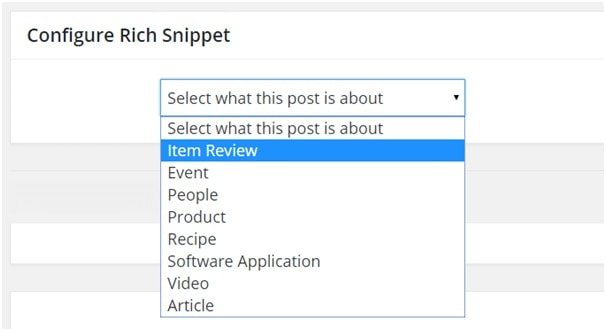 Step 3: Add detailed information of the product/item/page/post is about. The information form differs according to the type of category you select.
Step 4: Once you have added all the required details and publish the post to make it live. The next step will be to test your structured data using Google Testing tool. Enter your Page/post URL or Code snippet and run test. The tool will identify and display the snippets added to your page.
The Final Statement
Schema Markup is used to signpost the web page content to help a search engine understand your page better. Once the search engine understands the content then this information is transferred to the searcher within the rich snippet. This will result in your SERP higher page ranking. Despite of a quality content which is ranking on top SERPs, there can be times when the audience might not click on your website URL.
Therefore, with the use of Schema Markup, you can induce users to click on your website by providing extra information.
If you have followed our detailed instructions, you can never go wrong while setting up Schema Markup. Stay with us for more such tutorials.
Also read about Breadcrumbs the internal navigation on your website