Is your webpage is not effective to drive leads? Post uncover ultimate SEO copywriting techniques for professionals to drive conversion from traffic to leads.
Content writing is a vast subject. A writer aims to solve the audience problem through content. Content should be both SEO friendly and brand story. An excellent content drives more conversion, especially one with SEO being a prime goal, regardless of the niche.
In the post, we'll breakdown best practice for SEO copywriting, what is it and how it's done? As well as – how to curate the right message for the target audience with content.
What is SEO Copywriting?
SEO copywriting is an art to develop striking content for both human and Google search engines. It is a technique to create unique content that persuades customers and Google.
Every business that wants to sell online need to practice search engine optimization. SEO is a strategic use of keywords or search terms helping search engines to find content online. Therefore, SEO can be found in web content or product description.
SEO copywriting requires strategic thinking. Can you get into the mind of a company's typical customer and think as they do? Do you know what search terms a certain audience will use to find the product they are looking for?
Why Do You Need SEO Copywriting?
Personal branding is a golden rule to marketing practice. It is an ongoing process to develop and maintain brand reputation. Sharing content to social media is not enough to reach customers. You have to create a connection between the website and the audience to encourage trust.
Quality SEO copywriting is a daunting and mythical task. And one of the easiest ways to get lost in the process is to now know where to start. Simply writing for Google search engine is not enough. It is a pretty balance of producing content for both humans and Google. This can be made easy when thinking outside the box.
To start with the being with what is SEO copywriting? SEO copywriting meaning is a method to write content that is both SEO friendly and attracts customers. It is not a means of simply stuff content with keywords. SEO for copywriting is a combination of skills, experience, and personality.
When it comes to writing, many people fail to understand keyword density. But it hardly matters to the Google search engines. The approach here is to produce content which is relevant for the target audience to have more value. The content should be
High-quality,
Accurate,
Informative content, and
Problem-solving.
How to implement the SEO and copywriting with the brand message?
How to Find Brand Message?
Determining business message is an important step when starting out. Even though many business owners skip this step. Perhaps, they overlook the marketplace, picked a target audience and learn what they offer.
An outcome is often a website and Ad copy that is not meaningful to the audience. Thus, it results as generic jargon and doesn't truly capture the essence of business.
The consequence is even potential clients not able to comprehend the content meaning and how the services to them. If the audience does not connect with the content, they won't convert.
But how does a brand define brand message? Begin with defining a few fundamental questions. Finding answers to these questions will turn wheels when it comes to figuring out the right message.
What makes your business offering unique?
What value do you provide to customers and clients?
Who is the potential customer?
What's the business goal when it comes to the website?
How does your offering solve audience problem?
What tone appeals best target audience?
As you establish a business message, it's time to create SEO content for a website. Let's come to the main topic to uncover SEO website Copywriting.
How SEO Copywriting Works?
The four-step is your way to create cohesive SEO website copywriting. The SEO copywriting guide will help you incorporate different components into the copy. That essentially focused on the ideal customer and what they want. If you follow these SEO copywriting tips the customers are more likely to covert.
Start with Learning Customers Needs
As discussed earlier, every excellent SEO copywriting begins with a buyer persona.
A buyer persona is user-centered design. It is a fictional document represents a user type that might use a website, brand, or business offerings. A good user persona reveals information on the target audience, age, background, gender, interest, pain points, solution, etc.
The information intends to talk about customer needs, desires, and fears. But how to find 'what customers want'? I will tell you a secret shortcut to study customer's behavior and what they want.
Let's begin.
Quora
Quora is the most popular free online forum. The platform connects users to intend to find answer from mentors. Here is an example to understand how to use Quora to identify customers' needs.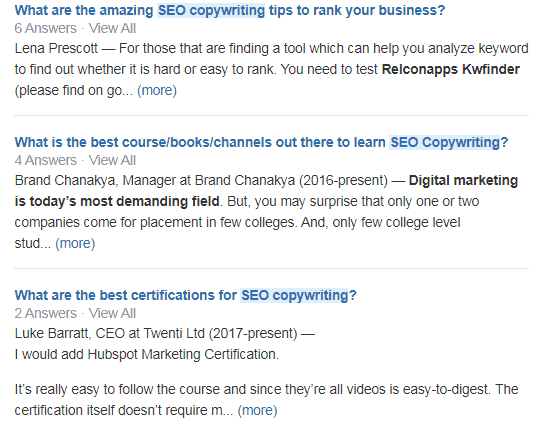 When you search on Quora about 'SEO copywriting', you will find thousands of related questions. To summarize, we found, people looking for exclusive answers to questions like:
What is SEO copywriting? Are they any free tools for SEO copywriting? And what are the best certification courses for SEO copywriting?
You can use all these important points in your ad copy to offer customers a solution. For instance, you have an SEO Copywriting tool. Then you can create catchy content headline like
"You Don't Need Certification in SEO Copywriting. Use Free SEO copywriting tool to create awesome content online."
See, this was simple. Here we analyze that our customers are in constant search for certification course in SEO for Copywriting. We are offering them a solution via a free google input tool for SEO copywriting.
Similarly, you can use another popular auto-suggest results tool provided by Google and Bing – 'Answer the Public'.
Answer the Public
Answer the public is a goldmine for SEO copywriting for beginners. Thousands of questions aggregate as you enter main keyword. Therefore, get a hint of motivation and emotions of the audience being each search query. Perhaps, the top, but underutilized resource of information.
The consumer insight tool is my personal favorite. AnswerThePublic is a full-blown market research shortcut. Let's see how it works.
As we enter the target keyword, the tool displays a series of related searches.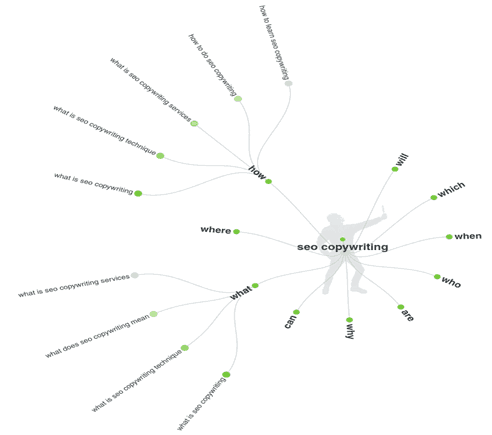 If fetch to map keyword suggestions and predictions that users perform in Google. The dedicated forum helps to find out what the audience is struggling, pains, and hopes.
Enter a keyword in the search box to find questions, prepositions, and alphabetical lists. It is part of the semantic keyword research you see using machine learning technology.
Optimizing Web Page For SEO
The next step after establishing SEO message is to define keywords. Finding keywords related to the business niche is equivalent relevant. Business keywords suggest what customers are looking for a related business online.
For instance, you run a cafe in Florida serving delicious pepperoni pizza. You will search in Google search engine by input keyword like
Pepperoni pizza near me
Best pepperoni pizza in Florida
These are a few keywords you will search for online. Google search engine algorithm will display possible best matching answer. This is the best SEO copywriting tip. You need to find our matching keywords user intent to search online. And add them to our SEO copywriting checklist.
Improving SERP Ranking with SEO Copywriting
Perhaps, following our SEO Copywriting guide will help beginners to advance. SEO Copywriting tips improve search engine rankings and increase conversion rate. Also, it will ensure:
Increase top Google page ranking 10000
Improve bounce rate
Dwell audience engagement time
Become an overall better copywriter
Regardless of the industry, every writer can utilize the above tips for content writing strategy.