We all work hard to rank our pages most of the time in Google SERPs and for this, we continuously in search for best keyword rank checker tool available online for free or even paid. In this post, you will find the best handy tool sets to check your top 10 SERPs positions in some well-known search engines by your country-specific TLD.
How to Increase Google SERP position
Getting a high rank in Google Search results may seem tough to many marketers. You're absolutely right is you think it's true. It's really hard to get into 'Google top 10 search results' nevertheless there is nothing to say about the competition when we talk about 'top 3 search results. It might be challenging but not impossible to achieve. What can you do to get the best rank? It suggests that you can increase website visibility whether you have a blog site or an e-commerce site. We have found you 4 best recommendation which will increase visibility in SERP's.
How to Choose Best SERP?
There is a variety of Google SERP position checker in the market. These services are made available with different pricing plans and features. Consequently, has resulted in finding the best SERP keyword checker for SEO experts. No business likes to talk about their competitors. Here, we will reveal the most beneficial information that can help readers to choose the best SERP. Just dive into the most important SERP key features an SEO expert should determine before the final choice.
The Key Features of SERP Rank Tracker
Let's look closely at the key features of the best SERP Rank Tracker tool before you'll choose the most appropriate one:
1.Efficacy: The first thing you need to consider in a tracker is its accuracy. Every SEO expert should learn the quality service of the tool. So, first of all, you should ask yourself a question. "Is my SERP Rank Tracker tool is accurate?". We hope you get a positive response. But how accurate that position checker? As you suspect, the best SERP tool should be compatible enough to deliver a 100% result. Do not settle that for less than 100% in your ranking tool.
2. The number of keywords: SERP rank tracker is available as both a free and paid version. For Example, SpySerp can track up to 100 keywords for free with 3,000 monthly checks. SpySerp paid version allows checks up to 2,400,000 projects with $0.25 per 1,000 checks under the basic plan. For some business targeting, 5 keywords don't mean that your website only ranks on these 5 keywords. The keyword phrases with the same words in a different order also affects a lot to get traffic.
3. Local Rank Tracking: Ranking is different from one city to another. A local rank tracking SERP tool allows you to check the website ranking while displaying an exact position in real-time for the targeted locations (either cities or countries). "Do your SERP tool provides local keyword tracking?" Google Geo lets' you track location-based searches. Remember, there are plenty of clients that would like you as an SEO expert to know their local ranking. As a result, you should consider a tool which offers similar features.
4. Search Engine diversity: Are you looking for a SERP position tracker only in Google search? In this case, you can select a useless or a weak SERP tracker. However, if you want to track position in Google, Bing, Yahoo, AOL, and other search engines, we recommend you to RankTracker. It's live SERP ranking tool for accurate location-specific results. RankTracker provides best search engine diversity with more than 100 search engines.
5. Prices and plans: Price is always been equally important decision-maker factor as every firm has its own budget. MozCast is the cheapest and effective solution for small agencies. Average monthly price per keyword is limited to as low as $0.02. It's SERP analyze keywords with detailed visual and data set on the market. Also, users can start with a 30-days free trial.
6. Mobile SERP tracking: Every Google update in 2018 has affected mobile ranking as the Google-run mobile-first index policy. Furthermore, you should not only consider both desktop ranking and mobile ranking. Remember, in upcoming years, the mobile position will become an important part of your SEO strategy.
Top 10 SERP Keyword Checker Tools
Let's get started with our pick for top 10 SERP keyword checker tools
#1 Google search console – keyword ranking position
Now to get you there let me share some of my experience with you. If I ask you do you really need a tool to check your website pages keyword ranking the secret is checked your Google Webmasters tool aka Search Console assuming that you already using Google Search Console.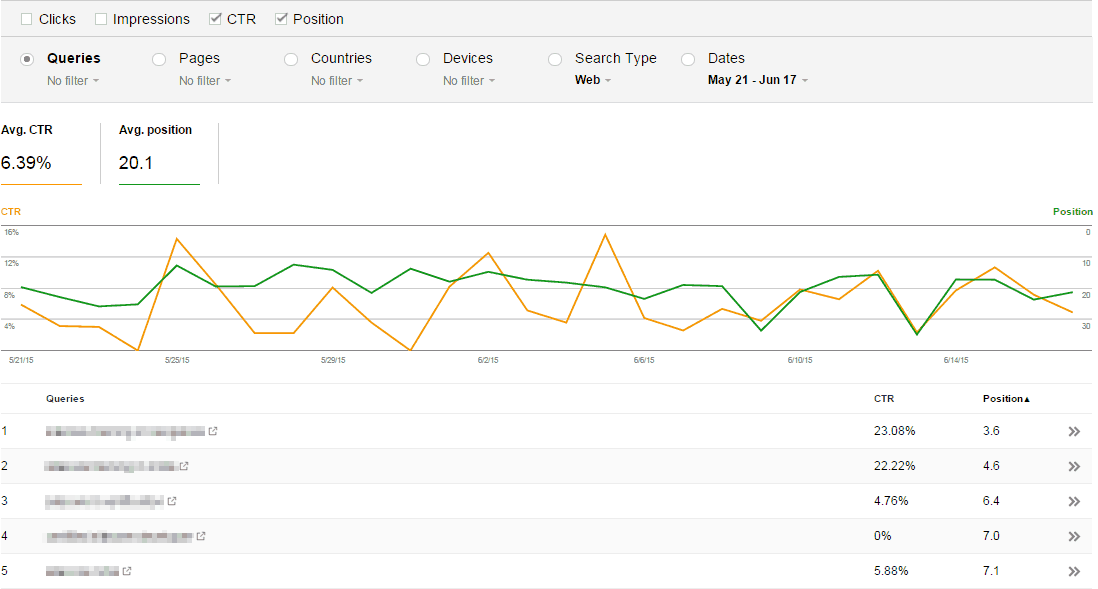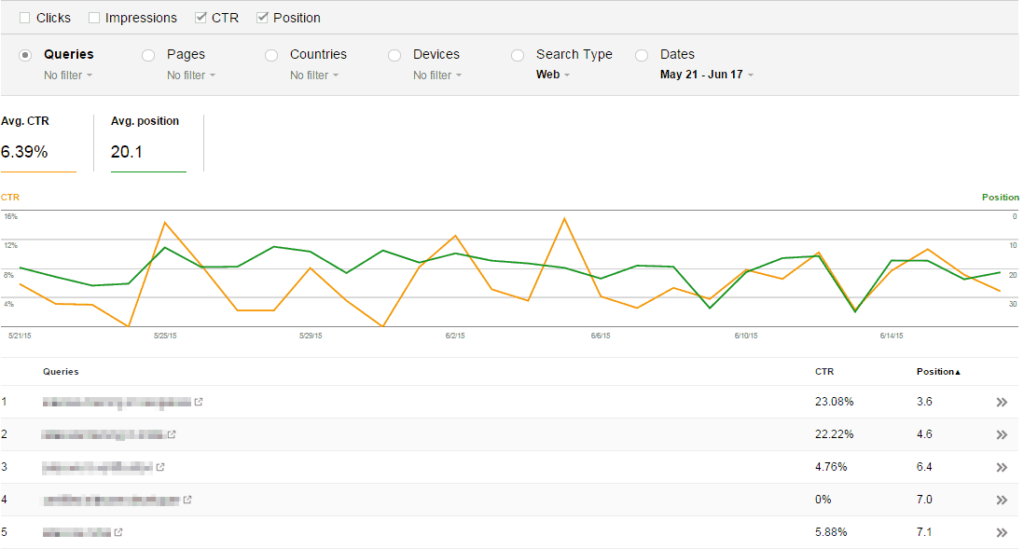 #2 Google Analytics- Check Website Keyword Traffic
To do so go to Google Analytics and log in, now select website property you want to check for keyword and the traffic that has arrived at your website. Select Acquisition under All Traffic select Channels and then Organic Search, now these are the keyword that brings most of the traffic to your website. See the screenshot below for better understanding.


#3 SEO SERP Chrome Extension- keyword ranking
SEO SERP is a simple tool to quickly check keyword ranking position of multiple websites at once. This is my favourite tool when doing competition research and making proposals to show up the client that your competitors have strong positions, but your not exists for the competing keyword. This tool also comes in Chrome Apps which you can download to check complete history and graphical representation of SEO keyword ranking. Get SEO SERP app here.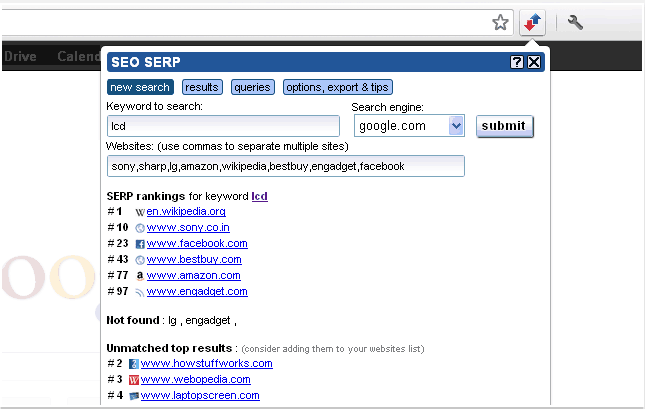 #4 Rankaware SERP- keyword rank checker
Rankaware rank checker is a paid tool for checking search engine keyword ranking the tool provides the opportunity to check the ranking position for Google, Bing, and Yahoo at once, works automatically for bulk keyword rank tracking and tracking results. You can schedule your task to check to rank with professional representation branding and reporting works on Windows/Mac/iOs/Android. Rankaware offers 7-day free trial and they are very much sure about guaranteed accuracy. You can download the Rankaware SERP here and don't forget to check their website.

#5 SpySerp- for International Keyword Ranking

SpySerp is an extraordinarily effective tool for checking Google keyword ranking. Thus it supports several regions and languages, frequency, real-time data, analytics data, keyword analysis among competitors, average web position, keyword visibility, and live distribution. All of these are available in different packages. Furthermore, a user can avail all of these features absolutely for free without credit card information within the plan borders.
#6 Whatsmyserp- Check Mulitple Keyword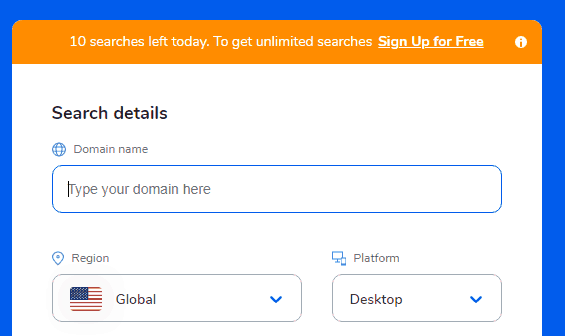 The user can add multiple websites to check, track, and analyse the graph of SERP history for up to 500 keywords with Whatsmyserp SEO rank tracking tool. The registered users get 25 keywords per domain. It's a free site that includes adance SEO tools. The tool is designed to quickly check the top 300 SERP results for a website. Every registered user can also use a keyword density checker to analyse the keywords dentist on the webpage. Just enter domain URL, region and platform.
#7 Tiny Ranker Best Selling Tiny Ranker SERP toll


Get a broad insight into keyword and analyse your website SERP position. TinyRanker, is user-friendly and a popular SEO optimizer tool created for SERP experts who are irritated by bloated tools. Moreover, you can select a free trial to get insight into the tool. Their four-month plan starts from $19 per month for tracking up to 1oo keyword. The reviews of Tiny Ranker are very good and has gained worldwide popularity. Its modern user interface makes this tool handy for beginners and experts. You can easily track different website to analyse their performance on search engines. What more can you expect from a tool like Tiny Ranker? Try Tiny Ranker.
If you're looking for an alternative to TinyRanker, SEOProfiler is a great option. SEOProfiler offers many of the same features as TinyRanker, including keyword research, Google rankings checker, and competitor analysis. However, SEOProfiler also provides some unique features that set it apart from its competitors. For example, SEOProfiler offers a detailed site audit tool that can help you identify and fix technical issues that are holding your site back from ranking higher in search results. In addition, SEOProfiler's link building tool can help you build high-quality backlinks to your site, which is essential for improving your search engine ranking. Overall, SEOProfiler is a powerful and comprehensive SEO tool that can give you the edge over your competition.
#8 SEMRush-Diversified SEMRush SEO Tool

SEMRush offers a range of other SEO tools while it's a huge tool that helps users to check which keyword you are currently ranking for. Also, the tools support Google engines based on geo-location and Bing. In addition, SEMRush also a backlink checker tool has a user-friendly interface and a bunch of similar SEO tools like Domain Analytics, Keyword Difficulty, keyword Analytics, Gap Analysis etc. The basic pricing starts from $99.95 and up to $399.95 per month.
#9 AlloRank- Comprehensive SEO Reports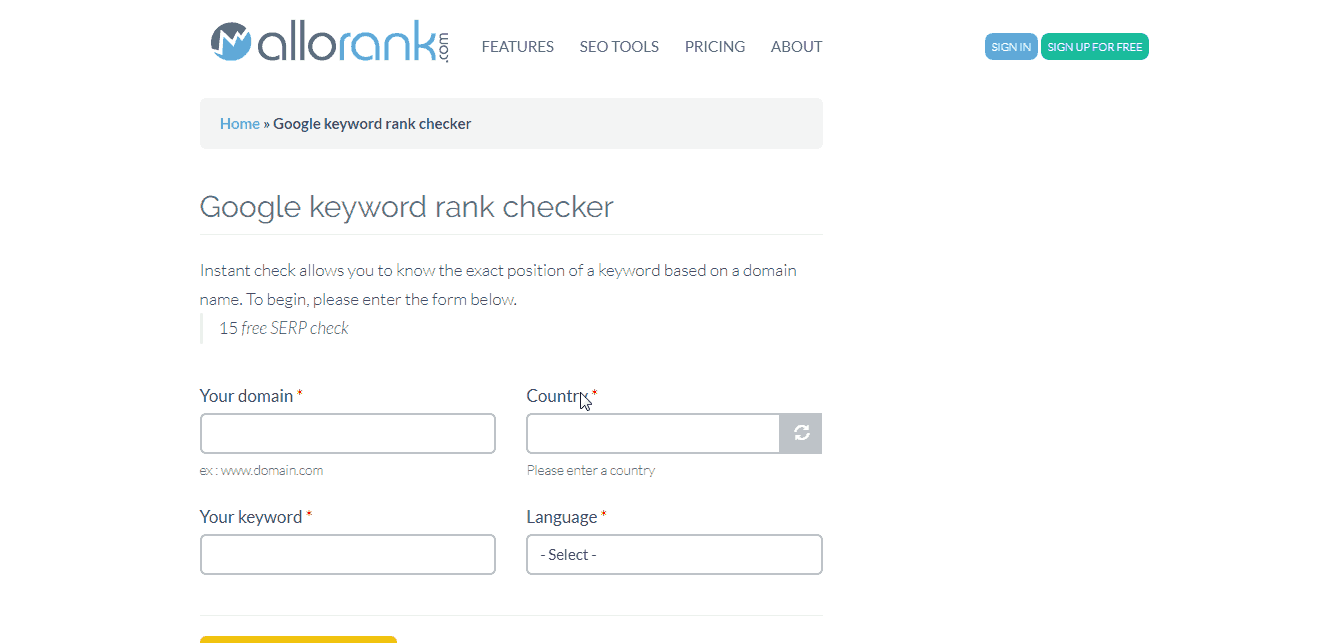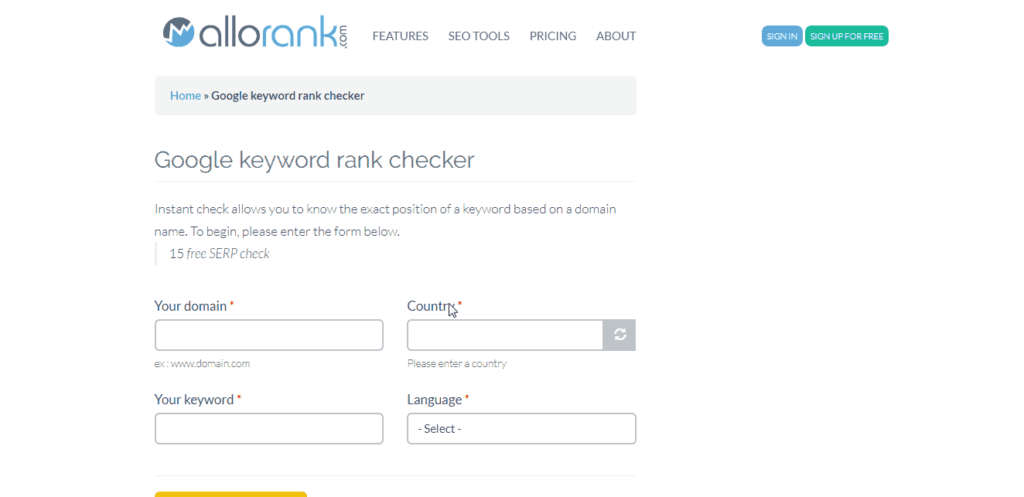 AlloRank helps a user to monitor keyword positioning of your website in daily Google SERP. It lets you check the exact positioning on a domain name. Moreover, it enables users to check real-time performance on the Google search engine. As a result, you can build a long-term SEO strategy with effective sets of keywords. It is a free tool which can be accessed directly through the web browser. No software installation is required.
#10 SEO Profiler- Reliable tool for daily rank checking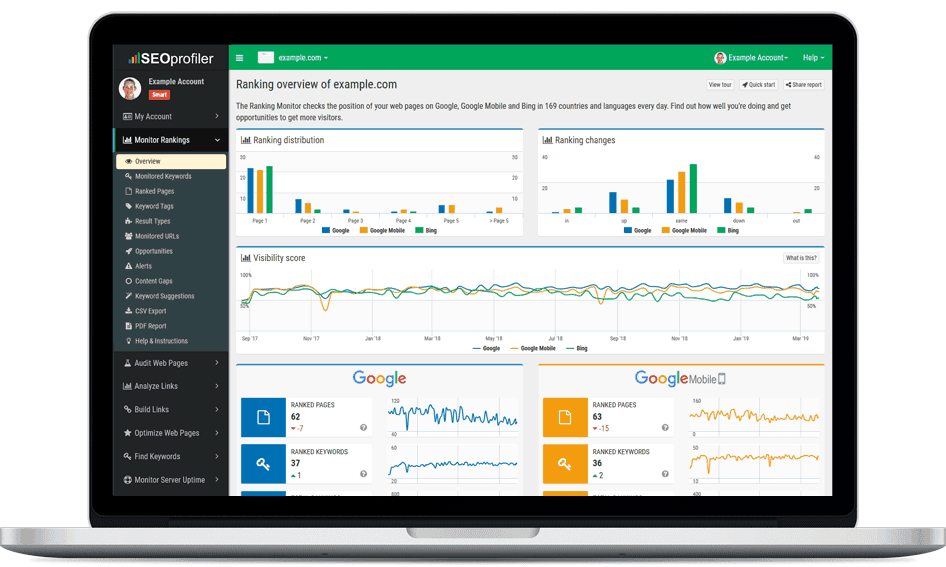 Use SEO Profiler and keep a regular update on your competitors including the set of keywords they are using to rank themselves. You can integrate into your post to monitor how well you're ranking against your competitors. Moreover, the tool is designed to notify you of different keyword opportunities and aren't ranking at number one and you can potential to do so correctly.
Do you think we have missed any best tool for SERP position checker tool? Give your suggestions to us in the comment box below.